Reading Time:
2
minutes
By Josh Beneteau 
It came down to penalty kicks and the Ryerson Rams came out on the wrong side of victory at Ron Joyce Stadium in Hamilton Saturday night.
With a chance to compete for Ontario University Athletics (OUA) gold on Sunday and a berth in the Canadian Interuniversity Sport (CIS) finals on the line, the McMaster Marauders came out on top 5-3 in kicks.
The difference came when McMaster's goalie Angelo Cavalluzzo stopped Ryerson's Jackson Tooke with a diving save along the ground. Ryerson didn't miss any other shots. McMaster didn't either.
"We've been practicing shootouts, we were confident and we knew what we had to do," Ryerson captain Josh Kohn said. "One save, one miss, there's not much you can do."
The rest of game was a battle with both teams fighting for every inch of grass. And both teams came very close to breaking the scoreless tie.
Ryerson goalkeeper Christian Maraldo was aggressive in the box, jumping from a crowd of people to catch the ball multiple times. But his biggest save came at the 90-minute mark when he dove across the net to tip a shot away from the goal.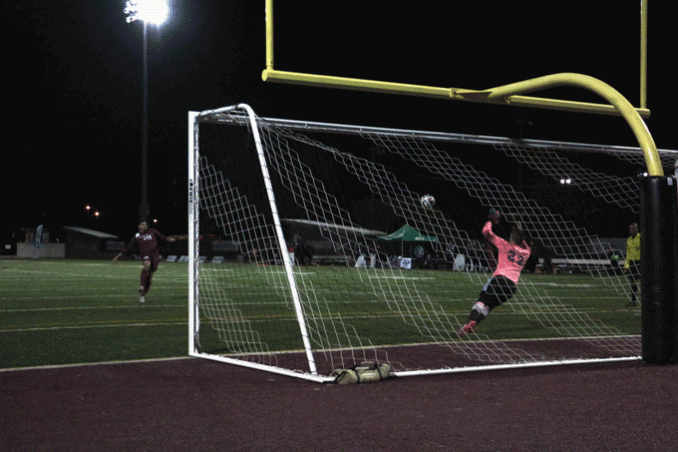 Ryerson got its best chance on a free kick in extra-time but the crowd of players in front couldn't burry a goal.
"There were moments where they were pressing and there were moments where we were pressing," Kahn said. "Honestly, I thought we were going to get one."
The loss effectively ends the Rams season. Their final game of the year is Sunday, when they play for the bronze medal against the University of Toronto Varsity Blues.
Associate coach Filip Prostran said after the game that he was proud of his team for battling all season.
"The boys played extremely well, so did McMaster," he said. "With two good defensive teams, that's all it takes is one. And we didn't get that."