Marcus "Star" Harwood-Jones
By Dylan Freeman-Grist
Marcus "Star" Harwood-Jones encountered their first zine in an anarchist coffee shop and bookstore in downtown Winnipeg.
A city marked by oppression and class divides ripped open communities like theirs. It was often a complicated place where transphobia surfaced, they said.
The zine Free, Fer, Frim told the story of a young kid who goes to school for the first time, choosing the gender neutral pronouns that make up the zine's title. Star picked it off of a shelf amid a collection of other poetry and artwork from local trans communities. For them, it was their first window into a new world where they'd find comfort.
"It was just amazing to read these stories and I feel like it was the first time I realized there was other trans people and they were just doing their thing. They were actually making this incredible art, I could make it too and contribute. As soon as I found the medium I wanted to be a part of it."
Today Star is a trans activist and community organizer. They're the lead coordinator at the Ryerson Trans Collective. From their office, which doubles as storage for both the Centre for Women and Trans people and the Collective, they steadily cut out newspaper clippings while reflecting on their art.
Star has been creating zines for years. Their style is simple. Careful, methodical writing sharing the experience of growing up trans in Canada. Living in poverty, and struggling with homelessness. Their work tackles issues marring the trans community, such as mental health and a lack of access to safe spaces.
The writing is combined with sporadic and what they call "chaotic" illustrations and paintings.
The script and scrawlings are clumped together in collections which are then released all at once. If one were to read them from front-to-back they may come off as a novella, but the point is to not force the reader into any one starting point.
Their first major collection was Confessions of a Teenage Transsexual Whore, an autobiographical 10-part series that takes the reader through the life of a young sex worker. It walks through the imagery of bodies, dances around relationships and paints a picture of love from the perspective of Star.
"My experience with being a trans sex worker was very much erased and not present at all in society, the handful of narratives that were present were highly transmisogynist and oppressive," they said.
Star says that Confessions was a way of humanizing the experience. A way of showing the world that it happens and shouldn't be forced to either remain invisible or be mangled into traumatizing tropes in our media.
One scene recounts the shame they felt after leaving a client. It guides the reader along as Star purchases a pack of cigarettes and smokes it all amid a wave of disgust.
"I was sick of being an object, sick of being a fetish, of being unable to do anything else. I was sick of being in this fucking body," they recalled thinking as they walked home through the dark and in the rain.
Zines are political tools, Star admits. Amid the potent personal monologues they've created you'll find several of their collaborative pieces. Many are floating across more North American cities than just Toronto and Winnipeg.
According to Star, it's no coincidence zines became an important cornerstone of queer and trans communities. As an artform that's cheap, discourse-oriented and requires only a motivated community to distribute it, it has become a haven for those tired of waiting to be represented by mainstream publishing.
"Zine making for me is about feeling represented, feeling heard and owning our stories and doing it for ourselves and not anyone else," Star said.
One example is The Bathroom Zine, put out by the Ryerson Trans Collective last year. The piece is a culture jam of images and dialogues — protest art from the collective that demanded trans students on campus be granted a safe, gender-neutral space to access a washroom.
One chapter, Other Places to Pee, suggested peeing on Sheldon Levy might be an appropriate response given the school's lack of movement on the issue.
"That came from a very raw place and it was very grounded. We were just hanging out having a meeting and we were like, 'We should make a zine about this because it's so messed up.'"
The collective placed the zine in one-third of the school's washrooms as a suggestion that one-third would need to be converted for an equitable campus. This semester, two washrooms in the SCC were temporarily converted and more are on their way.
For years, Star has peddled their work on the streets. They've taken to the zine fair circuit, assembling materials and planning logistics. It's a blue-collar approach they're looking to transition out of in the future by sprucing up their website and partnering with printing companies to help expand their product offerings for customers.
For the most part, readers — mostly the queer and trans folk that Star focuses on — have provided positive feedback for their work, though they do have critics.
"I don't think my family is the biggest fan of my art … but I think they've been sitting with that uncomfortableness for a long time you know. I make my family uncomfortable in a lot of different ways so they're just going to have to deal with it."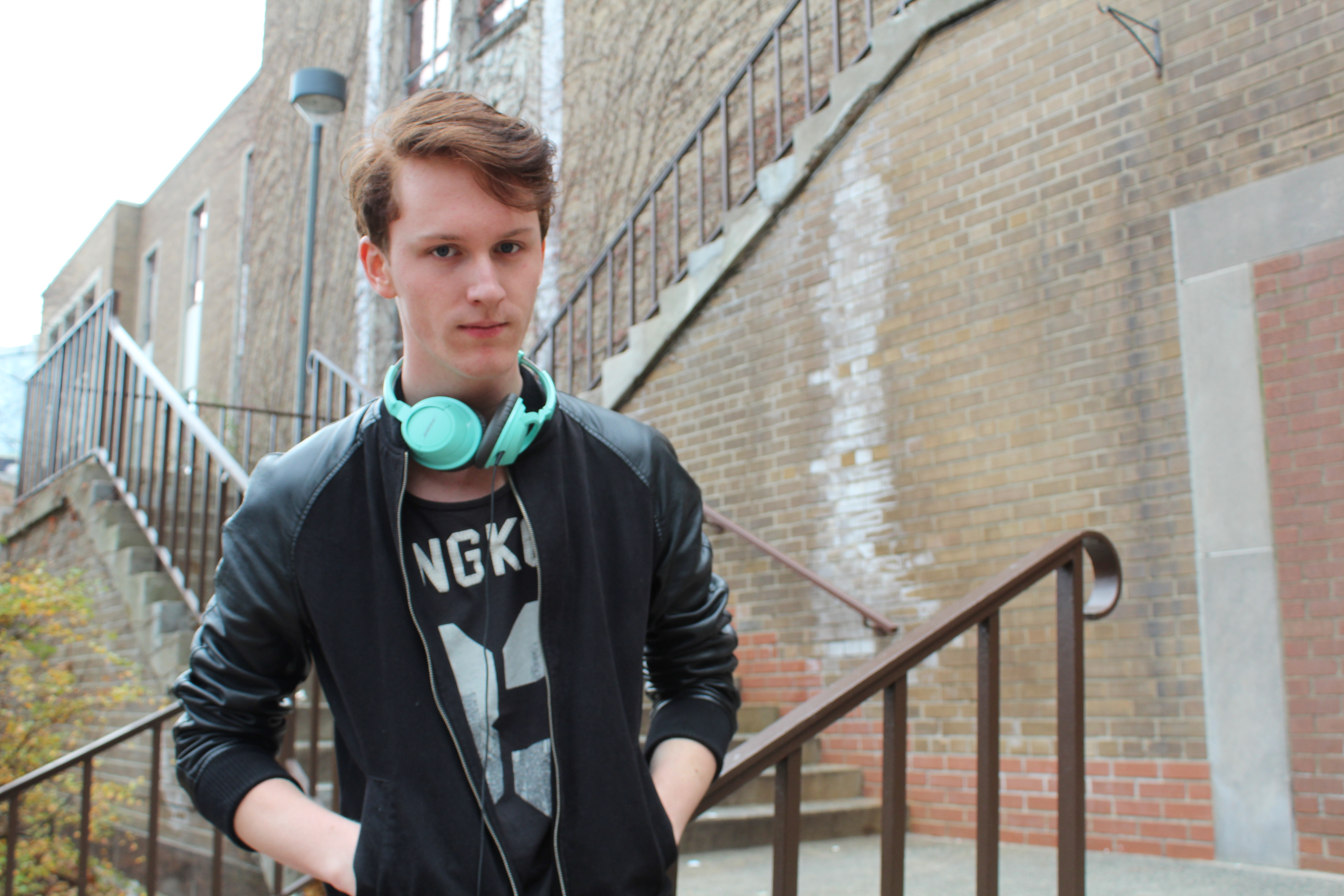 Cameron Walker Fox-Revett
By Annie Arnone
Whether he's at a party or sitting in class, Cameron Fox-Revett can be found with his notebook in hand, writing song lyrics.
His love for writing has been life long, but it wasn't until he wrote and recorded a song with his friend Kailea that he realized evoking emotion through music was his passion.
"Kailea and I wrote a song called 'You Could Never Love Me' … We recorded and produced it, and when I played her the finished product for the first time, she was in tears," he said. "She was so utterly happy and proud and … I want to be able to bring that feeling to many people."
This past summer, he was sent abroad to Scotland, where his penchant for songwriting grew, as well as his collection of lyrics. It was the start of MAP.
MAP is a collaboration amongst Ryerson students to produce a collection of songs written by Fox-Revett himself to be used in a variety of projects.
The project is funded by the Ryerson Communication Design Society [RCDS] with an approved budget of $11,700, as well as an additional $3,000 set aside from other small contributors. By February they hope to secure another $2,600. The money will go towards getting material professionally recorded and mastered.
"It got to the point that I had such an overflow of material that I wanted to have put out," he said.
"This summer, the theatre school sent me abroad to Scotland to study performance. And while I was there I learned so much … it felt like different geographical places I would go to would influence different material," he said.
Fox-Revett made sure to include different genres throughout his collection of songs, drawing inspiration from various people.
"[The songs] are so sparse and eclectic but they're united in the fact they exist within this MAP project," he said. "They're going to be included in dance and theatre pieces."
Wisdom Teeth — a film exploring sexual assault — will also be featured in MAP, as Cameron hopes to write a song for the piece, featuring director Syd Lazarus' voice.
"We've contracted with a bunch of films … we wanted to put out songs about sexual abuse because it's a conversation that needs to be had," he said.
"[I] wanted to have songs about gay positivity as well … there are certain singers in songs that use pronouns efficiently. Some songs are very ambiguous with their pronouns because I wanted to make sure that not all material was binary."
Jenna Daley, a fourth year theatre student and singer joined MAP after being approached by Fox-Revett with a song entitled Ego.
"It's really cool to be a part of," Daley said. "I love hearing new things and he's inspired me."
Not only does Fox-Revett wish to unify Ryerson students through his music, he also intends to use this project as a springboard for his growth.
"The project is also a stepping stone for me personally, and just going for something that I'm passionate about which is writing, and singing and producing and bringing people together."
As a result of the success of MAP, Fox-Revett was given the opportunity to perform in New York City this April.
"A colleague of mine is producing a song … and the song cycle is constructed by songs by young up-and-coming composers," he said. "I've been selected as one of them to write two or three of the songs for the show."
MAP will be performing at Ryerson's holiday show on Dec. 2.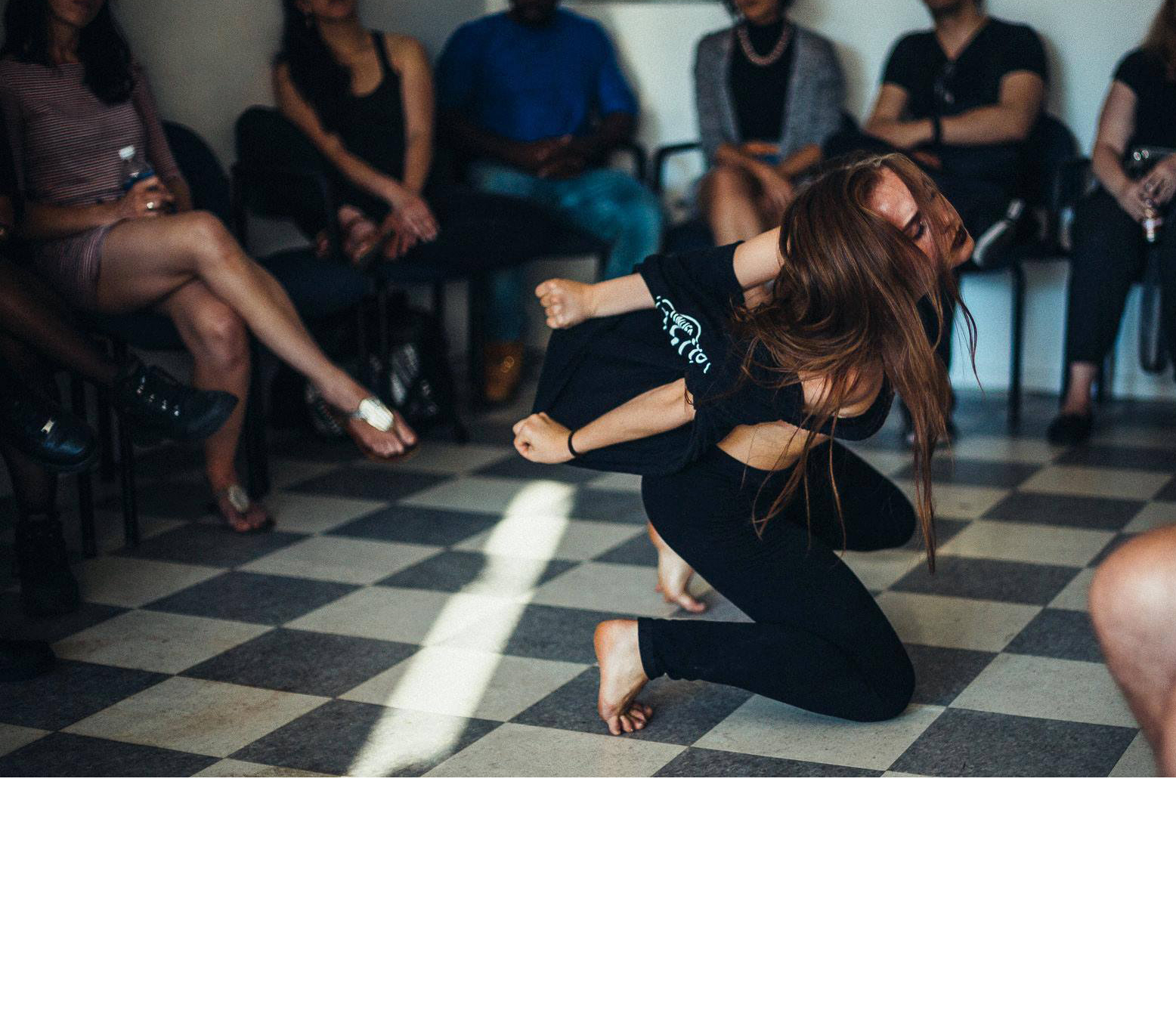 Short Dances
By Natalia Balcerzak
The lights dim as the audience watches the figure in the middle. It's quiet as everyone waits for the music to be turned on. No one knows what to expect — sometimes, not even the performer. There's a wide range of emotions as the performers invite those who are willing to come with them on their personal journey.
Run by five members, Short Dances is a collaborative group of Ryerson students and other dancers that encourage artists to perform in a unique space. They're free to do whatever they feel and express themselves through their own interpretation of dance. Their boundaries are endless, with no choreography or rules. Just raw, real feelings.
Short Dances stage manager and fourth-year Ryerson arts and contemporary studies student, Maricris Rivera, said that being surrounded by people with a similar mindset is what artists need to grow comfortably.
"The dance industry is competitive enough," said Rivera. "Here it's different, we're humble and accepting [because] every person comes there for a different intention, a different purpose."
Short Dances has started attracting many students from Ryerson's performance program, along with people from around the GTA and even outside of the region. Working dancers that are taught to move the way their choreographer wants them to often feel constraint and require an outlet.
"It's always such a breath of fresh air to see different artistic backgrounds," said Kyana Astles, a second-year Ryerson dance student and Short Dances performer. "Everyone has a different story and I felt grateful to be able to enter someone's world even if it's just for a moment."
Independent dance companies that are trying to get started also come in to showcase and promote their work. As for resumes, there are none as they welcome people from all types of backgrounds — some performers are professionals, others are just trying out their art.
Founded in 2013 by Alvin Collantes, a student from Western University, the group has gone through a series of changes. What was originally intended to be a casual improv dance session confined to a small room has turned into a monthly event that invites all types of artists. From spoken word poets, musicians, actors and even a flamenco dancer, Short Dances has become a space for anyone to collaborate.
"I think it's a great opportunity for any artist to have a stage, because a lot of us can't go on big stages all the time, so it's nice that we can share what's on our mind and any problems that we have at the time," said Alexander Medeiros, member and photographer of the team. "It's never about the aesthetic of the dance or of the piece, it's always behind the meaning [and] after they perform, you feel like you know them."
Chantelle Mostacho is a Ryerson dance grad and performer for Short Dances. She said she found the intimate space to be more honest, as opposed to rehearsals. "It's a showing of an exploration but it's a finished product -— it's a good place for feedback."
Their stages aren't what you'd expect. Collaborating with local businesses and small venues, Collantes said the spaces they use are meant to be intimate. They've performed in art galleries, underground coffee shops, gardens and little known theatres where the audience sits in a conjoined circle
"We tried to emphasize the intimacy of the event because when you see shows in Canada or in Toronto, a lot of it is prestigious based, you know — big theatre kind of thing and it's with props and with music, all planned and rehearsed," said Collantes. "And we wanted to create an alternative way [of] performing and expressing, which emphasizes the organic, raw and natural part of the artists."
Through word of mouth and Facebook posts, their shows have grown in size. The average audience has tripled from 10 to 30-plus people. But for Collantes, he said that he always reminds the dancers that it doesn't matter if five or 50 people come.
"Whoever wants to witness and be a voyeur to that event, have an open mind and be curious to what you want to share — then that's a bonus."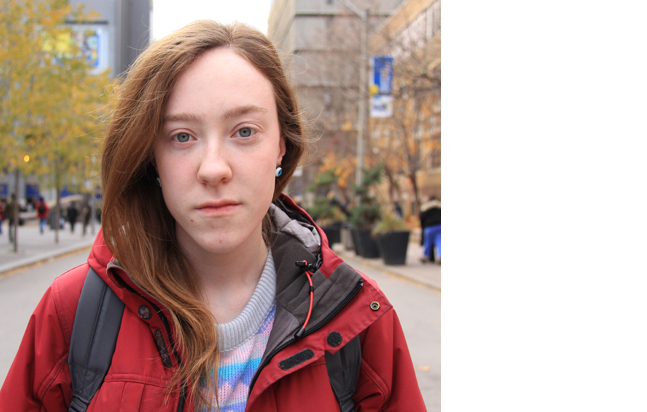 Twoey Gray
By Al Downham
Poet Twoey Gray was 18 when she travelled to Haiti.
Interning for a non-governmental organization (NGO), the second-year politics and governance student says she wasn't sure what she was looking for upon arrival. However, her experience with corruption during her six-month stay was long enough to get a taste of "poverty tourism."
"I expected something better of a sector of work that claims to want to change the world," she says.
Gray saw millionaire charity donors who couldn't "get used to the smell of Haitian," donors who live in luxury and swim on white-only beaches. Meanwhile, local families lived in intense poverty.
"The NGO industry is, really, a mess," she says. "I wanted to learn a lot, but some of it was hard to."
Two years later, this trip became a spoken word piece that'd help take Gray to an international poetry slam.
Gray — a member of Ryerson student groups Poetic Exchange and RU Creative Writing Club — has written poetry since kindergarten. However, it's only been a year since her first spoken word slam at a local bar. And although her time in the community's been short, she's already qualified to perform her collection of politically-charged poems at the Women of the World Poetry Slam (WOWPS) in Brooklyn, N.Y.
"I talk about politics but I also talk about personal stories," says Gray, who's also performed at Pride Toronto, Brave New Voices in Atlanta, Ga. and monthly Toronto slams. "I think the personal is political."
Gray has become one of "the girls" in what she calls a scene dominated by male voices, finding inspiration in her personal experiences with girlhood and the devaluing of young women's opinions.
Inside the Dangerously Empty Lives of Teenage Girls was her first piece, based on what she describes as a "bullshit" Maclean's article of the same name.
The article focuses on mental health and "self-objectification" of young women obsessed with vanity and the products marketed to them.
"First of all, it was patriarchal, but second of all, it was just rude. Why is it a face palm if a girl likes One Direction? I'm not a huge fan, but you understand you're specifically marketing it to young girls and then you punish them for buying into it?"
Since that piece, Gray has collaborated with other young women in the spoken word scene. This semester, Gray — along with Ryerson student Cassandra Myers and Lindsey Drury — created the Ragdoll Collective, aiming to help fellow female writers perfect their pieces. The group hosts workshops, events and travels to international competitions. She says forming a collective is the spoken word equivalent of starting a band.
"We were immediately grouped together," says Gray. "We realized we liked each other a lot and didn't want the three slam girls to be constantly in competition.
"If we had just been in our own bubbles and competing with each other, I don't think any of us would have made [it] this far. I talk about politics but I also talk about personal stories"
She says the phenomenon of "boys yelling" can be tiring. Although performers have varying vocal styles from hip-hop flow to staccato pronunciation, she says being loud can come across as "cheap."
"Sometimes [slams] become a competition of who can be the most aggressive, and it's really important to have charisma and be able to move a crowd and hype them up," Gray says. "But I think it can be kind of cheap to yell your way through a poem because, you know, it's a really visceral thing to hear."
Although this trend has made it harder for soft-spoken female artists to gain recognition, Gray and her collaborators help to promote other female poetic voices in Toronto.
Gray's next big performance is the WOWPS show in March.