For Mass Exodus, the Ryerson fashion program's annual showcase and one of the largest student-run fashion shows in the world, The Eyeopener has done a small series of profiles on a few of the communication and design students involved. By picking 9 students, we wanted to give a small taste of what the show has to offer by writing on their final fashion lines or communication projects, along with their creation process, experience in the program and love for fashion.

Also featured in the series is award-winning designer and Ryerson alumni Todd Lynn who is the curator. We look into his impressive fashion career, experience at Ryerson and what he is going to look for in the students' fashion collections when picking the top 15 lines.

Stay tuned for recap articles, video footage and photos of the showcase!
Menu
Use the menu to jump straight to one of the profiles:
Todd Lynn
Aliza Markovitch
Bianca Bellantoni
Biliana Gortchova
Curtis Oland
Haneen Abu-Hiljeh
Jessica Wu
Olga Okhrimenko
Van Yanez
Wanze Song
Todd Lynn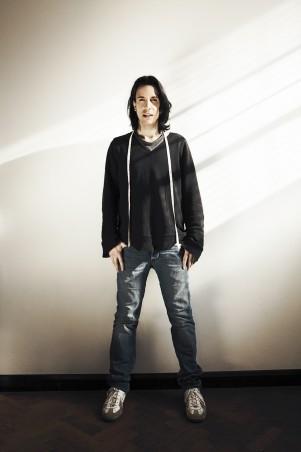 Critically acclaimed fashion designer and Ryerson School of Fashion alumni Todd Lynn is making his return to Ryerson University to curate this year's Mass Exodus fashion show.

Having worked with popular music icons from Beyoncé to Courtney Love, Lynn is bringing his expertise to the event and will be judging the pieces showcased on April 10 to select which ones will presented in the final, invite-only evening show.

Lynn graduated from the School of Fashion in 1991 and credits fashion education for giving him the framework necessary to gain knowledge of the industry.

"The building blocks you learn at school are crucial to be able to expand on when you finish," says Lynn. "If you go to a reputable school in the field that you want to work, it really does help."

Lynn says he knew from a young age that he would pursue a career in a creative field, but his love for fashion developed while working with the art departments of theatre. Choosing to attend the school of fashion strengthened is passion for the art.

"Going to school meant understanding fashion and understanding the industry. The more I got to know about it, the more I enjoyed working it in," he says.

After graduating, Lynn stayed in Toronto for several years to do consulting work for companies and work as much as possible in the fashion industry. He says by working, he was able to build on his knowledge of the industry. In 1998, he moved to London, England to pursue his master's degree in fashion at Central Saint Martins College. He's been based in London ever since.

When it comes to fashion, Lynn's pieces are reminiscent of rock 'n' roll culture and plays into trends that are often sported by musicians such as Mick Jagger. However, he doesn't have just one source of inspiration.

"I'm more interested in looking at popular culture, art, films, musicians and what's happening in the world," he says. "I put all that into a type of melting pot. That's my aesthetic and it just works, so I don't actually force it. I think if I forced it, it would be cliché and I don't really want to do that."

Avoiding a forced aesthetic means working with his clients to create pieces to fit their individuality and each person as a character. Lynn spends time communicating with stylists and sometimes with the artist directly to customize their look.

"I understand what they need, I understand what they're trying to go for," Lynn says. "They trust me."

There are several things that Lynn will be looking for in the pieces he will be examining throughout the show. The main thing for him is making sure the pieces haven't been done before.

"I think the most important thing about fashion is that, as a fashion designer, you really have to be proposing new ideas," he says. "So I'm looking for something that has a unique statement, is personal and something that only the designer can do."

To Lynn, fashion is primarily about ideas, and pushing new concepts forward. He says that without this, everyone would be wearing the same thing. He explains that it's difficult because all humans are built with two arms and two legs, so designers have to find new ways to fit that. This is another aspect of fashion he will be looking for at the showcase.

"It would be nice to be surprised. It's a hard thing in the fashion world right now because with the economy, everyone's so nervous and I think that at the moment, there are very few surprises," he says.

That said, Lynn thinks that being a student in the fashion world means limitless opportunities in terms of which direction to take fashion concepts. He says that the great thing about being a student is that what you choose to present in a show isn't a defining factor in a career and isn't going to make or break an upcoming designer.

"Being a student is an opportunity to expand, play and have fun while learning something," he says.

But being a student isn't easy, and Lynn says that not only do you have to work extremely hard, but also students need to have a genuine interest in all aspects of the industry. Knowing everything from makeup artists and magazine editors, to the history of fashion and designers of the past are what makes someone a good designer. Lynn says that interest in the industry can make or break someone's career.

"It's not just about being aware, it's about being interested," he says. "A lot of people are in fashion because they like the idea of fashion, it's not what the industry is about. You can't survive if you just like the idea. You have to be absorbed in it."

By Jessica Valeny
Aliza Markovitch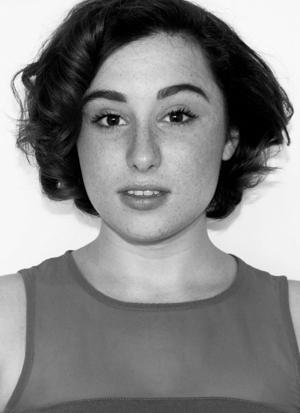 Imagine scanning a packaged product and having access to so much more than just the physical features of the package itself.

That's exactly what fourth-year fashion communication student Aliza Markovitch is doing in her capstone project for Mass Exodus.

Through augmented reality software, she's incorporating digital content into packaging designs, allowing people to see more than what meets the eye.

"With everything you buy, you're only limited to the physical package," Markovitch said. "But what if I told you you could do more."

She explains augmented reality as a fusion of digital and print.

As a package, she uses Goorin Bros hat boxes and through an app, viewers can access a video about the long-running history of the company as well as information about the quality and manufacturing of the product.

"You're seeing virtual elements interact with real elements," Markovitch said. "It's cool because everyone has a cell phone so accessing all this augmented reality content is really easy."

When someone scans the box, it looks like the additional content is appearing on the box, almost as if the box is coming to life. Markovitch describes this as "Harry Potter-like."

Markovitch designed all the digital content herself. She also made a partially animated video to go along with it.

"I'm not inventing putting augmented reality in packaging, but you really don't see it a lot in the fashion industry," she said.

She said she really wanted to showcase how augmented reality can be used in this industry. Originally, Markovitch had wanted to incorporate virtual reality into the fashion industry for her project, which is when people are fully immersed in a virtual environment whereas augmented reality is a blend of the real and digital environment. But with extensive research, virtual reality proved to be more and more complex so her capstone mentor, Beatriz Juarez, suggested doing augmented reality as it was much more accessible.

Markovitch credits Juarez for giving her the idea to look into augmented reality and that she has been extremely supportive throughout the entire process.

"My first major bump was having to let that big idea go," Markovitch said. "but since I picked a realistic topic and picked something I could really take as far as I want, I think that is what is going to make it successful."

From September to December, Markovitch has been doing research for the project and started putting together the creative portion in January.

In the future, Markovitch said she would love to work in an advertising agency and can see herself creating unique customer experiences through branding.

"What makes advertising so much more effective is when you have campaigns where people are being able to integrate and engage with it," Markovitch said. "It creates this kind of emotional connection."

She would love to bring her knowledge of augmented reality into an agency that wants to expand into that area.

"A lot of agencies are getting into virtual reality and augmented reality and I definitely see that in the future as being very big," Markovitch said.

Markovitch said she believes that augmented reality would be a great addition to the fashion industry in packaging designs.

"The story continues after you go home with the product, you get to still engage with the brand and have that fun continue."

By Olivia Bednar
Bianca Bellantoni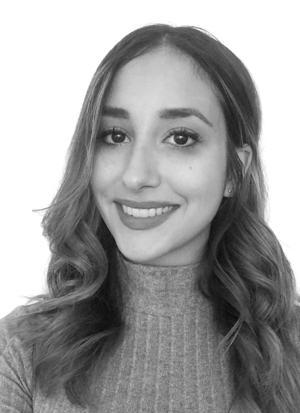 Bianca Bellantoni, fourth-year fashion design student, will be debuting a sustainable clothing collection called Crystallis at this year's Mass Exodus.

The Crystallis collection is drawn from the latin word for crystals and focuses on people's interest in crystals whether it's for the intricate shape or the possible healing powers.

"I have friends that are interested in crystal healing and so I started doing research, it really just started from curiosity," Bellantoni said. "I always design with geometrics so I wanted to use the shape of the crystals."

Every piece of clothing in Crystallis is made from Global Organic Textile Standard organic cotton and peace silk, completed with all biodegradable buttons as apposed to zippers.

"It was a challenge for myself to make a line that was sustainable as possible using fabrics that are organic by an international standard," Bellantoni said.

While Bellantoni has been interested in sustainable clothing for the past two years of her fashion career, it hasn't quite caught on with the rest of the fashion industry.

"It's a niche, it's difficult, it's starting to gain more awareness but you still can't really go into a mall and find eco friendly outfits," she said.

Preparing Crystallis for Mass Exodus is a trying experience according to Bellantoni.

"The first day of class you have your inspiration board and the next week you have your sketches," she said, "You go in the classroom and it feels like everyone is stressed."

However, there is a positive side to the extensive amount of work fashion students spend over the year preparing for the show.

"It's been a good learning experience, you really have to manage your time properly," she said.

During her time at Ryerson, Bellantoni has grown to appreciate all of the opportunities offered through Ryerson and the tight knit community that grows with fashion majors.

"The teachers are really friendly and you get to know them over the four years," she said, "It's a small group and everyone kind of knows each other which is nice."

Bellantoni's desire for fashion developed while she was studying communications back in Vancouver, but when it came to deciding where she wanted to study, Ryerson became the obvious choice.

"I wanted something more creative and I found that fashion was the right creative outlet for me," she said. "I did some research and Ryerson was one of the best schools in Canada that also offered a degree."

The fashion design student has already started a label called Bellantoni and hopes to continue creating sustainable, eco friendly women's apparel while spreading the importance of organic clothing.

"Sustainable fashion can be done and it can be creative and fashionable," she said.

By Zoe Melnyk
Biliana Gortchova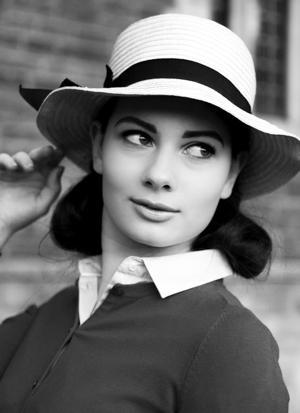 Fourth-year fashion communication student Biliana Gortchova is in the process of finalizing her project, Veiled which will be showcased at Mass Exodus, the Ryerson School of Fashion's year-end showcase, on April 9 and 10 in the SLC.

For ten months, Gortchova analyzed the Muslim culture, its core values, Islamic scriptures and their meanings, and the purpose of religious dress in attempt to challenge western notions on Muslim culture and women. She took her findings and transformed into a coffee table book as her final project.

"I wanted my project to be impactful and related to current events and make it serve a purpose," said Gortchova. "Each chapter is dedicated to each woman that I interviewed and their picture and also includes their own perspectives and opinions about their culture and why they wear the vailed and that's where the name of my project came from."

"My project quickly became about challenging the oriental perspective of the Muslim culture and incorporating real Muslim woman and getting their voice heard as they don't usually get that opportunity,"

The inspiration for Gortchova's project began in her high school years after she read the novel A Thousand Splendid Suns by Khaled Hosseini which focuses primarily on female characters and their roles in Afghan society.

"The project began with understanding what the veiled is, what it means to be Muslim and what being Muslim is really about compared to what the media portrays it as," said Gortchova.

Gortchova's 10 month intensive research from the internet, books and personal interviews intensified her fascination with the Muslim culture and she wanted her project to contradict the media' often inaccurate portrayal of the culture.

"The media leads many to believe that the Muslim culture is violent, oppressive and it's a topic that we hear about but its not very well educated and leads people with false information," said Gortchova. "By getting a range of women to talk about their own perspectives really showed how wrong the media is about Muslim culture and I hope my project can give an insight to why that is," Gortchova added.

The book itself has 300 pages which are divided into 14 chapters, one chapter per woman interviewed and pictures to accompany the text.

As Gortchova's time as a fashion communication student at Ryerson is coming to an end, she has plans to travel to Copenhagen for five months and then to the Canaries Island for three months where she has found a job to keep her occupied.

"After graduation, I just want to travel a bit as it's something I have always wanted to do. It will be my time when I have nothing going on and I won't be tied down to anything or anyone," she said.

While she is excited for her time off to travel in the summer, Gortchova said she was thankful for her time at Ryerson.

"I have really loved my program as it has touched upon everything and it's one of the very few programs that actually has a whole fashion industry in one degree," she said.

By Lauryn Pierro
Curtis Oland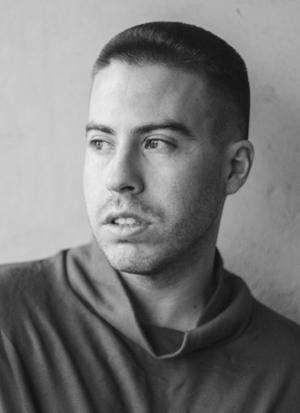 Fourth-year fashion design student Curtis Oland will be debuting his indigenous-inspired menswear clothing collection at this year's Mass Exodus showcase in the Student Learning Center (SLC) on April 10.

Oland originally found the inspiration for his collection, Harvest, after spending a couple of months with his family learning about his heritage in Lil'wat Nation in British Columbia last summer.

The Harvest collection consists of five different looks making up a total of 14 pieces. The designing process began last semester, while actually constructing the pieces was the main focus of this semester.

"From a superficial standpoint, it's very raw and very nature-inspired," he said. "I'm really drawn to the act of gathering and harvesting materials throughout the seasons in sort of a ritualistic way. You only take what you need."

Oland explained that every piece of fabric used to create his art has its own history and connects all of the people that have also created or used that fabric.

Despite being inspired by his indigenous heritage, Oland insists that it is a Canadian collection, not an indigenous one.

"I want to change the perception of what it means to be a First Nations and being an Aboriginal designer," he said. "I wouldn't consider my collection to be a traditional First Nations collection, it is just a combination of all my experiences growing up."

Oland added that people are categorized based on their heritage, when in reality, Canada is a melting pot filled with different cultures sharing and collaborating ideas.

"Being Canadian means that we are multicultural, we are very diverse and we come from mixed backgrounds," he said.

With Mass Exodus approaching, Oland has been working hard to find models that can represent his collection.

"It's important to me to include my heritage, it's a big part of my life," he said.

However, Oland explained that it is difficult to find a range of models in the fashion industry from different backgrounds. After looking for indigenous models to represent his clothing, he had trouble finding ones that were the right fit. He then decided to make his selection diverse rather than indigenous.

The collection started as a gender-neutral line, but after he started looking for models, he felt the clothing suited men more than women and rebranded it as a menswear collection with "gender neutral tendencies."

As for the venue, Oland explained that the SLC could be a limiting factor, since there's significantly less space for spectators. However, he's confident the show will still be a success.

"It's just a unique, new venue, but I think it's a great idea," he said.

Oland's love for fashion developed from an early age and grew while he studied visual arts at Emily Carr University of Art and Design in Vancouver.

"I sort of taught myself by taking apart garments and trying put something new together, it's become a puzzle that's really fun to figure out," he said.

Oland came to Ryerson in 2012 originally for its reputation, but only planned on staying for a year or two.

"I ended up staying here for four years because I realized that I could learn so much more," he said.

Now that he's months away from graduation, he's looking forward to combining his knowledge of art and design by potentially doing a fashion internship in Berlin.

"That's the most important thing, the cultural exchange and collaborating ideas and sharing experiences with each other," he said.

By Zoe Melnyk
Haneen Abu-Hiljeh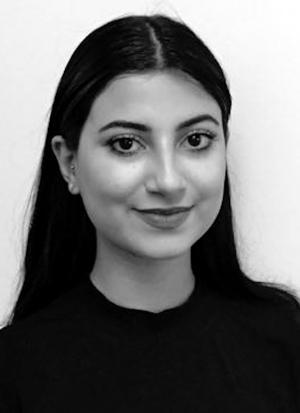 The deserts of Petra and Wadi Rum, Jordan are where Haneen Abu-Hiljeh drew inspiration for her lingerie line called Unveiled.

The fourth-year fashion student spent two nights and three days desert camping and fell in love with the juxtaposition of harsh rocks against soft sand, as well as the neutral colours of the desert - which now has played an important roll in the design concept of Unveiled, her fashion line being presented at this year's Mass Exodus showcase.

"I'm playing on two different concepts - the first one being the different shades of nude," said Abu-Hiljeh. "Regular nude colours in clothing is usually a light peachy colour, but I use three different shades of nude so that they're suitable for all skin types."

The second concept plays on the idea of wearing lingerie as outerwear, rather than intimate clothing.

"It's not really a bad thing to show (lingerie) anymore," she said. "A woman embracing and being comfortable with her body - that's beautiful."

The line consists of bodysuits, bralettes and a sheer over coat - all designed only with mesh and leather fabrics, teetering between conventional and intimate wear.

Despite the hundreds of hours spent designing her line of several pieces, Abu-Hiljeh is thrilled with the way Unveiled turned out.

"I alternated between late nights at home and at the Ryerson studio, it was worth it though," she said. "I'm so happy with the way [my designs] turned out."

Now approaching her final year as a Ryerson fashion student, Abu-Hiljeh recalls the moment where she struggled with sticking to a specific stream of fashion design.

"When I started I had no clue what I wanted to do," she said. "It wasn't until I started interning at Fortnight about a year and a half ago where I started becoming interested in lingerie design ... it was beautiful."

She is now a regular production-assistant at Fortnight - a luxury undergarment line in Canada.

Following her internship, Abu-Hiljeh enrolled in the Countor class - a Ryerson elective offered to fashion students, specifically addressing the concepts and fundamentals of lingerie design, furthering her love for the style of clothing.

Since the age of seven, Abu-Hiljeh has had a love for fashion design and recalls always dressing different than her friends

"Since the age of seven I've been sewing my own clothes," she says. "I made a black v-cut tube top with a crest on it using my Disney sewing machine."

Unveiled will be featured in show B of Mass Exodus on Sunday at the Student Learning Centre.

By Annie Arnone
Jessica Wu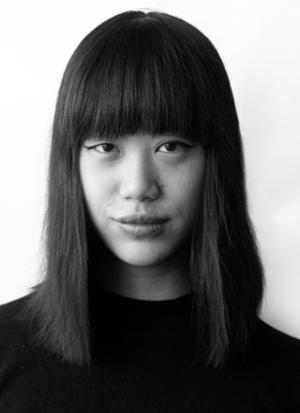 Mass Exodus is one of the largest student-run fashion events in the world and a tool for fourth-year fashion students to showcase their hard work. For fashion communication student Jessica Wu, it is "an opportunity for everyone who was involved in the making of my creative to see it displayed."

After viewing last year's exhibit, Wu says she gave careful consideration to how she wanted to present her capstone project. From how it would be displayed to how it communicates, and how it connects with the viewer. "I decided that short one minute videos were most effective in capturing a visitor's attention," says Wu. That is where the idea to create five short videos with different color schemes started.

Spectrum, Wu's visual project, is a presentation of five films where each film represents a different colour's psychological, physiological and emotional effects on human beings. The main theme she wanted to communicate was the valuable use of color theory in visual storytelling.

She says the films are meant to be conceptual visualizations of the characteristics of each color. Each film takes into account and seeks to portray how each colour is typically used in cinema. She used variety of techniques to achieve different colour effects depending on the characteristics of the colour story.

Wu says her initial focus for the videos was strictly on colour theory however in pre-production, she realized styling was integral to the overall feeling and aesthetic of the project.

"The styling was key in expressing my vision, inspirations, and differentiating the films from my past work as a fashion student," she said.

Before this capstone project, Wu said her body of work was very black and white.

"I hardly ever used color and I had also been doing a lot of commissioned graphic design work. I decided to focus on a subject that could be applied across multiple disciplines," said Wu.

She explained that she wanted to challenge herself and learn more about something from this project. Colour theory is something she says she wanted to know more about and how to use colours effectively in creative work.

"I am participating for the opportunity to share my work with others who otherwise might not have seen it," she said.

Like any creative program, it is what you make of it. As Wu shares her work with Ryerson for one last time, she hopes to continue working in video production and directing her own passion projects in the near future.

By Adriana Parente
Olga Okhrimenko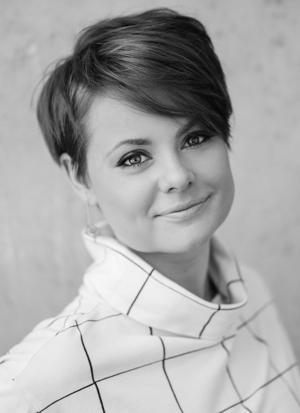 Olga Okhrimenko grew up making dresses for her Barbie dolls. Now, at 26, she's designing a collection for Mass Exodus.

The fifth-year fashion design student's collection O'Sailee consists of nine pieces of sailing-inspired fashion, complete with rope and wood. It will also include handbags.

Okhrimenko said the idea to design a sailing-themed collection came to her last year when her friends introduced her to sailing and took her out on a boat. While she "loved the lifestyle," Okhrimenko said she was fascinated with how everything was organized on the boat itself.

"The combination of the ropes, wooden dock, white sails and the water, it all inspired me," she said. "I couldn't think about anything else when I started designing."

Okhrimenko's passion for design began when she was a little girl living in Ukraine. Her mother couldn't afford to buy her new clothes, she said, but she still wanted to look fashionable. So, Okhrimenko made her own clothes and drew inspiration from magazines and a variety of fabrics.

Her biggest source of inspiration when designing are different kinds of fabrics, Okhrimenko said. Before she even designs anything, she goes to fabric shops to scope out potential material. Afterwards, she sketches about 20 different versions of the same article of clothing, selects the best one, and builds off that.

It takes Okhrimenko around 200 hours to construct the final garment. She said she focuses most on how well her fabrics perform in different designs.

The clothing in O'Sailee is mostly black and white. Okhrimenko used leather, pleather, sailing rope and pieces of plywood to communicate a sailor vibe. She said she used the rope on handbags and pair of overalls.

"They're supposed to be external and survive sun and wind and terrible conditions, so they're really durable," she said. "It's great to use them."

Okhrimenko also used wood on her handbags to reflect the decks of sailboats. She cut the wood herself and covered the bag almost completely with wood chips.

"I do it mostly by myself," she said. "Almost 90 per cent of the bag is covered in wood."

Okhrimenko described Ryerson's fashion program as "intense," and said the best thing about it was all of the technical knowledge she gained from her instructors.

"In general, the industry is really tough," she said. "But the school teaches really well and the profs here have great insight. I'm going to miss the program when I graduate."

Okhrimenko's professors have taught her how to bring a specific look to life, she said. They also teach her small "tricks" she wouldn't have learned anywhere else, such as which needles to use when sewing with leather.

"This was a great learning experience, to design something out of leather. I wouldn't have done this anywhere else," she said.

After graduation, Okhrimenko said she plans to stay in the fashion industry and start her own line. She also wants to build on her Mass Exodus collection and explore the use of wood. She said she would like to experiment with bamboo and oak specifically.

By Victoria Shariati
Van Yanez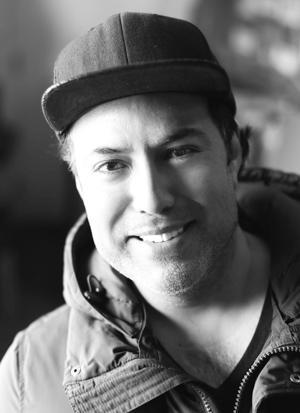 From paper to the runway, Van Yanez hopes his collection, Midnight Garden, will make the audience gasp in awe and feel like they are being transported into the fantasy of fashion at Mass Exodus. The five-piece luxurious eveningwear line is inspired by Mexican mythology and symbolism of the Mexican goddess Coatlicue. Yanez translates the fantasy, beauty and colours of Coatlicue into his garments.

"When choosing the textiles, I didn't want it to be literal to a garden but more abstract. I chose patterns, embroidering and beading that suggest a flower or drops of water on a petal," he said.

Since second-year, Yanez has been working full-time at EyeCandy Accessories Inc. and being a full-time fashion design student at the same time resulted in him working tirelessly to complete the line.

"When I wasn't in class, I was working and during the weekends I would work on my projects. So I've never really had a social life," Yanez explained.

For one dress, he took a week off from work to complete it, waking up at 8 a.m. and going to bed at midnight. But it isn't just time and handmade tailoring that makes this line so unique, but the quality of fabric and textiles used.

Yanez considers himself an artistic designer. He has background working with theatre, costume design and the arts. With all this knowledge, he was willing to use the best materials for his designs.

"I don't care how much it is, I have to have it as long as it completes my vision", says Yanez.

The materials consist of 100 per cent silk, French invisible laces, silk velvet, custom dyed ombre fabric, hand embroidered sequins and Swarovski crystals. In total, he spent $5000 on material alone. Due to spending all this money, he couldn't afford to hire a seamstress. He hand sewed all the detailing on each dress which included two short dresses, three gowns to the floors and two that have a train. The dresses are ideally what someone on the red carpet would wear.

Since Yanez has spent many years working with theatre wardrobe, it was a challenge not to go over the top with the dresses as he had to hold back many times with his designs.

"I wanted to do something that was a little bit something extra and makes it dramatic but not looking like a costume. I want the women who wears it to grab the attention once she enters the room," he said.

Even though Yanez has professionally worked in fashion already, he enrolled into the program in order to learn the technical elements behind designing and creating clothing. Before, he would buy patterned material and has now learned how to make it himself.

With the final show coming up, Yanez is unsure with what he will do with the collection once Mass Exodus is over.

"I could sell it, but it's my first collection and I want something to keep as a memory," Yanez says, "Who knows? It wouldn't hurt getting some money back for the dresses."

Yanez's line will be on the second runway show in the Ryerson SLC on April 10th. The last show is a curator show that showcases the top 15 collections with industry professionals in the audience. Yanez said that he would like to make it into the final show but wouldn't be devastated if he didn't.

"Overall, I'm very excited for the show but also for my classmates as well. We are a small class and everyone is super supportive and talented," said Yanez.

By Miriam Valdes-Carletti
Wanze Song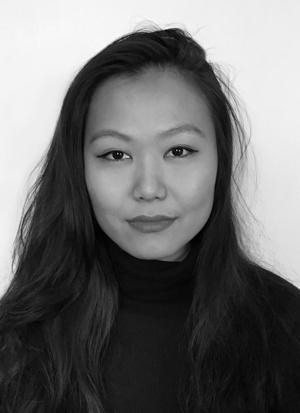 Fourth-year fashion design student Wanze Song is redefining femininity with her self-titled collection for this year's Mass Exodus.

Song calls her collection "contemporary womenswear" in the sense that she uses simple, loose-fitting garments instead of having tight-fitting silhouettes with jewels and other aspects that are typically considered feminine.

The collection's loose-fitting shirts and wide-legged pants, along with oversized coats and long, tailored vests, allows her clothes to fit with any body type. Since none of her garments are accentuating the female body, they aren't restricted to certain body types. This also ensures that her clothes are comfortable and easy to move in.

"Instead of designing silhouettes that accentuate the natural forms of the wearer, I wanted to create pieces that emulate the shapes and forms seen in architecture," said Song. "I wanted my designs to be modern and dynamic without sacrificing elegance and femininity."

Song's fascination in architecture came from her exchange trip to Europe in her third year. She wanted her collection to be minimal yet still dynamic, and the shapes she saw in modern architecture fit perfectly with her concept.

"Once I got there, it was like every building was a sculpture of art. I draw inspiration from the shapes, the lines, the shadows, the colours, the compositions within each architecture," said Song.

Song's collection aims to be as unique and artistic as modern architecture, but at the end of the day they still remain functional, just like any other building. The main fabric she uses is a cotton and polyurethane mix which is comfortable and easy to care for. She also uses denim for its timelessness and durability and double ponte knit for its structure.

A lot of the garments in her collection are reversible, making them very versatile. The wearer can choose to be subtle and wear one side with a solid colour, or they can choose to be more playful and wear the other side showing some bias tape detailing.

After this collection, Song plans on staying in Toronto for about a year gaining more experience and paying off her student debt. After that, she wants to return to Europe because their fashion scene is more liberal compared to Toronto, which tends to have a more traditional fashion scene.

"In Canada, people don't tend to wear unique, outstanding, one-of-a-kind pieces; clothing that's more conceptual or artistic. I find that in Toronto we're all dressed quite normally and traditionally. When you're in Europe, however, people wear whatever they want and everyone has such an identity," said Song.

If you're planning on going into fashion design, Song advises that you prepare yourself for the hours and the effort you're going to have to put in with every design you make.

"Be prepared for the workload and understand that it's not really that glamorous if you're going to study fashion design," said Song. "Ninety per cent of the time you're going to be in the lab with no makeup on and in sweatpants sewing."

But, according to Song, if you have the passion and the dedication, you'll be able to make it through and get the education you need to get into the fashion industry.

By Celina Gallardo