The value of experiencing BYU certainly wasn't lost on Coleman, but the native of Brooklin, Ont., barely an hour's drive from the Big Smoke, knew where his heart lay.
"They have a fantastic volleyball program, probably the best in the NCAA," says the professional communications major of his first post-secondary stop. "But I couldn't see myself living there for four years."
"I wanted to be close to home and Utah was just a little too far."
Joining the Rams meant reuniting with several past teammates, including fourth-years Alex Dawson and Robert Wojcik, who played with Coleman on the Durham Attack club team as high-schoolers.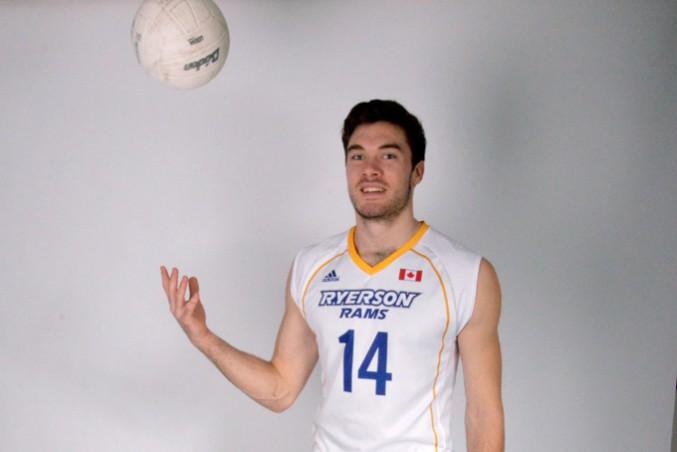 Though they fell out of touch after their days with the Attack, the chance to play alongside some familiar faces made Coleman's transfer to Ryerson all the more fulfilling.
"Right when I walked onto the team, it was like I knew them just like I did back in the [old] days," he says. "It was like nothing was gone."
Coleman seemed to click well with his new team as soon as he arrived. He was second on the team with just over three points a game in his 23 sets as a first-year player.
But Coleman confesses that it wasn't until Ryerson's first-round playoff game against York that he finally felt comfortable as a Ram.
"That was probably the most [high-] pressure game I've played at Ryerson," recalls Coleman. "I was able to come off the bench ... and immediately step in, and I knew 'I want to be the leader of this team and take this team as far as we can go.'"
Coleman had 17 kills, second amongst all Rams, in a tight 3-2 road win over the Lions.
Joining the team halfway through the season meant missing summer training camp and team building exercises, including the team's midseason trip to Cuba. Although he was playing with some former colleagues, Coleman did feel somewhat out of place.
Being a part of team exercises prior to this season was instrumental in changing that, and now Coleman would hardly call himself a misfit.
"I'm definitely a part of something — outside of the team — here with them," says Coleman as assistant coach Luka Milosevic walks by and gives him a high-five. "They're my best friends."
And when this year's campaign began, it was obvious that Coleman felt right at home.
The Rams were dominant all season long, jockeying for position near the top of the league en route to a 15-5 record and a second-place regular season finish, thanks in large part to a stellar second year from Coleman, his first full season in a Ryerson uniform.
Coleman tied for third place among all OUA players in kills and kills per set, claimed third in the conference in points and points per set and finished in the top ten for total service aces and aces per set.
Those numbers were good enough to earn Coleman a spot on the OUA First All-Star Team as Ryerson's only representative to the team. Coleman also became just the second men's volleyball player in Rams history to earn All-Canadian status when he was named to the CIS Second All-Canadian Team.
"He was so impressive this year," says head coach Mirek Porosa. "He exceeded, I think, his own expectations and those of the coaching staff. He was so consistent and efficient."
With the OUA season in the rear-view mirror, Coleman is hoping those qualities will earn him a spot on the Canadian junior national team this summer.