"[At] four years old, I used to be out there at five in the morning shooting pucks. My dad thought I was crazy," he says.
Gallant started his junior career when he was 16 with the Nepean Raiders of the Canadian Junior Hockey League (CJHL). He cites his first season with the Raiders as "crucial" to his development. Gallant was then offered the opportunity to play in the Quebec Major Junior Hockey league with the Gatineau Olympiques — an experience he doesn't regret, but one he says he certainly didn't enjoy.
"I got there thinking I'd be put into more of an offensive role, but it turned out to be 'hey Mitch go fight these guys' which I didn't really want to do," says Gallant. "I went back the next year and it was the same kind of story, so I didn't even make it through training camp, I knew it wasn't for me."
For Gallant, the thought of quitting hockey never entered his mind for the simple fact that "you know when you're done hockey, you're going to hate you life, you know?"
"It'll definitely be an adjustment when he stops playing, it's hard for every player," says his father Donnie Gallant. "Coaching is the closest thing, when you're not a player, to being involved with the game. But when you get into the workforce you don't always have time for the things you want to do, so we'll see what he wants to do."
Talking about his two seasons spent with the Pembroke Lumber Kings of the CJHL and ultimately winning the Royal Bank Cup national championship in the 2010-2011 season, Gallant's eyes light up. Calling it the pinnacle of his playing career, that same season Gallant and the Lumber Kings would win an unprecedented fifth straight Art Bogart Trophy, beating the Cornwall Colts in six games to win the CJHL championship. Throughout his two seasons with Pembroke, Gallant would play 73 games notching 53 points.
There are fathers who enrol their sons in sports and then stand back and let the coaches take over. Then there are the fathers who enrol their sons in sports and end up coaching them. Donnie was the latter, helping coach his son throughout minor hockey. While he never gave his son any slack or preferential treatment throughout his father-son coaching tenure, Donnie believes his son always had what it took to make a career out of playing, whether he coached him or not.
"Mitch is a pretty straight-forward, what you see is what you get, nothing fancy player. He can score, but he finishes his checks and plays clean and he plays hard," Donnie says. "He's always been a good player on any team that he's on. I've always told him to be respectful of the game and just play to his style."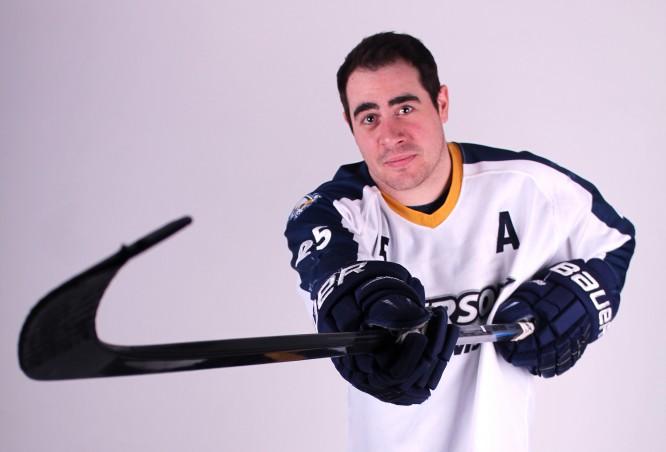 Fielding offers from the University of Ottawa and the University of Prince Edward Island, Gallant ultimately chose to attend Ryerson in the spring of 2011 and play for the Rams because, "you can't pass up a chance to play in [the Maple Leaf Gardens]."
Gallant accumulated only 19 points in his first three seasons with the Rams, but 14 of those came during the 2013-2014 season. That was why head coach Graham Wise decided to promote him to the first line this season; playing with offensive powerhouses Domenic Alberga and Fine. The move paid off, with Gallant achieving his best production with the team to date. He doubled his points from the previous season and put up 28 points in 25 games — something Wise attests to his off-season training and playing with high-calibre players.
"Mitch has gotten better over the years, he contributes on offense and he's an all-around, hardworking guy who we've come to expect a lot from," says Wise. "His off-season training, getting himself where he needs to be physically, as well as playing with Fine and Alberga has paid off."
While Gallant will be with the Rams for one more season, his future in hockey after school is clouded for now. But whatever he decides to do, whether it's opening the restaurant he's always dreamed of or pursuing a career in coaching, one thing is certain: he's perfectly fine accepting any cliché that's associated with hockey, as along as it means he can be around the sport that's defined his life.
"Its hard to see my life without hockey after being involved with it for 20 years, so if I wasn't playing, I'd hopefully be working somewhere in hockey," says Gallant. "I'd like to own my own business, maybe open up a restaurant. I'd like to work for myself, have something that I created. I don't like working for other people."