And starting each game didn't phase the self-described "calm and confident" goaltender. He led the Ontario University Athletics (OUA) in total saves with 889 — 94 more than the next best goalie. His .904 save percentage was the 13th best and he was ranked fourth in wins with 14.
"It was a good thing," Passingham says. "As a goalie you want to play every game, so I take it as a sign I deserve to be out there."
Wise says he didn't plan for Passingham to play every game prior to the start of the season. But since the two backup goalies were rookies, it became a matter of experience.
"It's a big challenge for him to play that number of games and we asked a lot, but he was able to do it for us," Wise says.
Ultimately, the Rams lost in two straight games in the first round of the playoffs and were eliminated by the University of Toronto Varsity Blues.
"The playoffs are where you want to have the most success so losing is always tough, especially when it's U of T. It's our cross-town rival," says Passingham. "We finished higher in the standings so we thought we had a good chance but it was two close games."
When Passingham started playing, he wasn't necessarily a number-one. "I started playing hockey when I was seven," he says. "I wasn't a very good as a [skater]. When I got my chance at goalie I thought, wow this is awesome, and from there on I was a goalie."
While he says his goaltending style gets compared to the Florida Panthers' Roberto Luongo, Passingham's favourite team has always been the Toronto Maple Leafs. And more than once, including March 20 of this year, he has gotten to practice with the Leafs at the MasterCard Centre.
"They were going to call up a guy from Ryerson just to practice anyways [to] give [Jonathan Bernier] a break. It worked out and I got to go out there and practice at the facility," Passingham says with a smile when reflecting on his first Leafs practice in April of last year. "It was a great experience and a lot of fun."
The Leafs aren't the only team Passingham has worked with. After his OHL career ended in 2011, Passingham got called up to practice with the Detroit Red Wings — which also happens to be his dad's favourite team.
"My family's pretty supportive in general," Passingham says. "My dad's always been that driving force to go to all the practices, yelling at me when I do bad stuff."
After living by himself for a few years to play junior hockey, being able to live at home with his family was one of the main reasons Passingham chose to come to Ryerson.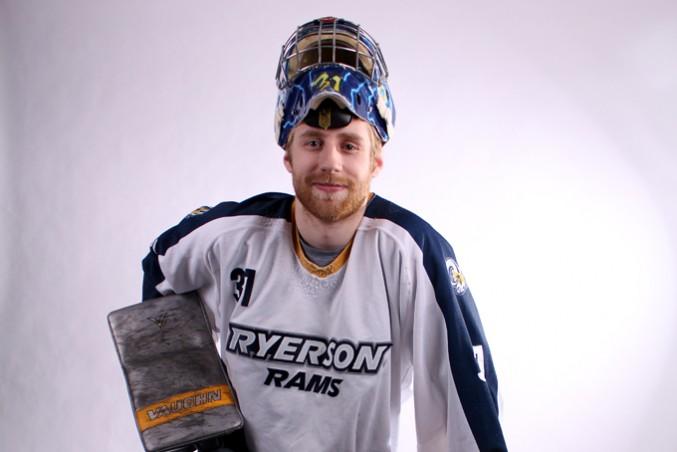 "Having my family right there, having that support system behind me has probably been a big help," he says. "I could have easily lived on my own but it's kind of nice to be at home and be able to come to school."
While he admits splitting time between school, hockey and commuting can be a "time crunch," he's been able to succeed. "You just get used to it after a while. It's a lot harder to play hockey and do school but I've been here for four years now and I've kind of gotten used to a routine and balance my schedule."
His personal goal for next year is to, again, start every game. "If they bring competition in I'm going to be ready for it and prove that I'm ready to be that number one guy next year again."
In terms of the future, Passingham says, "I'm just trying to get through university right now, and see what happens from there. I just try and continually get better so I can maybe go places with graduate school or hockey."
Wise says Passingham's size is one of his assets as a goalie. "He's a big body, he covers a lot of net."
But that's not all Wise says about Passingham's skill as a goalie.
"He was a solid goaltender for us throughout the year — he was an iron man playing all the minutes that he did."