advertising@theeyeopener.com
The Eyeopener is here to connect you with over 40,000 Toronto Metropolitan University (TMU) students, faculty, and staff. We've been doing it since 1967.
From classrooms to faculty lounges, student dorms to student pubs, The Eyeopener is there, in print and online. We are the best way to connect with a vibrant, ever-growing campus with thousands of students, staff & faculty.
The Eyeopener covers news, sports, arts and much more every week, with a special emphasis on the people, places and things that the students and staff at TMU are interested in. Thousands of TMU students and staff pick up our paper or visit our website every week, which means an ad in The Eyeopener is in front of them in print and online.
We will be printing a paper every other week from late August to the beginning of December, and from late January to the beginning of April. We also feature online content including micro-sties which are hosted on our website. We publish special issues every year – Love & Sex, Sports Top 10 and several other themes are available for unique advertising opportunities. Your print or online ad will be seen at theeyeopener.com or on one of our custom-designed microsites, where over 40,000 unique visitors arrive every week.
Advertising in The Eyeopener is cost-effective. Your ad appears in bi-weekly print copies of the paper, and studies have shown that those copies are shared and passed on to an additional three to four students. So your ad is tripled or quadrupled in the number of people who see it. We also offer advertising throughout our website, or you can purchase a spot on an Eyeopener podcast.
With over 40,000 visitors and over 100,000 pageviews a month, your ad will reach thousands of potential customers.
We offer a range of advertising options, from full-page full-colour, to 1/8 black and white. Get in touch and let us know what your needs are – we'll be able to find a solution that fits your budget and connects you with thousands of new customers.
Get in touch today to connect with over 50,000 potential customers. Call 416 979 5262 ext 552336 or email advertising@theeyeopener.com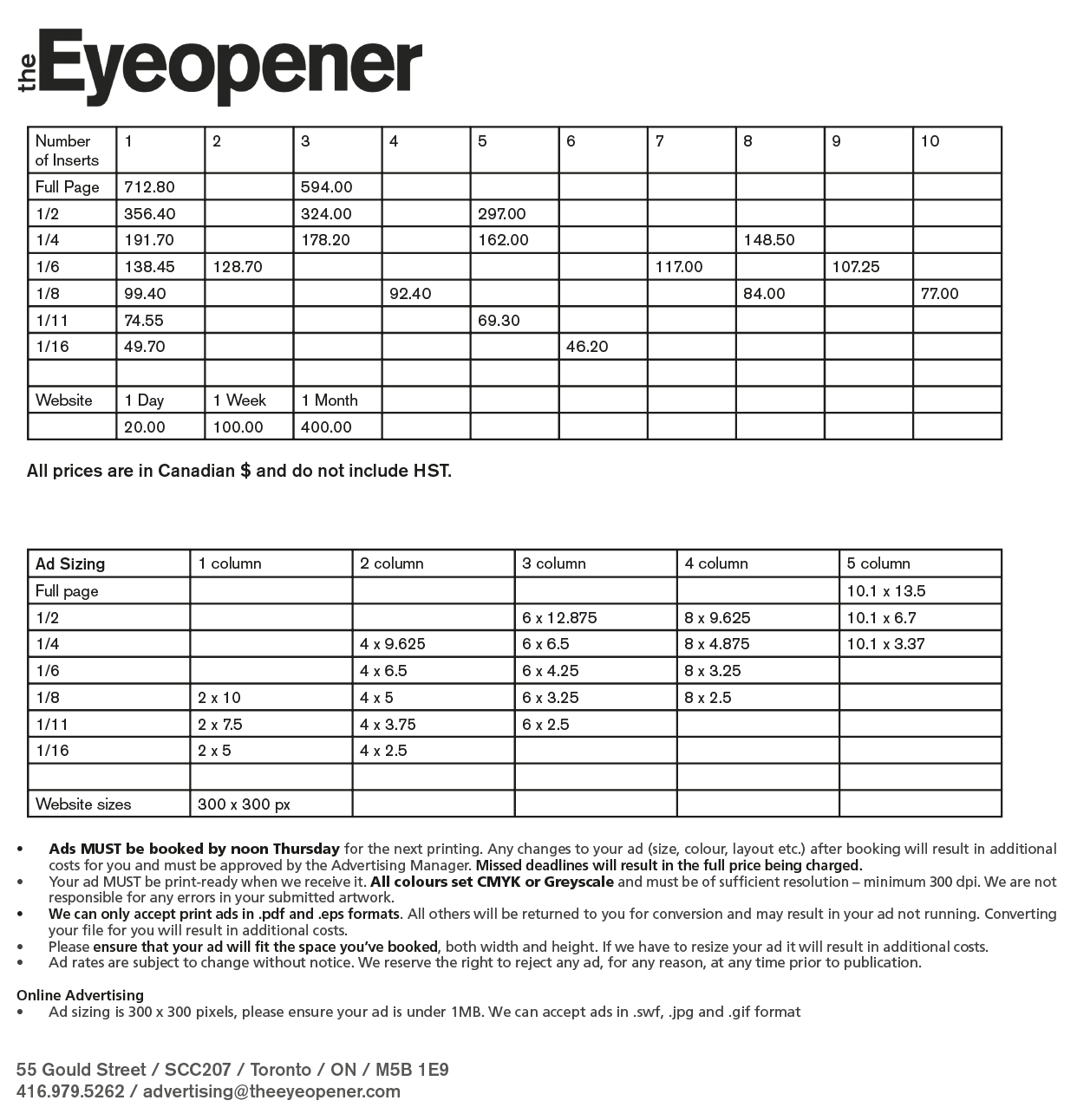 The Eyeopener 2023 / 2024 Print Production Schedule
2023
August 22 – September 12 / 26 – October 17 / 31 – November 14 / 28

2024
January 23 – February 6 / 27 – March 12 / 26 – April 9