Reading Time:
2
minutes
By Farnia Fekri
The Ryerson women's soccer team lost their second game of the season 3-2 against the Laurentian Voyageurs on Sunday.
Although the score was 2-2 until the last minute of play, a yellow card and a penalty kick cost the Rams a tie they could almost taste.
"It was a good team performance, despite the result," head coach Kevin Souter said. "They did what we asked, and that was to bring a level of intensity."
The Rams had a rocky start that threatened to mirror Saturday's tough loss, letting the Voyageurs score in the first five minutes. Ryerson goalie Brittney Clendenan was tested again just six minutes later as the ball bounced off of the crossbar and in front of Laurentian's Megan Ferguson.
The two players were face to face for a heartbeat before Ferguson kicked the ball above the goalie's head to give the Voyageurs a two-goal lead.
"We've just been inviting pressure," Souter said. "Every time they got the ball, they'd put it in the box, especially when they're in our end, and that causes problems for any team."
Clouds cast shadows over a silent home crowd as the Rams hectically tried to defend, becoming frustrated at their lack of possession.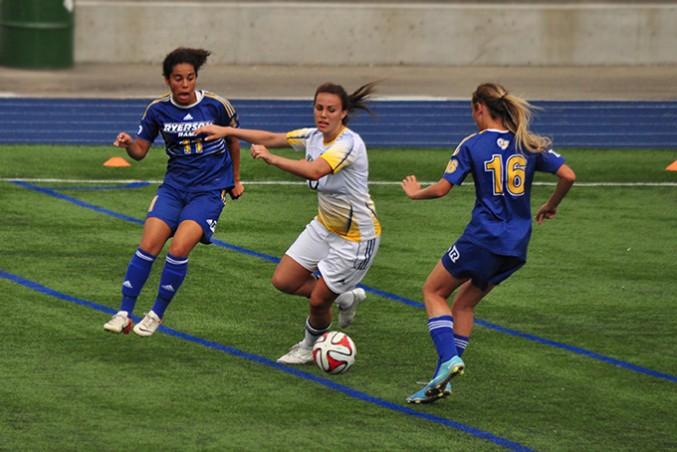 The sun shone again over Monarch Stadium as Alex Rodkin stepped up to take a penalty shot, 24 minutes into the first half.
There wasn't a sound in the stadium except for the smack of her cleats against the ball that soared past the goalie's outstretched fingers.
"We played really well," Rodkin said. "I think they're a good team but I think we're better."
Rodkin's goal energized the Rams, pushing the defense to keep Laurentian from hanging onto the ball. Inspired Ryerson forwards used every chance to attack, with Soraya El-houni scoring from a distance at the 30-minute mark to tie the game.
The score remained 2-2 through most of the second half as both teams fought hard, just missing several close chances to break the tie.
In the last minute of play, the referee's whistle screamed through the air when Leah Semeniuk's hand grazed the ball during Laurentian's last offensive push.
As Voyageur Amy Fitzgerald prepared for the penalty shot, the Rams knew where the game was headed.
"We were a bit more battle tested having played a game already," coach Souter said. "We just need to move the ball a little bit quicker at times."
The team will now travel to Ottawa next weekend for games against Carleton and the University of Ottawa.