Reading Time:
8
minutes
A first-hand look at turbulence, fear and death in Israel and Palestine from a student who saw it all. By Natalia Balcerzak
The palm trees provided little shade from the sun.
Burdened with a giant green and grey Deuters backpack, I walked up toward the residence I would be calling home for the next month. The carved stone architecture held onto the ancient charm as stray cats lounged around on benches.
My apartment had a huge window in the main space overlooking Jerusalem. A few steps in, I immediately noticed that one of my roommates' bedrooms was a bit different than the rest. Constructed with heavy concrete walls painted white, steel window shutters and a thick metal door, it was a bomb shelter.
The coordinator joked I shouldn't be worried about ever having to hide in there. She said that there'd be obvious signs leading up to a threat and gave no instructions on how to use it.
Days later, as rockets began to fly into Israel and as air sirens blared across the city, I found myself shutting that metal door behind me.
When I arrived in Israel, everyone I talked to wanted to discuss the same thing. The three Israeli teenagers, kidnapped and later found dead, left many feeling devastated and vulnerable. The news not only ignited the flames of anger in them but struck a match that soon led to destruction and deaths.
With romanticized aspirations of becoming an international journalist, I was aware that Israel was the place to be. As most traded in their summer for fun in the sun, I signed up for a foreign correspondence program to understand more about the Middle East conflict. While my friends moshed at concerts back home, I was surrounded by angry rioters.
The unbelievable stories that seem so distant in the West were what drew me in. Tales of suffering, on all sides, are real.
A couple days after my arrival, I crossed the checkpoints at the barrier wall into the West Bank. I've heard the term military occupation thrown around a lot, but it wasn't until I walked the deserted streets of Hebron that I realized the reality of it. As friction between settlers and Palestinians has intensified, the Israel Defence Forces (IDF) has been directed by the state to close down streets and communities in Hebron.
Our guide through this once tourist filled city was Nadav Bigelman, a former IDF soldier and current member of Breaking The Silence, an organization led by veterans that publishes first-hand, often confidential accounts of soldiers in the occupied territories.
He said he wanted to reveal the harsh truth with the hope that something would change.
"Israel has sterilized Hebron." He said the Israeli military has banned Palestinians from using certain roads, leaving them to be enclosed in their neighbourhoods. The IDF still stands guard.
"If we want settlements here, the army needs to be here. If the army is here, it needs to control Palestinians," Bigelman said. "As long as the Palestinians are here, this is how occupation looks like." Hebron now resembles a ghost town.
"Some can't leave their front door because of military presence," Bigelman said. He talks about the relationship between the army and the civilians, based on his own past and accounts of other soldiers.
For most of the Palestinians of Hebron, life continues within their newly redefined safe zone. Others are less passive – struggling to regain streets they say belong to them.
Across the street from where Bigelman ends his tour sits Beit Hadassah, an apartment complex that many refer to as one of the newer Jewish settlements in Hebron. It is one of several settlements in the city protected by the military.
David Wilder and his family are residents of Beit Hadassah and he sees their presence in the West Bank as a natural biblical right. This area, he claims, was part of the original land given to Jews by God. It is the burial place of the Jewish patriarchs – Abraham, Isaac and Jacob.
"My wife and I wanted to go somewhere where they needed Jews," said Wilder. "We did not conquer foreign cities, we came home." Wilder raised his family in an area the rest of the world has deemed dangerous. A handgun hung from his pants alongside the fringes of his prayer shawl. Despite bullet holes in his cabinets and countless disputes with Palestinians, he plans to remain here.
"If God gave it to me, I can't give it to you – anytime we give [Palestinians] anything, we get dead people," Wilder said.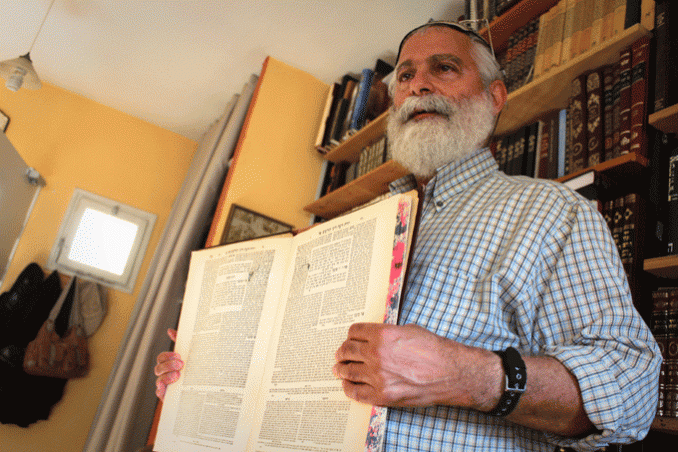 My Canadian passport granted me entry through the checkpoint to Palestinian communities in Hebron. We came from the echoing, tip-tapping sound of footsteps in empty alleyways to a bustling scene of food stands, people and honking cars lined up bumper to bumper. Everything was congested. Life here seemed almost surreal after the silence of the streets we had left.
Market vendors and residents of Hebron tried to welcome us with gifts of fruit. Some saw our notepads in our hands and cameras strapped around our necks, identifying us as journalists and as people who could tell their  story. They all wanted a picture, they all wanted to be interviewed, they all wanted to not be forgotten.
As we headed out, a young Palestinian girl came up to our group to ask if we were coming back on Friday. We asked what happens then. She responded: "That's when the soldiers shoot at all of us."
The next week, I was on a light rail train in Jerusalem when it stopped abruptly. An announcement in Hebrew apologized for the delay. Everyone got off and started walking toward the main streets. As I followed, the energy changed. I heard aggressive chants and screaming.
During a public vigil for the three deceased Israeli teens, emotions turned wild. People lost control. Jewish extremists were hunting down anyone that had any resemblance to an Arab, seeking revenge for the teenagers' deaths. They were pulling them off trains and chasing them down streets in giant mobs, pulling their limbs and pounding at them.
Police officers on horses stampeded into crowds to save potential victims. More backup swooped in as the mob began chanting death threats and ignoring security orders.
Their aggression grew more violent as they motioned signs to Arabs passing through the area, threatening to slit their throats and chanting "death to the Arabs." It became clear to me that blood was going to be shed. And it was.
A 17-year-old Palestinian boy was found dead in a forest the next morning. The boy's body showed signs of torture and burns. It didn't take long for the situation to escalate.
Constantly surrounded by journalists, with the conflict consuming my thoughts, I looked for ways to get closer to the action in Shuafat, in East Jerusalem. When chaos erupted, I slipped past patrol to find myself alongside Israeli police, EMS workers, the media and locals.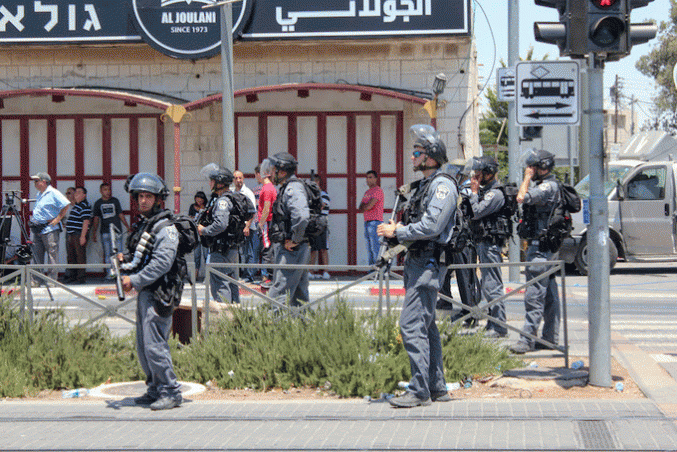 The Palestinian rioters stationed their makeshift staging ground in front of a little store. I found out from bystanders that it was actually the deceased boy's parents' shop and where he was kidnapped. They also mentioned that the teenager worked as an electrician and came by to fix the shop's light last week.
The rioters covered their faces with keffiyehs (checkered scarves) and began to destroy a nearby train stop. One Palestinian rioter had a metal pole that he used to shatter the glass panes. An eerie silence followed the destruction and we all knew we couldn't do anything to stop it.
Rioters used plywood boards as shields and threw rocks and cement blocks towards the Israeli police. Occasionally, tear gas would be thrown – I couldn't tell where it was coming from.
That night I was lullabied by explosions and the whirring of helicopters flying by my apartment. I didn't get much sleep. At around 4 a.m., the call to Muslim prayers sounded throughout the city. As early morning came, I looked out my window to see the skyline of Jerusalem covered in a heavy yellow smoke. Whether it was from a forest fire, or from the rockets, or from the riots, that scene symbolized a lot of what was to come.
Along the Gaza Strip is Sderot, a city that has been an ongoing target of rocket attacks since 2001, according to local reporters. Every house has a government-issued bomb shelter attached to it.
All the bus stops double as one too. The people that live here base their daily routine along these shelters in case of a crisis.
Since they're so close to the border, citizens only have 15 seconds to find cover in case of a rocket strike. Children are taught songs in schools to help them countdown as they run to the closest spot. Their playgrounds are shelters as well, with orange lines painted on the side to guide how far in they must hide.
A high percentage of people suffer from trauma living in conditions like this. Some are afraid to be alone, others get the shakes when they hear the warning calls. A kindergarten class in Sderot was asked to draw anything they wanted and almost everyone drew their biggest fears.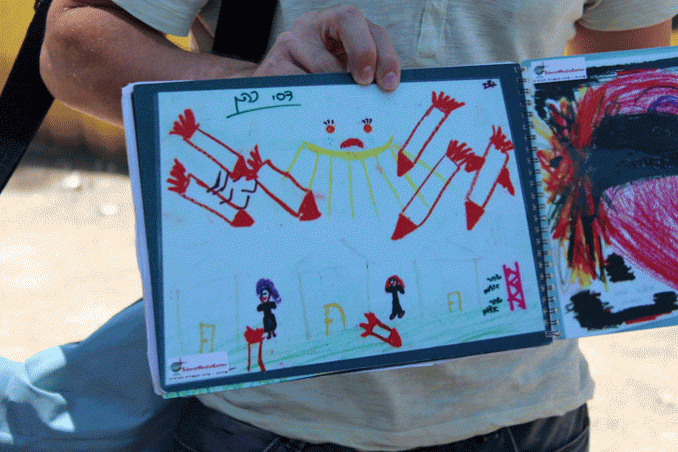 Their drawings showed bright, red rockets raining down on childish depictions of families.
Our group visited Gita and Boris Kaufman, an elderly couple who immigrated to Sderot from Belarus in 1992.
They have two daughters and three grandchildren – all of whom have grown up in this city. When they first arrived here, they never thought the danger would escalate to this level. It's difficult for them to leave now, given their age and that their entire family is based here.
Gita Kaufman spoke about their lifestyle and routine.
At 85, she has grown to be a very cautious woman. Her husband is quite the opposite. He likes to ride his bike outdoors and run errands regardless of bomb threats. People adapt differently.
Minutes later, the alarms went off and within seconds, we were jammed into the couple's bomb shelter, also used as an extra gues room. Since rocket attacks are so frequent, they're warned by a female voice on a speaker announcing "Tzeva Adom" – "Code Red" in Hebrew. Gita's husband was out biking again during the alarms.
During heated times like this, people drive with their windows open and radio off to hear the warning. They don't use seatbelts either, saving time for when they have to jump out. On an open road, some people told me they believe that crouching beside the car is the best option.
I lost count of my loosely scribbled tally marks of the number of explosions I heard. Some were faint, others were loud. The Iron Dome, a defence system designed to locate and intercept rockets fired at Israel, usually intercepts many of them, especially those targeting major cities like Tel Aviv and Jerusalem. Each time a rocket is detected, authorities must decide whether it's worth to shoot it down or have it fall into a remote area instead.
Each interception missile costs the country $95,000, local reporters said.
After I left Sderot, the media reported a massive mobilization of 40,000 Israeli troops into Gaza – a move that would cost innumerable lives and spark international controversy.
Reports of rocket attacks from the Gaza strip and siren warnings have become regular across Israel.
I never went into Gaza, as restrictions are heavy and journalists must have permits to enter. But if I learned anything in my time overseas, it's that the Middle East is a complex place. Often, I'll scroll through my social media feeds and see political posts about the Israeli Palestinian conflict which brings me back to all the people I met and the stories I heard. I came thinking, like many other journalists, that perhaps my words could change something. When I arrived home, I realized that the western world likes to draw conclusions and leave it at that.
The Middle East is more complicated.
At publication, the death count of Palestinians in the Gaza Strip this summer has reached more than 2,000, most of them civilians, with more than 10,000 wounded.
The war has caused billions of dollars in damage to Gaza.
Seven Israeli civilians have been killed, along with more than 60 soldiers, according to the BBC. One foreign video journalist, working for the Associated Press, died in an explosion.
More than 2,800 rockets have been intercepted by the Iron Dome.
On August 28, 2014, a ceasefire in Gaza was announced between Israel and Hamas. Despite the peace efforts, the violence has continued – and it seems it will for some time.