Reading Time:
2
minutes
By Josh Beneteau
A Stinger, a Ram and some Zebras were inducted into the Ryerson athletics hall of fame Saturday.
Ryerson president Sheldon Levy and athletic director Ivan Joseph presented plaques to the 2014 class: volleyball star Erin Loughnane, women's hockey founder Stephanie Veltmann and the Zebra's men's soccer team from 1960's.
"A big part of the university experience is student engagement and the opportunities the university gives," Levy said. "Being here is a big thank you to these initial leaders in the community."
Loughnane was inducted in the player category, having played four year with the women's volleyball team from 2002-06.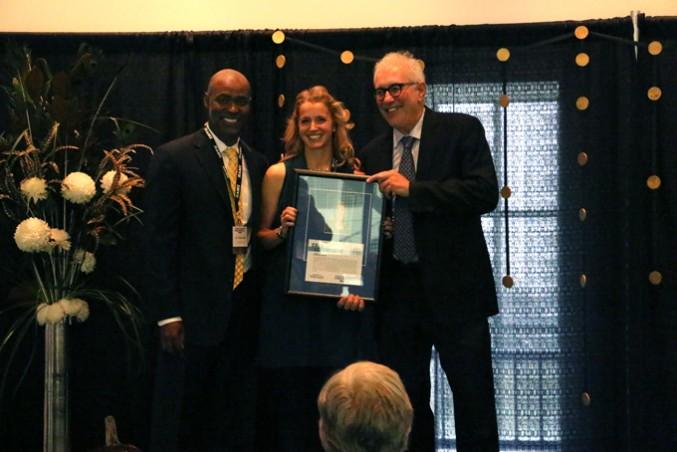 Volleyball star Erin Loughnane
The radio and television arts grad, who now works as a teacher, was captain for three of the four years she played. She was also the Ryerson female rookie of the year in 2003, the female athlete of the year and a four-time OUA all-star.
"Ryerson's played a big part of my life and I am really honoured to be part of the athletics community," she said.
Veltmann was inducted in the builder category for her role in getting the women's hockey program off the ground.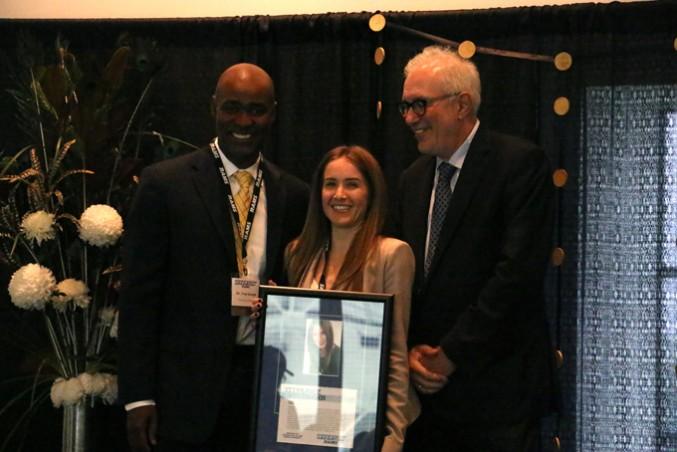 Women's hockey founder, Stephanie Veltmann
The fashion communications grad (2009) campaigned for two years before getting the green light and funding from Levy to found the team. With her parents and brother helping coach and $16,500 from the school, Veltmann led the Ryerson Stingers women's hockey team to the Tier 4 division Golden Blades Women's Hockey League championship in their first season.
In 2011, the team came under the Rams banner and officially joined the Canadian Interuniversity Sport (CIS) as a varsity team.
The Ryerson Zebras men's soccer team was inducted in the team category. They were one of the most successful teams in Ryerson history, winning five consecutive provincial championships from 1964-68.
Nine players and one coach were on hand for the ceremony. Tom Sosa, who coached the team from 1964-66, said he got the job by pure luck. Howard Kerr, namesake for Kerr Hall and the first principal at Ryerson, saw Sosa playing soccer in the quad and hired him on the spot.
Sosa said things have changed a lot since he was at Ryerson but that it was nice to see old friends.
"When I came, it was only the quad, there was nothing else," he said. "Some people look healthy and others don't look so well, but still the joy is there that after 50 years we can still get together."