Reading Time:
2
minutes
By Josh Beneteau
The Ryerson women's hockey team (0-2-0) lost their home opener 3-1 to the Guelph Gryphons (2-0-0) Wednesday night.
The game began with Ryerson president Sheldon Levy, and women's hockey Olympians Hayley Wickenheiser and Natalie Spooner dropping the ceremonial faceoff.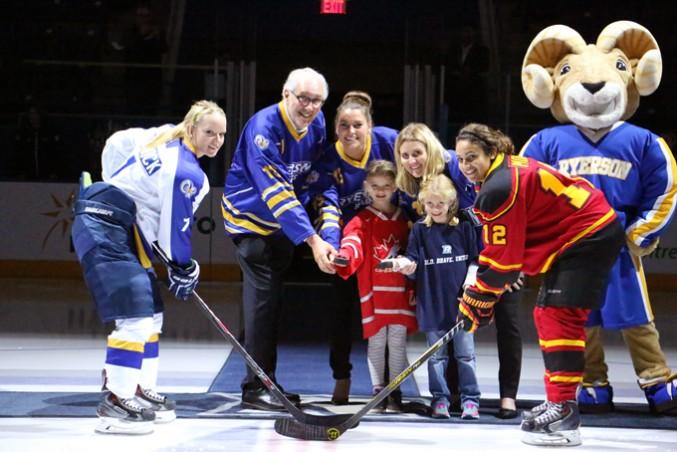 The teams traded powerplays in the first and Guelph opened the scoring on theirs. With Claire Sabine in the box for head checking, Jessica Pinkerton tipped a goal past Ryerson goalie Alex Armstrong 13 minutes into the game.
Less than three minutes later, Ryerson tied the game with a goal from forward Emma Rutherford. After Alex Rodriguez fired a shot into a crowd of bodies in front of the Guelph goal, Rutherford found the loose puck and potted it into the open net.
It was Rutherford's first goal with Ryerson after transferring from the NCAA over the summer.
"I was on the back post and I just put it in with my backhand," Rutherford said. "It was all smiles from there and it was nice to get the first one."
Guelph scored two more by the mid-point of the second period to go up 3-1. In the third Ryerson had some chances, including pulling their goalie with over six minutes to go, but they couldn't get any goals.
Ryerson outshot Guelph 38-31, something head coach Lisa Haley said was a positive to take away from the loss.
"I thought we generated a lot more chances than we have been," Haley said. "Obviously we want to burry a bit more, but 38 shots against one of the top teams in the country is a step in the right direction for us."
The Rams' next game is Friday, when they host the Brock Badgers at the Mattamy Athletic Centre.