Reading Time:
2
minutes
By Ben Waldman
It's good to be home.
The Ryerson men's basketball team (3-0) continued its hot start to the season on Wednesday, defeating the Western Mustangs 81-47 in its home opener.
Ryerson did its best to make the event a spectacle, with Toronto Raptors guard Greivis Vasquez, basketball legend Bill Walton and former Raptors general manager Bryan Colangelo in attendance.
After convincing victories over Waterloo and Wilfrid Laurier, the Rams faced a tenacious Mustangs squad that kept them on their toes in the first half.
With the score tied at 21 in the second quarter, the Rams went on a dominant 17-0 run led by fifth-year guard Jordon Gauthier and six-foot-nine forward Kadeem Green and did not look back.
Gauthier led the game in scoring, pouring in 19 points on 8-12 shooting, but he knows that the team could have played better.
"We missed a few assignments, we were a bit sloppy on offence," said Gauthier, who gave the team's performance a low letter grade. "What separates an upper echelon team is that when things don't go their way, they can still win by 30."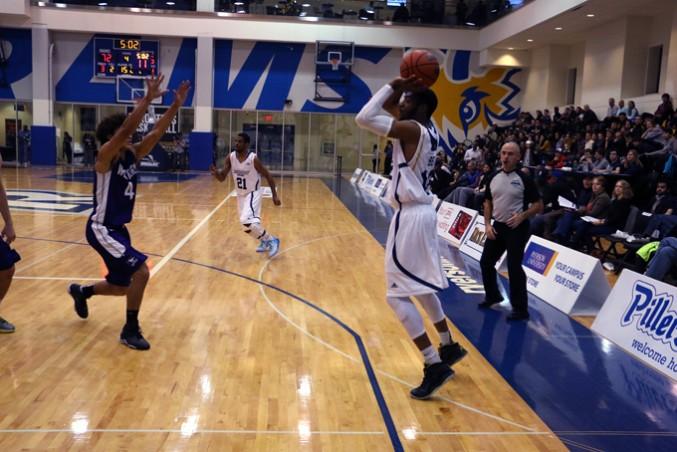 Photo: Rob Foreman
Walton was in town to help promote the upcoming Canadian Interuniveristy Sport (CIS) men's basketball championship Ryerson is hosting in March, but guard Adika McNeilly stressed that the team was focused on what happened on the court, not who was watching.
"We aren't complacent," said McNeilly. "[We] always want to improve in little areas."
McNeilly chipped in a double-double in just over 31 minutes of court time, consistently making smart basketball plays and looking for teammates in open position. Green was a beneficiary of McNeilly's court presence, putting home a couple of highlight reel dunks and showing flashes of his potential.
Head coach Roy Rana felt that his team could have played much better than what they showed the 200 fans who packed Coca-Cola Court.
"We were good [at certain] stretches," said Rana. "And that's encouragement, because I don't think we've played our best basketball yet."
Overall, Rana was impressed with how the Rams responded to the distraction that Walton and Vasquez's presence provided.
"To some degree we created those purposefully," said Rana. "Once we settled down, we were pretty good."
On Saturday, Nov. 15 the Rams host the University of Windsor in a game that McNeilly calls the team's biggest test thus far.
Windsor ranks fourth in the CIS rankings, and has had significant success in recent years.
"It's a game that we could easily lose," Rana admitted, shifting to next game mode. "I'm looking forward to it."
The game tips off at 8 p.m. at the MAC on Saturday.