Reading Time:
2
minutes
By Ben Waldman
The wins keep on coming for Roy Rana's Rams, who defeated the fourth-ranked McMaster Marauders 98-78 on Saturday.
Entering the game with identical 7-2 records, the third-ranked Rams made clear which team was superior.
McMaster led by three points at the half, due in large part to hot long-distance shooting and acrobatic shots, emphasized by a Marauders corner three as the shot clock expired.
Ryerson forward Kadeem Green just knew something had to give.
"I knew it wasn't going to last for the whole game," Green said. "You saw that in the second half."
Green came alive in the second half, pouring in 12 points on 75 per cent shooting and exhibiting his post-move repertoire.
Like Green, the Rams awoke in the final two frames, with their halftime deficit a distant memory.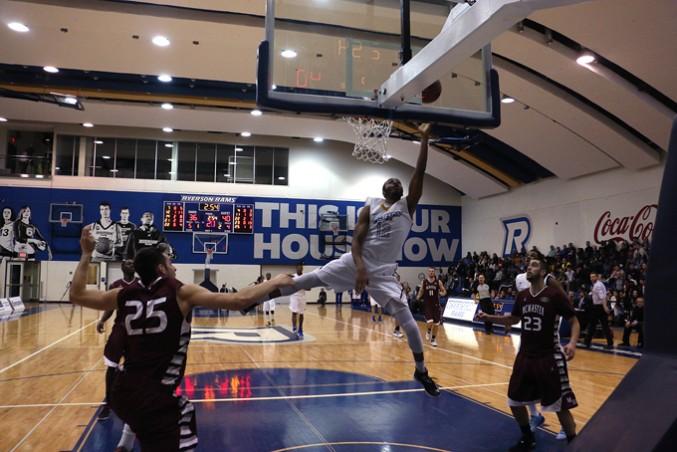 Coach Rana was pleased with his team's performance considering McMaster's high talent level.
"When you play quality [teams], you're going to be tested," he said. "We wanted the opportunity to test ourselves against a really good team."
Beginning to sound like a broken record, Ryerson's backcourt trio of Aaron Best, point guard Jahmal Jones, and Adika Peter-McNeilly was dominant in all facets of the game, combining for 57 points in the win.
After a slow start, Peter-McNeilly heated up in the fourth quarter, during which he scored all 11 of his points.
Best put in a characteristically impressive day's work, missing just two field-goal attempts on the road to 28 points in the emphatic win over one of the country's best squads.
"It does a lot for our confidence," Best said. "It speaks to our preparation and everything we've done up to this point."
While Best's performance was stellar, perhaps more pivotal was the all-around game of Jones, who flirted with a triple-double with his 18 point, 10 assist afternoon.
Rana, always careful with his words, had nothing but good things to say about his point guard's day.
"He's spectacular. He's arguably the best pure point guard in the country," Rana raved. "He showed that tonight."
Fifth-year Rams guard Jordon Gauthier's absence was noticeable, as his hard-nosed offensive style would have undoubtedly helped Ryerson's cause against the gritty Marauders.
Green was excited to see the fans pack the Mattamy Athletic Centre (MAC) for the home victory, and hopes to see that support continue as the team treads toward the CIS National Championship in March, which Ryerson is hosting.
"We're one of the best teams in the country," Green said proudly. "If we have that same support [in March], we should be able to win it all."
The team will be back in action on Wednesday, Jan. 14 at home against the York Lions.