Reading Time:
2
minutes
By Evan Manning
Three up, three down.
The Ryerson women's hockey team (10-8) picked up their third consecutive win Wednesday over the Waterloo Warriors (8-6-4 ), 2-1 in a shootout.
The three game winning streak matches Ryerson's longest streak of the season.
"We had played Waterloo earlier in the season and they were on a good hot streak, so we knew we would have to be well prepared," said Rams head coach Lisa Haley.
After a largely uneventful first two periods, the game saw a thrilling finish.
Despite being outshot by the Rams 29-21 over the course of the entire game, Waterloo struck first.
The goal came midway through the third with the Rams looking sluggish. Waterloo's Kaitlyn McDonell sent a perfectly placed wrist-shot into the back of the Rams net.
Being down provided the Rams with the motivation they needed.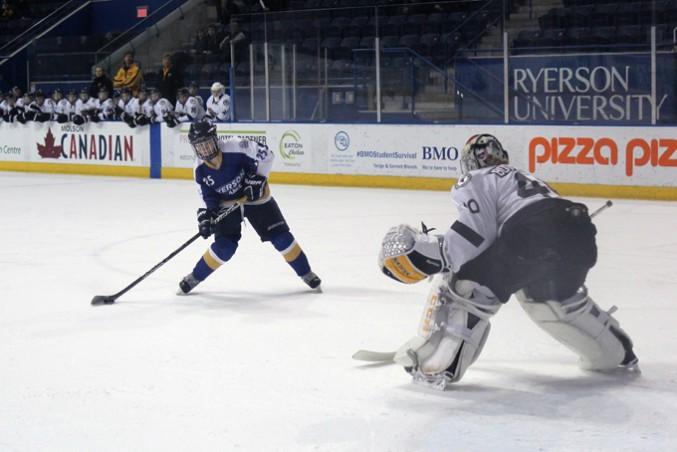 The Rams passing picked up and within minutes a response was delivered. Ryerson's Kayla Karbonik sent a shot off the Waterloo goalie, where the puck was then lost in a scrum.
A few seconds later, it ended up in the back of the net and the Rams Emma Rutherford was credited with the equalizer.
Karbonik picked up an assist on the goal, but her stamp on the game wouldn't come until after overtime.
In postgame interviews she described her feelings before the shootout, which would decide the game, as nerve-racking.
Anyone who witnessed her shootout winner definitely could not have noticed.
Karbonik faked a shot that put Waterloo's goalie completely out-of-whack and then easily put the puck in the net on her strong side.
"Last game I tried that move I fell," said Karbonik. "But other than that, I feel like it works pretty consistently."
Also worth note was Rams goalie Alex Armstrong, who stopped 20 of 21 shots to help Ryerson overcome their 0-5 power play night.
The Rams will look to extend their winning streak to four this Friday, as they take on Laurier at 7:30 p.m. at the Mattamy Athletic Centre.