By Maddie Binning
Ryerson's development on Church Street is in the final stages of design and construction is nearly ready to begin.
The development will be named the Daphne Cockwell Health Sciences Complex — after receiving an  $8 million donation from the Jack Cockwell family and Brookfield Partners Foundation. The crew on the project plans to break ground on Dec. 2.
In the tallest part of the structure, there will be 330 student residence units.
The building will be home to the school of nursing, the school of nutrition and the school of occupational and public health. It will also house the midwifery education program, the communications, government and community engagement department, university advancement, food services and a new learning zone called the Fabrication Zone built for students to make physical projects.
The school has been collaborating on the Church Street development with architecture firm Perkins+Will since mid-2013.
Representatives from each of the university's programs and departments who will be using the building will meet with the firm to discuss their needs early on in the process.
Perkins+Will is working on the final stages of the design while the Eastern Construction Company Ltd. prepares to work on the site once the excavation and shoring permits are issued by the city.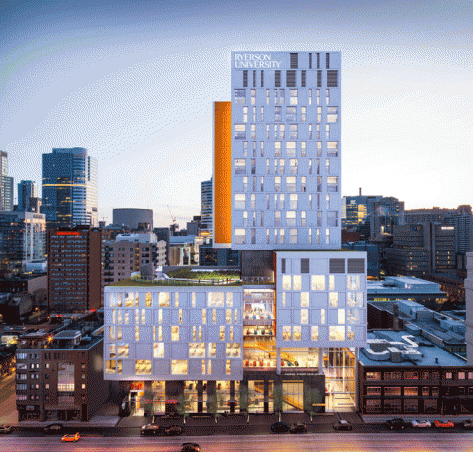 "Our plans are about 75 per cent complete," said Andrew Frontini, the design lead on the project.
"We're still working on details of how the [indoor building materials] and interior design looks, but the structure is just about designed and they're starting work on the building."
Fortini said the current stage of design is expected to last throughout the winter and then Perkins+Will will supervise the construction.
The excavation and site preparation stage is expected to continue through June of next year. The building is expected to be completed in fall 2018.