Reading Time:
2
minutes
By:Premila D'Sa
The Ryerson Rams defeated the Western Mustangs (25-18, 25-26, 25-21) on Feb. 20, seniors' night, at the Mattamy Athletic Centre.
It was a good night for senior players Lucas Coleman and Robert Woijick whose attacks dominated the game.
"We [seniors] all wanted to end on a strong note," said senior player Marc Reardon. "We came in expecting a good fight."
The Western Mustangs, who were missing some of their regular starters, started off the first set weak against the Rams. The Rams played impressive offense with constant kills from Coleman and Woijick. The Mustangs were struggling to block attacks, with players toppling over after attempting to dive in for the ball.  A strong kill from Coleman ended the set victoriously for Ryerson at 25-18, and incited lots of cheering from the audience.
Coleman continued his offensive dominance, opening the second set strong for Ryerson, helping them maintain a close lead over Western. The second set saw a lot more strategic play with great set ups from the Rams that ended in successful attacks, especially from Woijick. Senior player Brandon Jordan maintained the Rams defensively with impressive blocks against Western. Once again, Ryerson ended the set on a kill by Coleman, winning it by a 9 point lead.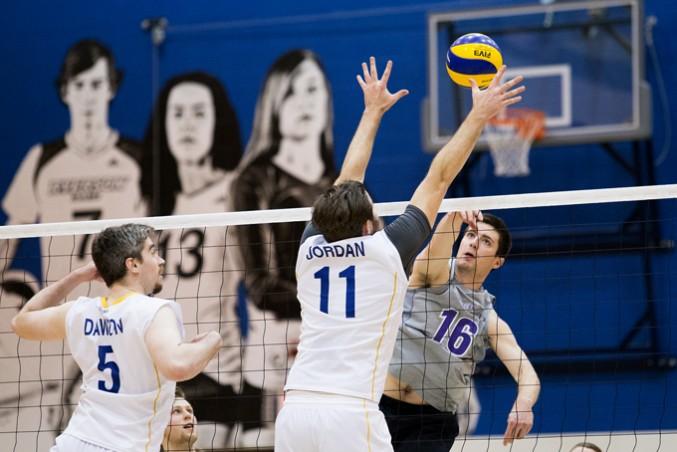 Western became more competitive during the third set but Woijick and senior Marc Reardon stayed offensive. Several service and attacks errors by the Rams gave Western a couple points, making the score seem close but the Rams still dominated back and forth play. Ryerson subbed in Uchenna Ofoha in the middle of the set, who scored a kill almost immediately. Coleman maintained his streak, ending the final set with yet another kill and Ryerson taking a 4 point lead.
The night was no doubt a great one for the team's five senior players whose careers were honoured before the game with a ceremony that included their family and friends.
"I'm nostalgic and also a little nervous that it's all ending," said Reardon. "But it's nice to end on a positive note and hopefully we'll carry that through the playoffs.