Reading Time:
6
minutes
This athlete was featured in our 2017 Sports Issue. You can find other profiles here.
By Sarah Krichel
The touch of Marcena Lau's sword against her opponent's managed to calm her nerves. Spectators were silent, watching as the two fencers in their stark white suits stepped towards one another on the large grey mat. The clinks of swords and zipping of body cords were the only sounds echoing through the gymnasium.
Lau lunged in towards her opponent, extending her right arm forward, successfully taking the lead. The tip of her sword—known as a foil—jabbed her opponent's torso right in the centre, and the scoreboard beeped.
One point for Lau.
The match that took place on Feb. 11 changed Lau's legacy at Ryerson. Her victory made her the first Ram in 22 years to win the gold in the women's foil at the Ontario University Athletics (OUA) tournament.
The Ryerson fencing team has reached 40 fencers, a much higher number compared to what the team had before they started rounding up novice athletes to train them from scratch. The team has also incorporated 7 a.m. practices twice a week, in addition to their two evening practices. Kyle Foster, Lau's coach, said she was one of their first from-scratch fencers, and has become their golden star.
But the craft has proven to be more than a university extracurricular for the fourth- year creative industries major. Fencing became a remedy. Before her gold-medal triumph, Lau was coping regularly with depressive turndowns. Questioning her inadequacies took over. She would think about her parents, who want a different life for her outside of fencing, or the life-long bullies she has had to face simply for being different from her classmates.
But Lau knows when she bumps into this wall of insecurities, there's a cure. She quits the cycle of negativity by visualizing herself stepping onto the grey mat. Mask on, foil out.
"I would just shut my brain off, and fence."
When Lau first came to Ryerson four years ago, she didn't want her life to revolve solely around her program. She was torn between joining the dragon boat, archery and fencing teams. Finally, a friend of hers, whose mother was a fencing Olympian, convinced Lau that the duelling sport was the way to go.
Fast forward to 2017. Lau was in the final match at the OUA fencing tournament. She was struggling to maintain dominance in the bout— the round during which a fencer must reach 15 touches on their target in order to win.
Within the first five or six points, Lau observed that each time the Queen's fencer she was facing performed a parry—a lunge forward to attack or deflect—her left, non- dominant arm would bend with her elbow pushing backward, creating an open space.
Lau decided to use this to her advantage, but it didn't take long for the Queen's fencer to catch on. Lau had to find a new strategy.
Lau said Foster describes fencing like "a game of human chess at 100 miles per hour."
"You have to figure out [your opponent's] flaws," she said. "You have 15 touches to do it." The bout was taking a turn for the worse when Lau's opponent managed to tie the score at 12-12. But Lau's eye was still on the black plaque with the sword-shaped trophy on it. "It was down to who wanted it most," said Lau. "All I was thinking was, 'I want that sword'."
All of a sudden, the Queen's fencer started making the same mistakes Lau had noticed earlier. Spectators made their presence known, cheering loudly. It was Lau's teammates. They must have been the loudest ones there.
Lau made three straight attacks, and arrived to 15 touches.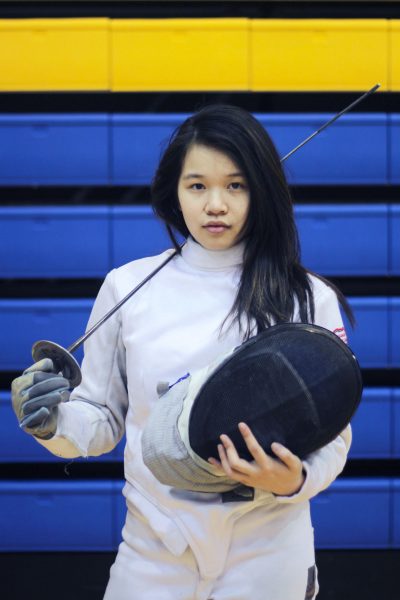 The final score was 15-12. Grinning ear-to-ear, she instinctively slammed her mask and foil to the ground, clenching her fists and yelling in excitement.
She pulled herself together long enough to shake her opponent's hand, then the cue was given for a sea of Ryerson fencers to take over the mat and toss her into the air.
"I was just overwhelmed," said Lau. "I spent the whole day trying to keep myself emotionally flatlined, and then it all came out at one moment."
But the elation didn't last long. She stared at the cheering crowd after winning, smiling on the outside. Internally, she couldn't help but ask herself, "Now what?"
Lau's parents didn't exactly support her fencing dream. They were exceptionally musically inclined—one a piano teacher, and one a singer. They wouldn't fund her desires to practice, and encouraged her instead to attend the University of Toronto's music program. But Lau chose Ryerson.
At Ryerson, Lau was able to fence for free for the first few years, but she had to buy her own equipment when she joined an outside club. The fees mounted up to around $300, plus consistent replacement fees.
This year, Ryerson began charging a fee of $200 to returning fencers—one more thing her parents refused to pay for, so she had to.
It taught Lau that fencing is not the most accessible sport, because it's unconventional and lacks exposure. The struggle between time and money had Lau promising her coaches she would quit multiple times—but somehow, she always ended up at practice the next day.
Foster believes that Lau epitomizes the program's success, and that student athletes like herself are what keep the club going.
"[Students] come as rookies in their first year and [we see] the transition," he said. "Not only as a fencer, but as a person."
In Lau's second year, the fencing team was one point away from bronze. Lau was the anchor for her team's collective point-scoring. By the end of her bout, she had cost her team the medal by just a few points.
Expectations had been set and when she couldn't meet them, fears of disappointing her teammates and herself were validated.
To protect herself from that dejection, she stopped taking risks. The event's taint on her confidence carried on into her third year all because of one failure.
"I remember being so depressed about it," said Lau. "I felt like I let my team down and I let myself down."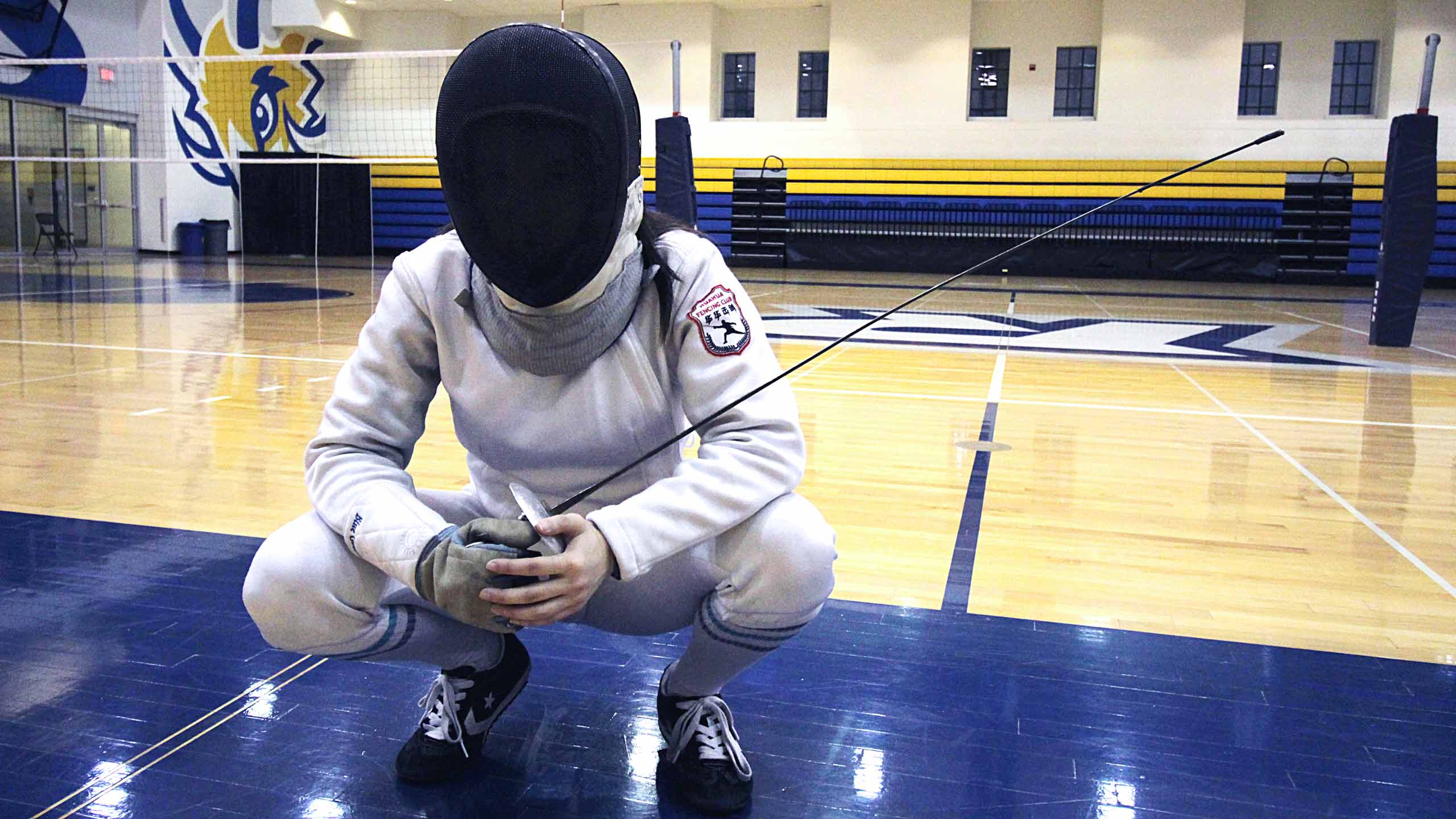 But Lau's biggest strength is snapping herself out of a funk.
"After last year, I said 'OK, 100 per cent all in. No excuses. And if I fail, I'll fail 100 per cent."
From depression and doubt to the top of the podium in just four years, fencing allowed Lau to claw her way through the fog of uncertainty surrounding her investments of precious time and money. But Lau doesn't want to be a fencing coach for the rest of her life, leaving her with a timeless question: "Now what?"
When the time comes to hang up her foil and mask, Lau knows she won't be leaving empty-handed.
She has her license in refereeing, but what she takes most from her fencing career won't be a job. It'll be the happiness of being able to fail at something she loves.
"I never got to experience failure. It was [always] for my parents, not for myself. Fencing was something I wanted to do, I loved—something for me." Now, the bullying and pressuring voices are drowned in the background chatter of the crowd that's cheering for her to succeed.
Still, for Lau, it was never really about winning.
"It's learning what it is to cry and to be beaten," she said. "It's climbing out of that mental hole after you lose everything."
Lau said that to become better, you have to accept that others will be better than you— and that's OK. She learned this as a fencer, but realized it will apply to her life in general.
Lau will graduate this April, unsure of what the future holds. But this uncertainty is no stranger to her. She faces it every week against her opponent on the mat, and she has a strategy for dealing with it.
"Pretend the score is zero-zero," Lau said. "Turn everything off, and just take it point by point."