Reading Time:
3
minutes
By Bryan Meler (video by Daniel Rocchi)
Adika Peter-McNeilly makes game-saving block in last second of regulation

Rams secure third straight U Sports tournament berth

First-year forward Keevon Small records 18 points, game-high six steals
OTTAWA— The Ryerson Rams men's basketball team advanced to the OUA championship game for the second straight year—while also earning a third consecutive trip to nationals—after beating the University of Ottawa Gee-Gees in heroic fashion on Friday night at Carleton University.
Adika Peter-McNeilly secured the win for the Rams, blocking Brandon Robinson's last-second game-winning shot in transition to propel Ryerson to a 76-75 victory. With the win, the Rams advance to play the undefeated Carleton Ravens on Saturday night back at the Ravens' Nest, looking to repeat as last year's Wilson Cup champions against the same team they beat in last year's title championship.
"I went up vertically hoping to get a hand on the ball. Went I hit the ground I saw 0:00, I couldn't believe it," said Peter-McNeilly, who also finished with a game-high six rebounds. "We're back where we want to be—a chance to win another title."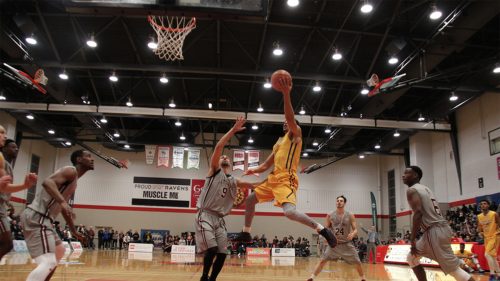 The Rams went through a rollercoaster of a performance to get to where they are now. With 16 lead changes throughout the course of their quarter-final matchup, their resiliency earned them a win in front a roaring crowd filled with Ottawa students who made the short trip to Carleton.
"We've got a veteran group, we got great character guys, they never quit," said Rams' head coach, Coach Rana. "We got great players that make great plays. It was a classic game."
It was in the final minute of the game where the Rams' championship mentality was on full-display. After a pair of free throws from Caleb Agaba, who finished with a game-high 24 points, gave the Gee-Gees a 75-74 lead, the Rams went to co-captain Juwon Grannum to drill a clutch midrange bucket for a one-point lead of their own.
Ottawa tried to to answer back, but rookie Keevon Small used his length to intercept a pass from Agada to give the Rams possession of the ball with a minute to play. It was one of many great plays by the OUA all-rookie forward, who finished with 18 points on 3-6 shooting on three-pointers to go along with six steals.
Ryerson drained the clock for as long as they could, finishing with a missed attempt from Emmanuel Diressa who couldn't add another bucket to his team-high 20 points. Instead of calling a timeout with around eight seconds remaining after the rebound, the Gee-Gees decided to force a fastbreak for their final possession of the game.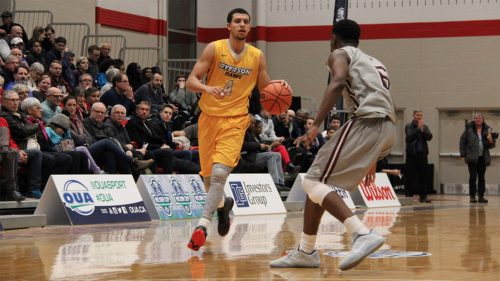 Unfortunately for Ottawa, they couldn't catch the Rams' defence off-guard, with Peter-McNeilly reading the play perfectly to make the game's most crucial stop after putting up just seven points, all of which came in the second half.
It was a hard-fought battle for the Rams, who entered the fourth quarter down 58-53 after giving up 10 offensive rebounds to the Gee-Gees, to go along with 10 critical turnovers. They spent most of the game playing from behind, but were able to pull ahead late and deliver the final blow.
"We got the W, that's all we wanted tonight," said Small. "We got unfinished business now, it's time to give Carleton their first loss."
In the first half, the Rams almost allowed the game to slip out of reach when the Gee-Gees built a 9-point lead. Rana was able to stop the bleeding by calling a timeout, giving his team a chance to regroup. Ryerson answered behind a great stretch led by Grannum, finishing the half on a 12-2 run to lead 35-34 at the break.
Even though the Rams had momentum on their side heading into the second half, neither team was able to pull away. Both teams failed to convert on at least 50 per cent of their shots, but they were able to exchange three-balls with efficiency. The Gee-Gees shot 13-29 from distance (44.8 per cent) while the Rams converted on 12 of their shots from deep on the same number of attempts (41.4 per cent).
UP NEXT: After winning their first OUA title last season, the Rams will now try to win back-to-back Wilson Cups when they return to the Ravens' Nest to take on the undefeated Carleton Ravens in the gold medal game at 7:00 p.m. on Saturday.