Reading Time:
4
minutes
By Annalise Cajic and Izabella Balcerzak
This year's Nuit Blanche featured over 80 projects adhering to the theme: "Many Possible Futures." Here are some projects involving proud Ryerson students and alumni.
Domesticate Me
Ryerson artist: Ashley McKenzie-Barnes
Featured as part of the Monument to the Century of Revolutions exhibit at Nathan Philips Square, Domesticate Me highlighted the value of domestic labour and the capabilities of women. Ashley McKenzie-Barnes, former Ryerson Chang school design student worked with fellow artist Merna to provide a new take on "women's work." Pieces such as an electric drill attached to a whisk casted a new light on domestic work and modern-day feminism.
Foreign Bodies
Ryerson artists: Camille Rojas, Avery Steel and Elise Rasmussen
Held right next to the Gladstone Hotel, Foreign Bodies explored the unique relationship between space and bodies by using film and projected images. Walking through the small room, visitors had to move around other people to see the exhibit, emphasizing awareness of the body in such a tight space. Both Camille Rojas and Avery Steel are recent graduates of the photography program, while Elise Rasmussen is a 2004 Fine Arts alumni. All three artists work with performance conveyed through either photography, film or video.
Click the photos to view the gallery. Photos by Premila D'Sa
[ngg_images source="galleries" container_ids="361″ display_type="photocrati-nextgen_basic_slideshow" gallery_width="864″ gallery_height="486″ cycle_effect="fade" cycle_interval="5″ show_thumbnail_link="0″ thumbnail_link_text="[Show picture list]" order_by="sortorder" order_direction="ASC" returns="included" maximum_entity_count="500″]
The Future is a Distorted Landscape
Ryerson artist: Christina Battle
Located at Dundas and Centre streets, Battle's projected video installation questioned our future and suggested what it may hold for us. The artist, a Ryerson film studies graduate, created a series of gifs that present our possible future, good or bad. At one moment it read, "In the future, there will be no professions" and the next it told spectators to "take a picture of this." The work was also showcased on select screens at Dundas Square and downtown subway stations. One had to keep there eyes peeled—these showings were temporary and fast, catching people off guard.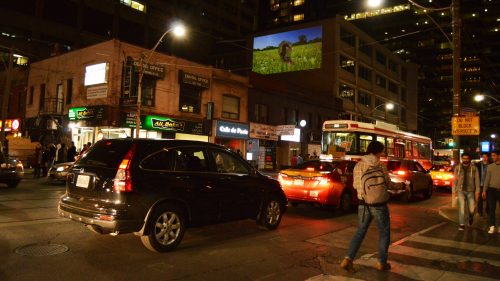 DELIGHT
Ryerson artist: [R]ed[U]x Lab
How can suspended glowing orbs and ambient noise levels have anything to do with each other? DELIGHT by [R]ed[U]x Lab, a collective of digital fabricators and designers from Ryerson's department of architectural science, created an interactive installation that responds to ambient noise present in the space. Signage before entering the exhibit explains: "The speed of the orbs' movement is related to the levels of ambient noise within the space, thus providing a kinetic response to the energy levels of the space's users." The glowing orbs moved up and down from the ceiling as you moved past, and even moreso when you clapped your hands, making this exhibit a unique take on the concept of interactive art.
Holding Still // Holding Together
Ryerson artist: Annie MacDonell
"What happens when you put your body on the line for politics?" says the sign before a group of dancers re-create a scene of a protest. In this installation, multi-talented artist, Ryerson graduate and current photography professor Annie MacDonell addressed dynamics between police and protesters. From 7 p.m. to 1 a.m., dancers re-created tense moments modeled after pictures projected onto a nearby wall. Among the silence at its location, 1 King's College Circle, the transfer of the still image to live action was both powerful and resonant.
Project Mackenzie
Ryerson artist: Summer Leigh
Photographer Summer Leigh earned a bachelor of fine arts from Ryerson. Working in collaboration with illustrator and environment/concept artist Mathew Borrett and digital designer and Ryerson graduate Josh Gonsalves, Project Mackenzie was an interactive installation located at Mackenzie House (82 Bond St.). visitors used their smartphone's code reader or the designated website to view a vision of Mackenzie House in 150 years. Through the magic of virtual reality, one's view of downtown was transformed into a fascinating landscape of Toronto's possible future. Endless endless skyscrapers and floating pods filled the sky like stars, and visitors were transported to a world of which they are either afraid or envious.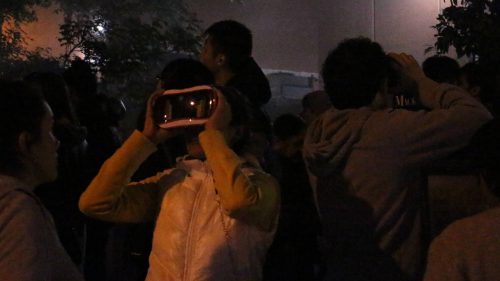 Check out some more photos of exhibits:
[ngg_images source="galleries" container_ids="362″ display_type="photocrati-nextgen_basic_slideshow" gallery_width="864″ gallery_height="486″ cycle_effect="fade" cycle_interval="5″ show_thumbnail_link="0″ thumbnail_link_text="[Show picture list]" order_by="sortorder" order_direction="ASC" returns="included" maximum_entity_count="500″]
Photos by Premila D'Sa and Sarah Krichel