Reading Time:
7
minutes
These three Ryerson alumni recall their times as students and how they got to where they are now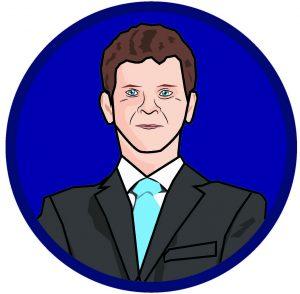 Jamie Campbell (RTA '89), host at Sportsnet
Jamie Campbell always knew he had a passion for sports.
He would take a GO Train from Oakville, Ont., to downtown Toronto, where he'd stand outside hotels, waiting for professional baseball players to come down to meet him. In 1978, Campbell met Lyman Bostock, a 27-year-old outfielder for the California Angels, in town to face the Toronto Blue Jays one year after the bluebirds joined the American League.
"He called me over to introduce himself to me and he wanted to know what my name was, and where I was from," says Campbell, now a baseball analyst with Sportsnet. "It made me feel that I could be a part of Major League Baseball myself in some way."
With two weeks left in the season, Bostock was murdered, so Campbell remembers the interaction as a moment of luck and of tragedy. "That is a searing memory for me that I have ingrained in my mind."
For most of his life, he wanted to chat with baseball players, so he knew he wanted to go into broadcasting. In 1986, he applied to Ryerson's radio and television arts program, and quickly felt at home.
While studying, he got real-world experience from his part-time job at Hockey Night in Canada, where he worked as a "runner"—doing errands and interacting with television personalities like Ron Maclean, Don Cherry and Brian Williams.
"It was basically a position reserved for university-aged students who were asked to come on Saturday nights and help out with the broadcast and do whatever was necessary," he says.
"It gave me a level of broadcasting that I wanted to attain myself. It showed me a level of professionalism, credibility and knowledge that I wanted to attain on my own."
After university, Campbell worked for CBC Edmonton. In 1998, he landed his first big opportunity with Sportsnet, co-hosting Sportscentral, a daily highlight show forerunner to the network's Sportsnet Central, which is now broadcast several times per day.
Since joining Sportsnet, Campbell has done just about everything a young sportscaster dreams of doing.
His first Blue Jays play-by-play opportunity came on Apr. 8, 2002 when he filled in for Rob Faulds. He also was the play-by-play announcer for the Toronto Phantoms of the Arena Football League for the 2002-2003 season.
Then, in 2005, he finally got his big break.
That season, Campbell replaced Faulds as the full-time Blue Jays commentator, a role he'd occupy from 2005 to 2009. When late Toronto legend Roy "Doc" Halladay pitched his final game for the Jays, in 2009, Campbell was on the mic.
He worked as a commentator for CBC at the 2010 Vancouver Winter Olympics, where he had the call for Canadian freestyle skier Alexandre Bilodeau's performance, which resulted in the first Olympic gold medal on Canadian soil.
In 2010, Campbell was replaced by former Jays catcher/manager Buck Martinez on play-by-play, and began hosting Blue Jays Central, a pre- and post-game show.
With the 2018 baseball season around the corner, Campbell will be entering his eighth season as Blue Jays Central's host. At Ryerson, Campbell knew he wanted to end up on TV—broadcasting the Jays or the Olympics or even local sports—but he never thought he'd end up as a host on a network as big as Sportsnet.
Not too shabby for the kid who waited outside a hotel for Lyman Bostock to show up.
***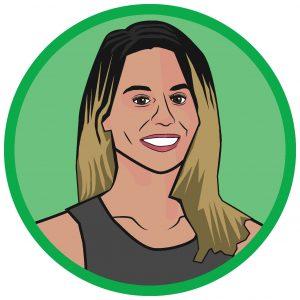 Hailey Salvian (RSJ, '17), journalist at CBC Toronto
The ability to adapt in the journalism industry is always a bonus.
For Hailey Salvian, it's everything.
Even though she grew up as a sports fanatic—watching sports as a kid with her dad and running in cross country meets through university—Salvian knew making it as a journalist wasn't going to be easy.
In high school, people told her it would be difficult to find a job in sports writing. As she got older, Salvian found out they weren't exaggerating at all.
"I think that the way the industry is going, to go to school and narrow yourself down and say, 'OK, I'm going to be a TV sports journalist, that really isn't smart," Salvian says.
Salvian, who graduated from Ryerson's undergraduate journalism program in 2017, thought that she would be able to dive into the industry immediately because of her previous work with sports-related media outlets at the school.
"I did some stuff for The Eyeopener," she said. "Then, I was the sports editor at The Ryersonian where I also hosted a weekly TV newscast."
Despite having a solid sports portfolio, she ended up working in a different field to start her career, getting her first gig at CBC as an intern in the news department.
She worked as a chase producer and assignment producer, giving her the opportunity to look for stories and interview subjects. Once she started to show her skills, she began going out in the field. Her work ethic soon led to an opening with the sports department, where she got her first break in the industry.
Her employers knew she had a keen interest in sports, so they connected her with Greg Ross, a CBC news producer. Salvian shadowed Ross during the Toronto Blue Jays' playoff run in 2016.
It was an exciting year to be covering the Jays: Toronto defeated Baltimore in the American League wild card game, defeating the Orioles 5-2 in extra innings on the strength of a three-run walk-off home-run by Edwin Encarnacion in the bottom of the 11th inning. The Jays marched all the way to the AL Championship series, where they lost in five games to the Cleveland baseball team.
But to Salvian, the result mattered less than the experience she gained.
"I got to cover the Jays when they still had Edwin," she says. She even got to interview Jays pitchers Joe Biagini and Marcus Stroman.
Since her time at CBC, Salvian has landed multiple jobs in the sports industry, including working as an in-game host for the Oshawa Generals of the Ontario Hockey League, and doing freelance work with NBA Canada.
Even though it might seem like it's a lot of work for one person to handle, Salvian takes it as a challenge.
She's learned to become a more versatile journalist, crediting her hard work ethic and willingness to stand out because of it.
"A lot of the skills you learn in news, you learn in sports," she says. "I always thought that I would start by starting something for Sportsnet, but it was something else first and it all started to work out from there."
Adaptation is everything.
***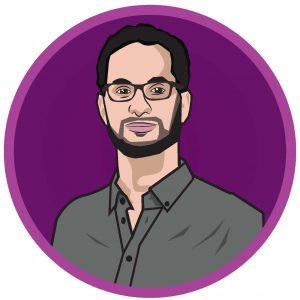 Eric Koreen (RSJ '07), writer at The Athletic
Eric Koreen remembers "losing [his] crap" because of an editor's changes to an article early in his writing career at The Ryersonian.
Koreen says an editor changed the lede of one of his stories without notifying him, and he wasn't too thrilled when he saw the final product.
"I was 21 and full of myself," Koreen says. "I was like, 'How could he do that?'"
For Koreen, writing has always been a serious endeavour.
More than a decade after graduating from Ryerson's School of Journalism, he's a full-time beat writer for the Toronto Raptors at The Athletic, an online sports writing platform.
But a journalism career didn't always seem likely, says Koreen.
"When I was at Ryerson, every instructor or guest would come in and paint a bleak world view," he recalls.
Koreen was laid off from the National Post in January 2016 after spending nearly eight years on the Raptors beat.
In the months that followed, he freelanced for several publications and briefly considered changing careers entirely. Ultimately he decided that The Athletic was the right fit for him.
"When I was laid off, it gave me some time to think about other options," Koreen said. "That's not to say that I'm disappointed with how it's worked out, because my time with The Athletic has been really good."
Koreen is one of many talented journalists to get laid off in recent years. He says that most challenges in life are simply not controllable. Even so, Koreen has managed to find a niche in a struggling industry due to his writing ability, which he knows is his biggest asset.
One of Koreen's journalism professors at Ryerson once told him that most journalists fall somewhere on a spectrum between writer and reporter. "I'm definitely closer to the writer side of the spectrum," he says. "If I do have control over what's happened in my life, it's because I developed this writing tone that drew people to me."
But despite finding two stable jobs during his career, Koreen had had personal challenges. For example, he's dealt with mental health issues.
On "Bell Let's Talk" Day in January 2017, Koreen wrote about his experiences dealing with anxiety, and the importance of speaking up about mental health.
He says that while anxiety was not as big a deal for him as some of his readers' responses would indicate it was to them, he was glad to have made an impact on some people's lives through his writing.
"It wasn't very hard [to open up]," Koreen says. "But I am proud of it."
It is important to cover issues beyond the scope of sports writing, Koreen says. Evidently, people look for more than just sports in the columns they read.
"They want to have a personal connection with you," he says. "And when I can share something that is honest and important, that helps."
Koreen continues to battle some harsh realities that millennials face: a tight job market and the issue of mental illness.
But nearly 11 years after graduating from Ryerson, Koreen seems to have found a home at The Athletic covering Canada's lone NBA team.
He still takes writing very, very seriously, although he's less likely to lose his crap over a lede these days.
There are far more important things to worry about.