Studying abroad is the opportunity of a lifetime, but students repping Ryerson overseas consist of a wealth of the upper class
Written by Zahraa Hmood
Chilly 15 C weather is common for Scotland in January, but Shannon Tinning didn't need more than wind pants and a hoodie. At 251 metres, Arthur's Seat is the highest mountain peak in Edinburgh. At the top, Tinning was met with a cool breeze and an awe-inspiring view. Scotland's capital is split into two regions—old city and new—complemented by its coastline. The moment marked only the beginning of Tinning's semester at Edinburgh Napier University.
The journey up the mountain was exhausting, but defined her experience leading up to her exchange trip as a third-year student. "It just felt really rewarding," said Tinning.
Tinning is a fourth-year English student at Ryerson. To afford exchange, she worked two jobs during the summer to save up for the trip, approximately 12 to 15 hours a day. Although it was stressful, she managed to save about $20,000. "I hated it. It's just reminding yourself you have this huge financial thing coming up, so you need to save."
But she also had help from her parents. She was able to access around $7,000 from a Registered Education Savings Plan (RESP) set up by her parents, and they assisted her with the cost of rent as well as other purchases while she lived abroad. The $20,000 she earned was for her own personal enjoyment. "If I didn't have that RESP money, I would've had to work even more," she said.
Tinning currently lives in an apartment near Ryerson campus, which costs approximately $1,000 per month. In order to make rent, she had to take out a student line of credit. This gave her some debt, which she is currently trying to pay off. This summer after coming back from exchange, she held two jobs. "It kind of sucks having to work two jobs, during the summertime when you're not supposed to be as stressed as you are during the school year."
♦Exchange is the preserve of the middle and upper classes♦
The academic exchange program at Ryerson consists of spending a semester (or more) at a post-secondary institution that Ryerson's programs are partnered with. It's widely known by university students as a once-in-a-lifetime opportunity to travel the world, make lifelong connections and diversify one's perspective on life. Ryerson International, the department that runs the program, also points out the benefits of having studied abroad on your resume, showing future employers that you have the ability to "collaborate with a diverse range of people, navigate other cultures and learn professional skills in a new environment."
Exchange applications aren't due until second semester, but many students start thinking about where they'll go, what they'll study and how they'll finance it as early as September. In the 2016-17 school year, 196 students left Ryerson to go on exchange.
Ryerson International doesn't collect the information of students who go on exchange beyond their name, student number and what program they're in. But David Begg, manager of global learning and engagement at Ryerson International, said that he can guess that exchange, for the most part, is "the preserve of the middle and upper classes."
"At Ryerson, we're not entirely sure that those who currently participate are as representative of the university as we'd like them to be," Begg said. He added that the school recognizes finances as the largest barrier to academic exchange, and that they hope to lessen that barrier, as part of their mandate toward increasing equity.
Until that mandate is reached, however, costs can easily be too much for students with a low income and lesser access to the resources of jobs, OSAP assistance, bursaries, grants and help from their parents. According to Statistics Canada, more folks with a lesser income are enrolling into post-secondary institutions: Since 2001, the amount of families in the lowest income group of Canada who've had youth enrol in post-secondary rose by about 25 per cent—meaning more students who can't afford extra educational opportunities, like studying abroad, are attending Ryerson. While travelling can always be expected to be costly, it makes for a culture at Ryerson where the wealthier have more opportunities to enrich their education than those who are working day-to-day to simply afford a place to live and a plate to eat.
***
Melissa Chan attended an information session for academic exchange in the fall of 2017. About 30 people from her program gathered in one small conference room in the Rogers Communications Centre. Chan recalls faculty from her program telling the students that if they take on this opportunity, they would become "representatives of Ryerson University" while overseas.
Looking around at the room, Chan said she saw several classmates she knew very well, classmates who were all strong contenders for the exchange program—they were "people who can adapt" and "people with good academic standing."
Simultaneously, she was surprised that so many people were considering exchange, because of how expensive it was. Chan considered her own finances, as the faculty members broke down the costs of the whole trip. "I was thinking, 'How would I cover this cost of $12,000 to $15,000?'"
The now-fourth-year creative industries student at Ryerson has never been outside of Canada or the United States. The third-year exchange program represented the chance to change that. But when she began to look into what exchange would entail, she found it financially unrealistic, so she gave up. Chan lives in downtown Toronto and has a part-time job, and going on exchange would've changed the financial stability and routine of life she'd made for herself. She was also concerned it would complicate securing an internship for her fourth year in the creative industries program. She would either have to stop living downtown or work more hours. "There wasn't enough money for everything."
Chan is not on OSAP, and when she asked her parents for help, they said no. "If you really want to go, you can take out a loan," her parents told her. Chan didn't want to accumulate more debt, having to already pay her parents back for her tuition.
Madeline Schwartz, a fourth-year retail management student at Ryerson, had to take out a student loan of $15,000 from Alberta Student Aid for exchange. Schwartz is from Edmonton, and throughout her two-and-a-half years at Ryerson, she's had financial support from her parents—who also had to worry about raising and supporting two other children. "I had so much anxiety over it."
For her third-year exchange, she went to the University of Westminster in London, England, even though the exchange coordinator warned her London was one of the most difficult locations to secure a spot and also one of the most expensive. In addition to her loan, she worked a part-time job in retail, 20 hours a week the semester before leaving for exchange, and additional hours during the holidays. She also applied for and received a variety of scholarships a year before she left.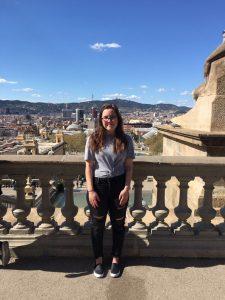 "I'm not the person who borrows money, I work hard for my money." She has until she graduates to pay it off, but while away, Schwartz also maxed out her credit card. Currently she sits in $15,000 debt with the student loan service, and sits in the debt with her credit card too.
In addition to her studies in London, she traveled to 12 different countries in Europe, in May and June, after the semester was over. In total, Schwartz spent around $25,000 to go on exchange, including $5,000 in tuition for one semester. Schwartz said going on exchange had been one of her main goals when coming to Ryerson, a goal she just had to achieve.
"I have no regrets," she said. "It was the best six months of my life."
Chan's friend Jackie Jabson, on the other hand, went to Denmark this past winter semester, attending a design school in Copenhagen. She knew right after graduating high school that she wanted to go abroad. She began the application for the exchange program a year and a half before leaving, and held a number of part-time jobs while studying at Ryerson, a year prior to going on exchange. But the finances needed to support this trip scared Jabson at first. She wanted to go to Europe, specifically Denmark, which is one of the most expensive countries to live in because of the higher standard of living. "It was jarring to even consider going there."
Jabson is itching to travel again. While on exchange, Jabson visited 12 different countries. While studying in Copenhagen, Jabson said she did some work with some Danish companies and organizations. "I was able to present at the United Nations and work with them for some things," she said. "That really elevated my resume."
***
Living away from home includes costs like rent, groceries, public transit and other miscellaneous purchases. Depending on where you go, you could save money living abroad on things like rent, groceries and alcohol—especially considering Toronto's cost of living—but the road to get there can set one back financially.
Plane tickets, health insurance, student visas and for many students, the cost of trips to other countries (which are optional, but known as an integral part of the exchange program) all raise the cost of the experience.
According to Begg, having more students enrol into exchange has become a bigger priority for the school. He said the lessons learned on exchange can aid in a student's personal development. "We want our graduates to be globally savvy graduates," he said, "in terms of things like developing intercultural communication skills, having an awareness of what's going on in the world beyond the 416."
Ryerson International breaks down costs of exchange at different institutions which don't include tuition, but includes flights, books, food, housing, travelling and more. Begg added that exchange helps with professional development: travelling abroad can enhance cultural awareness. He said that's a "valuable" skill for those planning careers abroad, or in Canada. "That's certainly something employers talk about, those soft skills, appreciating difference, learning how to talk to people."
Not including tuition for a semester, the average cost to fund exchange at one of the 73 academic institutes Ryerson International is partnered with is $6,587.01 per semester. Ryerson International lists the estimated cost for the Copenhagen School of Design and Technology at a total of $7,259.14. At the academic exchange information session in the fall, exchange coordinators told Jabson they would need $10,000 to 12,000 to cushion her trip. "When the time came, I was so scared, that I almost pulled out."
Jabson was informed of an opportunity to get money through Ryerson International for her trip: they were offering $1,000 as a bursary for a select few students going on exchange in the creative industries program. This year, Ryerson is providing 40 grants of $2,000 each to students taking part in academic exchange. This scholarship—the Ryerson International Exchange Opportunities Scholarship—is open to students from all programs.
♦$15,000 on exchange plus $3,500 for tuition♦
According to Begg, Ryerson formerly had an exchange scholarship years ago, which was funded by the Ontario provincial government. Following 2008, the provincial government didn't renew the scholarship, as they took on more pressing economic concerns at the time. The leftover scholarship money "disappeared quickly." Ryerson decided to create its own scholarship. As of last year, grant applications opened for students looking to go on exchange in the 2018-19 school year. Other universities in Ontario already have similar setups.
Some, like those at Western University and McMaster University, offer less grants than Ryerson, at $1,000 per student. Others, like at York University, provide a customized amount of funding for students who apply, based on how long their exchange program is and where they'll be going. The University of Waterloo has 450 awards available for its students, some funded through donors, foundations, or the university itself. One of the largest school grants in the province is the University of Waterloo International Experience Awards, valued at up to $2,500, with approximately 100 of them available each year.
There is also the Ontario Rhônes-Alpes program, which can aid students with a grant of $2,000 and $3,000 for one or two semesters, respectively. Some funding opportunities, like the program, are only available to students in certain regions, looking to study in certain countries.
The year Jabson applied, students had to complete an application detailing how they would be good ambassadors to Ryerson while away on exchange. Jabson completed the application, unsure if she stood a chance against the competition, and submitted it. Then, she won the $1,000. "I was so nervous, I literally finished the application the morning it was due at 2 a.m."
Even after all the money Jabson had saved up beforehand, her parents still had to step in to help out. She got around $4,000 from her dad to pay for housing, and money given to her monthly for other expenses. "My parents are worrywarts," she said. "They're like, 'How are you going to survive? We have to make sure you eat and stuff.'"
In total, Jabson said she spent an estimated $15,000 on exchange, including her tuition for the semester, around $3,500. For her, it was necessary to raise money for her trip so she would be able to enjoy it: her savings were all about being able to have fun. "My experiences are priceless. I could never put a price tag on that."
***
On her last day in Scotland, Tinning went to The Meadows in Edinburgh with the first friend she'd made on her trip—an American exchange student from Iowa. It was a sunny day, with few clouds in the sky.
She sat with her friend on the grass, talking about what they'd experienced over the past five months. They were in shock at how much had changed. "We went from being super awkward on the first night that we had both landed there, to travelling to all these different countries together in a short period of time," Tinning said. "We just couldn't believe that this whole experience was going to be over." To this day, Tinning and her friend are still close. "We still talk," she said. "She sent me a letter the other day."
Prior to leaving in January 2018, finances were a source of stress for Tinning: mainly, figuring out the prices of everything. "You definitely have to do your research," Tinning said, in order to avoid not wasting money. Tinning explained that there was a sense of pressure to travel to several different countries, while one was already overseas.
Overall, however, Tinning said she has no regrets. "I would do it again in a heartbeat," she said, "which sounds crazy because it is a lot of money, but I would 100 per cent go on exchange again in January, if I could."
When asked how Chan felt, seeing her friends and peers travelling abroad, looking at their pictures on social media like Jabson's, Chan said she didn't feel jealous of her friends, "It is a missed opportunity," she said of herself, "but I'm not bummed about it." She rather admired what they were doing, despite being unable to do it herself.