Reading Time:
4
minutes
By Benjamin Hargreaves
Following the news that for the 2019-20 school year students will be able to choose where their ancillary fees go, you might be wondering: what ancillary fees do I pay right now?
In the 2018-19 academic year, all full-time undergraduate students at Ryerson University paid $848.56 in ancillary fees, not including faculty and program specific fees.
"These fees often get allocated to services students do not use or to support organizations they do not support," said minister of training, colleges and universities Merrilee Fullerton during the announcement.
Fullerton said in many cases students do not have a clear understanding of what they are even paying for.
Ryerson currently lists 12 ancillary fees on their website.

Stephanie Rea, Fullerton's communications director, told The Eye in an email that universities will be able to choose what is deemed an "essential" service which students cannot opt out of.
In the 2018-19 academic year, all full-time undergraduate students at Ryerson University paid $848.56 in ancillary fees
She added that essential ancillary fees will include those which support student health and safety, those relating to "important student experience initiatives," support "critical campus-wide services," support underway projects at an institution and those which service a business need.
"We're waiting for the actual guidelines from the ministry, which we expect to receive in about two weeks," Julie Zahab, director of administration and special projects at Ryerson's office of the registrar said in a statement.

Ryerson president Mohamed Lachemi also said the university is waiting on directions from the government.

"In terms of my own position and the university's position, I think it's very important to make sure that students can continue to be engaged," he added.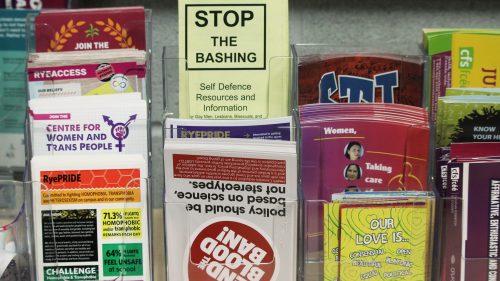 Ryerson Students' Union (RSU) – Fall term: $78.53, Winter term: $52.36, Total: $130.89
This fee is used to fund various activities overseen by the RSU. It was created by a student referendum and allows the RSU to provide services like CopyRITE, grad photos and legal services. This fee also supports the RSU equity service centres, including the Centre for Women and Trans People, the Good Food Centre, RyeACCESS, RyePRIDE, the Racialized Students' Collective, the Sexual Assault Survivor Support Line and the Trans Collective.
Special Activities Reserve – Fall term: $10.10, Winter term: $10.10, Total: $20.20
This is used to support the Student Initiatives Fund (SIF) for projects within International Student Services, who work to welcome and support international Ryerson students. The fee also supports Student Learning Support, which offers tutoring and academic services to students and Aboriginal Student Services, which offers everything from bursaries to financial planning services for Indigenous students.

RSU Health and Dental Plan – Fall term: $323.00, Total: $323.00
This provides students with basic health and dental coverage. Students may opt-out of this service providing they are covered by an alternative plan, but cannot opt back in afterward. This is currently the only ancillary fee with the opt-out option.
Student Campus Centre (SCC) – Fall term: $30.00, Winter term: $30.00, Total: $60.00
These funds are managed by the Palin Foundation Board, who are responsible for staffing and facilitating Ryerson's Student Campus Centre which houses campus restaurants, Ram in the Rye, Oakham House as well as various student groups like Cesar, the RSU and The Eyeopener.
Special Incidental Reserve – Fall term: $2.00, Winter term: $2.00, Total: $4.00
Campus-wide repairs involving food services and parking are supported by this fee, according to Ryerson's website.
Student Services – Fall term: $38.61, Winter term: $38.61, Total: $77.22
Also created by student referendum, this fee supports services offered by the Career Centre like student employment opportunities through Career Boost and Magnet. It also funds Student Health and Wellness which offer counselling and medical services. There is a good chance this fee will remain mandatory next year, due to its associations with student health care.

Ryerson Athletic Centre (RAC) – Fall term: $37.18, Winter term: $37.17, Total: $74.35
This fee supports varsity athletics and covers expenses associated with coaching, staff salaries, uniforms and travel cost for athletes for away games, according to Ryerson's website. Under the new tuition plan, it is likely this fee will remain mandatory as the minister has said.
Mattamy Athletic Centre (MAC) – Fall term: $70.17, Winter term: $70.16, Total: $140.33
This is essentially a gym membership for Ryerson students. This fee grants access to the MAC or RAC, while also supporting intramurals, gym staff and equipment.
Sexual Assault Survivor Line (SASSL) and Good Food Centre – Fall term: $5.00, Winter term: $5.00, Total: $10.00
Introduced in September following a referendum from last year, SASSL offers peer to peer support for gender violence survivors. Food insecurity is being tackled with the funds given to the Good Food Centre by offering emergency food relief to students.
Oakham House – Fall term: $4.00, Total: $4.00
This separate fee dedicated to supporting the Ryerson eatery helps cover the cost of staff and facilities as well as Oakham House societies like Ryerson Community Theatre and New Wave Magazine.
World University Service of Canada (WUSC) Student Refugee – Fall term: $4.57, Total: $4.57
Each year a student refugee is able to peruse an undergraduate degree at Ryerson through the WUSC, student refugee program thanks to this fee introduced in 2009.