By Rhea Singh and Dhriti Gupta
Transgender and non-binary students and alumni from Ryerson are constantly raising the bar within their industries. The Eye wanted to take the time to recognize and celebrate the work of some of these artists, innovators and creators:
JALISA LUCES-MENDES, ENTREPRENEUR AND CO-FOUNDER OF TONI MARLOW
Jalisa Luces-Mendes never thought they'd delve into fashion. Still, they were able to successfully establish their own underwear brand called Toni Marlow, geared towards the needs of queer women and trans men.
"Finding underwear that actually fit my body and my needs was just a problem that I had and I knew a lot of people like me had as well," they said.
Luces-Mendes started the business a little while after graduating from Ryerson's business management program in 2015. They said at the time there were no other companies like it in Canada and there wasn't a lot of talk around trans issues in fashion generally.
In speaking to their now co-founder, Samson Brown, and other community members, Luces-Mendes heard about the collective frustration in trying to find "something as simple as underwear." They learned that for trans men, the shape of their hips remain the same, even after transitioning.
Luces-Mendes found that issues like this could be found across the board with most mainstream brands of underwear, and that the needs of many were being overlooked.
"I just like solving problems," they said. "And so these were all the problems. I found there was no functionality. You couldn't put a pad in your boxer briefs. We were getting wedgies and roll ups and panty lines."
Luces-Mendes also found in their research that most of the products that were marketed to the queer community were expensive and geared towards a very specific kind of consumer—rich, white, slim and feminine.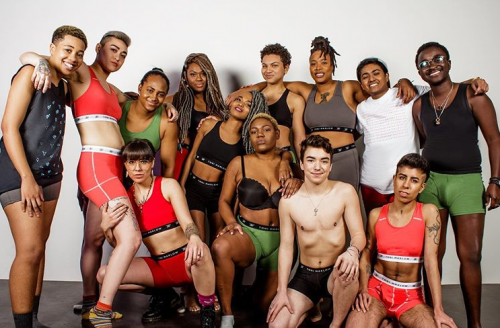 "There's a lot of people who just don't look like that. There are people of all body shapes, all body sizes, different shades of skin, different abilities, different identities—we need to show this."
Toni Marlow's branding is all about being "united in comfort," while still allowing the detailed construction of the products to keep different consumer needs and bodies in mind.
In terms of challenges, Luces-Mendes says they were lucky to have had training in entrepreneurship and resources like Ryerson's Fashion Zone. While they were able to secure a good amount of money through grants over the years, they said there's still some work to be done in the support available to fashion startups.
"Time management, human capital, human resources, actual capital and doing it as a Black queer person—a non-binary person—these things compile," they said. "There was never a consistent cash flow."
"Tech people in the DMZ are like, 'I raised a million dollars,' and I'm like, 'yeah, that's cute. But that's not gonna be us in the fashion world.'"
Instead of the funding or the research, though, Luces-Mendes said one of the hardest parts of getting the company off the ground was getting the language right.
"How do we be clear that this is for gay women, but not only gay women, but also trans men, but you don't have to be queer at all to enjoy this product," they said. "Like, how do you say all of that succinctly and clearly and inclusively?"
"There's a combination of making sure you have a good product or a good idea and that you have the right product market fit."
GOLDBLOOM MICOMONACO, DIRECTOR AND FILMMAKER
Growing up as a queer Jewish person, Goldbloom Micomonaco knew they had stories and experiences they wanted to talk about. But they weren't always aware of how to do that.
What they did know was they had a knack for leadership and a strong sense of creative ownership that would later play a part in their storytelling.
"I've always wanted to be someone who was making art for [themselves]," Micomonaco said. "I want to drive my own decisions in terms of what kind of art I'm making, how I'm presenting it and what kind of role I have in it."
When the time for university came in 2015, they found a way to combine the storytelling and leadership in their decision to pursue being a director at Ryerson's image arts program.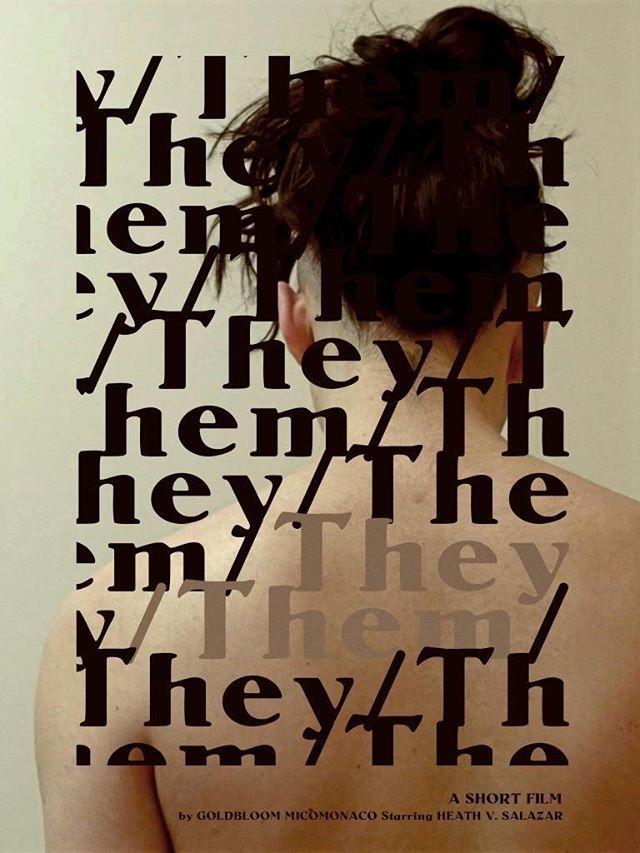 "Finally realizing [that] I want to be a film director…it just sort of made all of those experiences [in my life] something that I could verbalize better."
In Micomonaco's short film Parry, Riposte they explore what it looks like to challenge the gender binary in sports. The film follows a team of trans and non-binary identifying fencers who arrive to practice one day to find their space defaced with hateful language. The film draws on Micomonaco's own experiences being a varsity fencer.
"How people watch me is something I'm very aware of, and I wanted to talk about that," they said.
Another project of theirs they/them, starring Heath V. Salazar (a.k.a. Gay Jesus), tells the story of a young trans kid balancing their life at home with their life in the queer community.
"I got around to being so much more confident in my directing abilities…from meeting other queer people in my school," they said.
Micomonaco says some of the strongest individuals they met in film school were "people of colour and queer people and trans people and disabled people," who were making corrective cinema—when minority artists make films in an industry dominated by privileged narratives.
However, they said that for themselves and other marginalized communities making these films could have been easier if they had professors that supported them better.
"If the professors don't represent the students as much as the students represent the professors, then you have an imbalance," Micomonaco said. "You have students who have more education in worldly experience than a professor, who has more education in what we're studying, which is film."
"Maybe you don't understand it because you don't know any trans people"
While Micomonaco did also feel inspired by the teachers who were willing to "step out of their experience" and listen to students, they still sometimes found that this came with caveats.
"I found that the students who got listened to the most were people who had the most access to things and the most privilege," they said. "Even in class, people who were watching my film would say things like, 'well, we don't understand it.'…Okay, cool. That's fine, maybe you don't understand it because you don't know any trans people."
For that reason, Micomonaco wants to continue telling trans narratives—even though it involves a certain level of emotional labour. "No one's ever going to really work with trans people if [we] don't try to do that here in film school," they said.
MARKUS 'STAR' HARWOOD-JONES, AUTHOR, FILMMAKER AND ILLUSTRATOR
Markus 'Star' Harwood-Jones, a sociology alumni at Ryerson, has made his mark in the literary industry with three recent young adult novels, Just Julian, Romeo for Real and We Three.
Growing up in Winnipeg, Harwood-Jones started writing to create a space where he and his friends were represented. During Harwood-Jones' writing process, he went back to previous work he had written when he was sixteen. He ended up reworking and using aspects of it to frame Romeo for Real and Just Julian, which he describes as "Shakespeare fanfiction."
"I was this trans kid who was super gay and just wanted a boyfriend, so I wrote a story where that was possible. It was challenging," said Harwood-Jones.
Harwood-Jones started by publishing his own zines in 2010, and soon moved on to novels, with his young adult series being published in 2018 and We Three in 2019. He also previously worked on an all-trans cast and crew documentary called Mosaic, which told the story of Harwood-Jones journey from Toronto to San Francisco in 2012.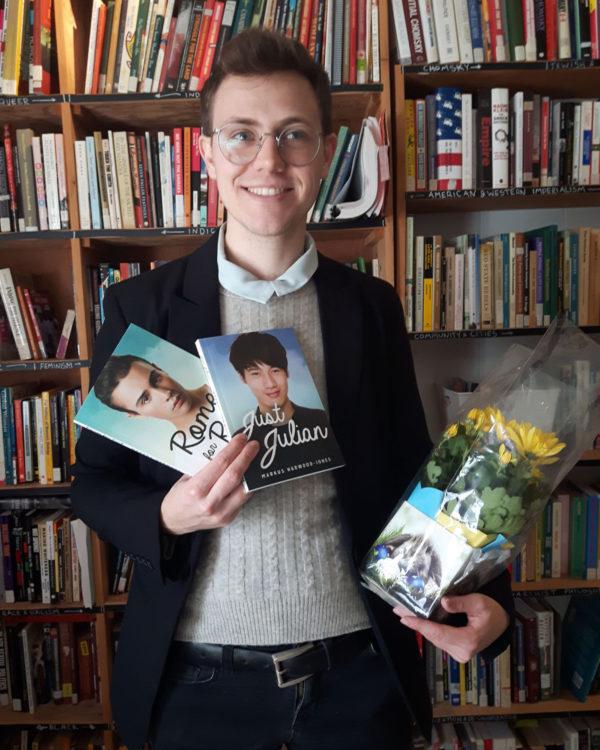 When Harwood-Jones first delved into the industry he was faced with pushbacks, especially when it came to the plot line of his novels. "I've spent years submitting manuscripts to publishers and getting feedback saying, 'it's too cliché' or that they were only publishing so many trans pieces that year," he said. "It felt that my work was often treated as a niche."
Harwood-Jones said it can be challenging to work in an industry that's run and dominated by cisgender people, and that having non-binary and trans characters that take on the protagonist's role in books is important. However, representation is tricky; Harwood-Jones also struggles with pigeon-holing when it comes to having to write trans characters. He says he felt a personal responsibility to get the characters right.
"My transness and the trans community that I am a part of are such a huge part of my life and are so important. I want to be a good representation of them."
Harwood-Jones' next novel, Confessions of a Teenage Drag King, is an important one. Confessions of a Teenage Drag King takes place in Toronto about a teenager in their final year of high school. On weekends, they go to an all-ages drag bar and perform as a drag king. But during the day at high school, they're a mild-mannered student without a lot of friends.
For Harwood-Jones, this novel stands out from his others as it doesn't feature a scene in which the character has to explain how they identify themselves.
"They are gender fluid and that's part of who they are," he said. "It was really nice to write this gender-neutral character without feeling the need to talk about, and I can focus on their personality and narrative."