Reading Time:
2
minutes
By Heidi Lee and Thea Gribilas
This story is developing and will be updated as more information becomes available.
Forward candidates gave students living in residence snacks in an effort to get them to vote for 'Forward' in this week's Ryerson Students' Union (RSU) elections, breaking election bylaws by breaching building rules and COVID-19 protocols.
In an email to The Eyeopener, a student living in residence—who asked not to be named for fear of reprisal but whose identity has been confirmed by The Eye—said he received a bag of snacks from a Forward candidate, who knocked on his residence door.
The student added that he received the package around 6 p.m. on Wednesday evening. According to the student, the candidate then handed the student a bag with snacks and a flyer with instructions on how to vote for the Forward slate.
The student said the bag contained an apple juice box, a Nutella spread breadstick and a quinoa bar.
According to the RSU election procedures code, which all RSU candidates receive, "remunerating someone for their vote" is not permissible.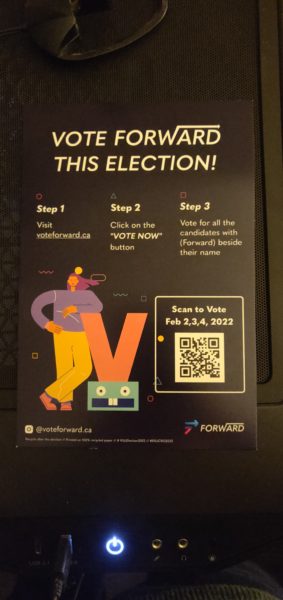 RSU chief returning officer (CRO) Jenna Rose said in an email to The Eye that bringing students packages "has been common practice for the past few years in RSU elections."
Adding that "this would be considered a breach in the bylaws if they told a student that they would only get a pancake if they voted for them. This seems more like a marketing strategy than a breach in the bylaws."
Rose said, however, that she has reached out to Forward to investigate the matter.
In the 2021 RSU elections it was alleged that 'For The Students' candidates were campaigning at the Daphne Cockwell Health Sciences Complex (DCC).
In an email obtained by The Eye that was sent by Rose to For The Students last year, she said that the allegations that students were campaigning at DCC was "EXTREMELY concerning."
"Ryerson residence buildings have been a no go zone for campaigns unless and until you've gotten explicit consent from the folks who are managing the building. I highly doubt that Ryerson University endorsed your campaign and allowed you folks in the building," Rose said in her email to For The Students last year.
Housing and Residence Life confirmed that student residences have been restricting guest access to buildings in order to slow down the spread of COVID-19.
"At this time, no daytime or overnight guests will be permitted in residence after the student's move-in period," it reads.
Rose did not respond to a request for comment on the matter.