Reading Time:
5
minutes
By Adriana Fallico
The spike in violence on the Toronto Transit Commission (TTC) has been unsettling across the city but it has particularly struck a chord with commuting Toronto Metropolitan University (TMU) students, who worry about the risk of the worst happening to them.
Since the new year began, there have been many incidents of random violence on the TTC, resulting in serious injuries or even death.
This rise in violence is worrisome for commuting TMU students who use the TTC to travel to and from campus and have no other alternative.
"They're scary events and, legitimately, people are worried"
Carina Tomasso, a first-year media production student, said she now questions her safety on the transit system.
"When I first started school, I felt really unsafe using the TTC but I stopped feeling that after taking it so much," said Tomasso. "The recent surge of violence has definitely made me re-evaluate that feeling of safety."
She said she now avoids taking the TTC unless someone is accompanying her, choosing to walk instead.
"When I'm by myself, I would rather not take it," said Tomasso.
To combat violence on the TTC, the Toronto Police Service has deployed upwards of 80 officers on the transit system every day, police chief Myron Demkiw announced in a press conference last week.
The City of Toronto issued a statement saying it will temporarily deploy 50 security guards on the TTC and hire 20 community safety ambassadors to help increase safety onboard. This is on top of the TTC's recent commitment to hire 50 new special constables this year, as stated in their proposed 2023 operating budget.
The Eyeopener reached out to the TTC for a statement regarding student safety on their services but they did not respond in time for publication.
Tomasso said she would feel more comfortable taking the TTC with more security. But other students feel increased officers on board is not the only solution.
Daniela*, a second-year civil engineering student at TMU, said the city needs to do more than just add extra police. "I think there are other resources," she said. "They can add mental health resources that can help people."
Simon Dougle, a third-year history student at TMU, said doing more than just adding security would be the real way to stop these incidents from happening.
"As we know that's not a perfect solution to this kind of problem," said Dougle. "If possible, resources for unhoused people and people who are mentally unwell would probably help in the long run than just more security."
In 2022, Toronto launched the Toronto Community Crisis Services (TCCS) pilot program, which aims to provide community-led solutions to respond to mental health crisis calls and wellness checks. On Jan. 16, Toronto City Council received a six-month evaluation report from the TCCS. It stated that the program has successfully diverted 78 per cent of mental health crisis calls received by 911 with no police involvement.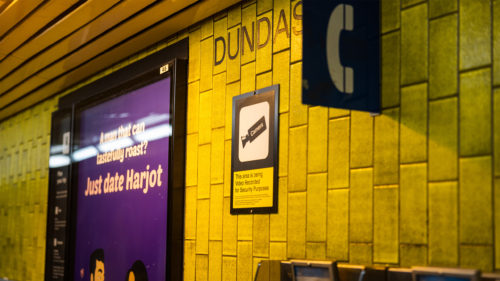 Valerie Borum, the director of TMU's School of Social Work, said the violence occurring on the TTC can cause students to rethink their routes to campus. But she said not everyone will be able to adapt.
"Uber requires some financial stability. Can students afford Uber? If so then that is an option," said Borum. "Can a student ride a bike? If so, that's an option."
"But that's also based on geography, some students may live so far from campus that they cannot afford to take an Uber or ride a bike in this weather, so those are options for those who can afford it and have the geography to make those trips."
"The pandemic exposed many social ills and safety is not a linear process"
Borum also said violence occurring throughout the TTC system is not an isolated, targeted attempt to cause harm toward certain groups of people but rather random attacks toward anyone.
"Violence is occurring in different spaces but when we look specifically at the TTC, the violence is unpredictable in a sense that it's random," said Borum. "That means that everybody is at risk as opposed to a situation where the violence is targeting certain groups who experience marginalization."
Borum explained that the increased violence on the TTC can impact students' mental health.
"I think this violence of course adds to stress and it does have the potential to impact mental health in a way that makes it more difficult to navigate certain spaces."
She highlighted the role the COVID-19 pandemic has had on student mental health, making the added stress of worrying about the TTC attacks an extra burden on students.
"The pandemic unveiled many of the weaknesses in the mental health system," she said. "So we have had these gaps prior to the pandemic and the pandemic exposed, highlighted and even exacerbated these challenges."
Borum said the presence of more police officers may make some feel safer and may make some, for example marginalized communities, feel less safe.
"The pandemic exposed many social ills and safety is not a linear process," she said. "The university and [the] nation as a whole will have to address the gaps in terms of resources," said Borum.
Borum spoke about how the events occurring on the TTC undergird larger societal issues pertaining to systems of mental health, housing and human rights. "We are looking at social issues and social challenges and the TTC is one area we are seeing it," said Borum.
Ronald Vogel, a professor and the graduate program director of policy studies at TMU, said the levels of crime on the TTC may not be that big of a number but may seem overwhelming because more people are taking the TTC again after the pandemic.
In November 2022, the TTC reached 33 billion rides on its system, a milestone that took nearly four years to hit. The TTC hit 32 billion rides in May 2019, 31 billion rides in June 2017 and 30 billion rides in August 2015—an obvious sign that ridership decreased significantly due to the pandemic.
"Objectively, crime is certainly up since pre-pandemic levels and since the drop of ridership during the pandemic," said Vogel. "It certainly has been rapid and very noticeable. They're scary events and legitimately people are worried."
Vogel said there needs to be more transparency from the TTC regarding what is going on.
"Realistically most of us don't have much to fear but that doesn't solve the problem of anxiety levels," he said. "So maybe one thing is to be more transparent and direct about what's really happening."
Vogel said increased police presence on TTC transit and platforms comes with its pros and cons because there is no simple solution. While more security may help reduce commuters' fear, it is not guaranteed to reduce crime on the TTC.
"It's a double-edged sword—one part of the population views the police as some sort of protection and making them feel safer," said Vogel. "But a large section of the population, most members of racialized communities may feel afraid or nervous."
The Eyeopener reached out to President Lachemi regarding students' concerns about commuting to campus. "I encourage students to reach out to their local government officials and share their concerns," he said. "That outreach would definitely help us deal with this situation."
"We are looking at social issues and social challenges and the TTC is one area we are seeing it"
Lachemi said the university will continue to work with the city's leadership, social service agencies and other organizations on a community-centric approach to safety and security.
TMU also has resources available to students and staff in regards to safety and mental wellbeing, some support services being Consent Comes First and Personal Safety Planning Sessions.
There is also the Centre for Student Development and Counseling (CSDC) which offers "free, confidential counseling to TMU students."
*Student's last name has been withheld for privacy concerns.