By Bana Yirgalem
Visuals by Konnor Killoran and Vanessa Kauk
Trigger Warning: This story contains mentions of racism and racial profiling
Elizabeth Jones describes her signature hairstyle when she was five years old as braided with beads attached to the ends. This was the style she wore while living in Kenya, a time in her life when she was constantly surrounded by other Black girls getting their hair done. She fondly remembers how the smells of Pink hair lotion would engulf the local salon she often visited. The now second-year criminology student can still hear the sounds of the bristle brushes and blow dryers as workers would create neat hair presses.
Although she moved from Kenya and away from that salon when she was just around five or six years old, the memories of being surrounded by other young Black girls as they'd all get their hair done stick with her today. The time she spent in the salon also extended far beyond the experiences of getting her hair braided, as she recalls how the salon workers would give her and the other girls free chicken nuggets and other fried foods when they behaved well.
This sense of community and strong bonds helped Jones feel like she wasn't the odd one out and allowed her to connect with others who shared similar experiences and looked like her in a positive environment.
However, having that community connection hasn't always been the case for Jones. When she moved to Tunisia in 2008, a country in Northern Africa that is predominantly Arab, she realized her hair looked different and wasn't the same texture as everyone else's.
She went from her signature long beaded braids to a "straight flop cut," a conventional style that fell just below her shoulders. Even after changing her hairstyle to better fit in with her new environment, Jones often felt discriminated against because she didn't look like everyone else.
In Tunisia, Jones' family was part of a small handful of Black people living in their neighbourhood. The racism she and her family experienced also extended beyond feeling excluded from her peers. She vividly remembers how people would throw rocks at their house and car while calling them a derogatory term.
Those instances of racism, combined with losing the ability to wear her hair how she used to, affected how Jones understood herself.
"I think I felt a loss of self-identity," says Jones. "I moved around a lot and I didn't really know my place in society and with other people."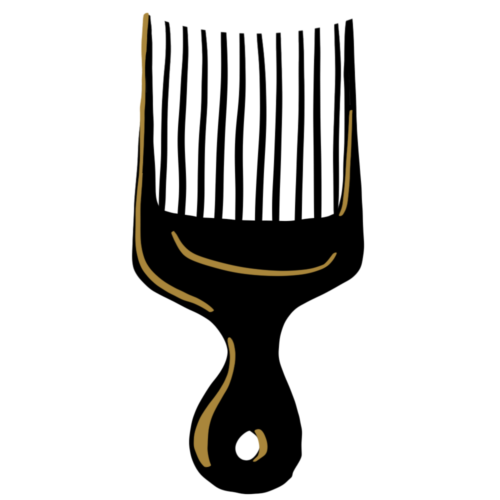 At Toronto Metropolitan University (TMU), some Black students say they feel supported and represented because of the school's diverse student body. But outside of school, students say they've faced many instances of racism, especially those fuelled by the perception of their identity based on their hair.
For some Black students, their hair is a big part of who they are on an individual and cultural level. Although some students embrace the beauty of Black hair, many have also had struggles in their experiences with their hair—from anti-Black racism to discrimination and to what the media portrays their hair to mean. For these students, finding ways to accept one's natural hair remains a struggle, both in navigating the world around them and learning ways to accept their uniqueness on a personal level.
Negative connotations and reactions to Black hair can cause deeply-rooted issues within the community. From an early age, the media often tells Black people their hair is unacceptable and may even hold them back from professional opportunities. In real life, a lack of representation also means there is less visibility of how natural Black hair looks for everyday people.
Within some professional environments, a certain look is often perceived to be the standard of what is considered "acceptable." Charmaine Gooden, the founder of the Black Fashion Canada Database and a fashion journalism professor at TMU, says when a Black individual holds a high position in a particular industry, they must present themselves in a way that is deemed "professionally acceptable."
She uses Michelle Obama, a former First Lady of the United States, as an example. When Obama was in the White House, her hair was always straight. Now that she's no longer supporting her husband in office, there have been several pictures of her with braids and other "non-traditional" hairstyles. This transition shows how politicized Black hair is and that anything other than straight hair is often unacceptable to the mainstream public.
"The style was the acceptable look, which was straight. She blow-dried straight, used straight extensions, because she knew it would cause such an uproar and she didn't want to be a distraction," says Gooden.
In a chapter titled "Black women, beauty, and hair as a matter of being" from a 2009 Women's Studies inter-disciplinary journal, author and TMU professor Cheryl Thompson states that "even within the Black culture, a woman who wears her hair in its natural state may suffer being ostracized in relationships or the workplace because of her hair."
Thompson specializes in topics such as Black communication and media studies and race, ethnicity and media. In her 2009 study, Thompson spoke to three Black women who gave accounts from their childhood that highlights the power of social comparison.
Their accounts show how, through the physicality of hair, Black women are caught between what Kobena Mercer, a British art historian and writer, describes as two logics of Black stylization. "One emphasizing natural looks, the other involving straightening to satisfy artifice," the study cites.
For TMU students, these negative influences can cause a lack of self-acceptance or, more severely, feelings of internalized anti-Blackness that could physically and mentally impact their identity throughout their lives.

One day in October 2021, Aydan Owusu-Toussaint, a second-year mechanical engineering student, was looking for a last-minute costume for Halloween. While at the mall, he ran into his friend working their shift at Bath & Body Works in Bramalea City Centre in Brampton, Ont. Soon after they started talking, a manager interrupted their conversation and told Owusu-Toussaint's friend that someone was calling for them in the breakroom.
Once left alone with just the manager, Owusu-Toussaint remembers how the manager didn't offer to help him but just walked away. He wasn't that concerned until he noticed he was being talked about by another employee with the manager, who was also pointing fingers at him.
After his friend returned from the break room, the manager pulled them in for a chat. Returning to Owusu-Toussaint, his friend said, "My manager thought you're like one of those creepy guys that just take people out of the store and flirt with them."
Feeling uncomfortable, he started questioning what had happened to him and what was the reason for it. He then went home and explained the situation to his sister, who told him he was likely racially profiled.
He then realized it was because he was wearing a durag.
The Ontario Human Rights Commission defines racial profiling as "any action undertaken for reasons of safety, security or public protection that relies on stereotypes about race, colour, ethnicity, ancestry, religion, or place of origin. Rather than on reasonable suspicion, to single out an individual for greater scrutiny or different treatment."
What Owusu-Toussaint experienced was something called consumer racial profiling. A 2018 study in Sage Journals titled "Courting Customers: Assessing Consumer Racial Profiling and Other Marketplace Discrimination" defines this type of profiling as "a type of differential treatment of consumers in the marketplace based on race/ethnicity that constitutes denial of or degradation in the products and/or services that are offered to the consumer."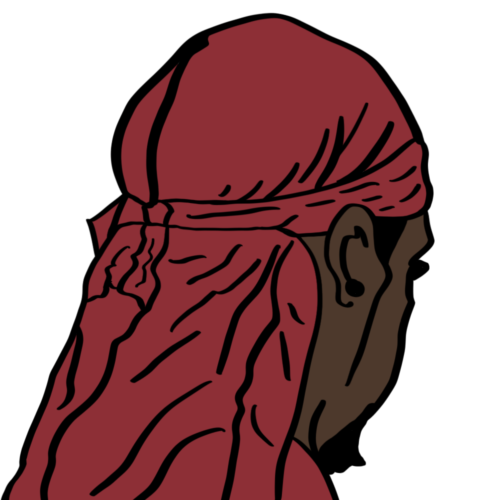 "This was Bath & Body Works," says Owusu-Toussaint on the frustrating experience. "You should be doing better. Do better."After what happened, Owusu-Toussaint called customer service and let them know of the incident. He remembers them just saying they don't condone racism.
In an emailed statement to The Eyeopener, Bath & Body Works said, "While we work to understand more about the incident, we want to assure you that this does not align with our values. We are committed to creating spaces where everyone feels welcome and respected."
Durags are popular in rap and hip-hop music videos but also play a huge role in Black culture, specifically in Black fashion. The primary purpose of durags is to protect styles such as waves, braids and locs. Popular artists of the late '90s and early 2000s, like Nelly, 50 Cent and Jay-Z, were also known to wear durags in their music videos.
Jones touched on the fact that movies also sometimes portray Black people poorly within the media. She used Tyler Perry, a Black male director who often has Black women play characters that are "weak, aggressive or ghetto," as an example of problematic representation.
"Sometimes they'll be patting their weave, then it is seen as ghetto, and people internalize that," explains Jones. "They perpetuate those stereotypes, but it doesn't relate to everyone."
Gooden says there is a double standard on Black fashion items like durags because white designers often steal the accessories without crediting the originators: Black people.
"It was rap music, gangster music, hood music until someone figured out [how to make it appeal to other audiences], and that someone's usually a white person," says Gooden.
She says although Black culture has been the source of popular culture for decades, society has only recently started to call out appropriation more frequently. "Black culture and that whole Black fashion look of that time are so popular right now," says Gooden. "It's not popular now because of Black kids, it's because of white kids."
Negative connotations surrounding Black hair can seep into the way Black families practice hair care. When Owusu-Toussaint was in Grade 10, he was writing an English essay. Due to the stress of the paper, he started playing with his uniquely coily hair, pulling it out of his scalp to distract his nerves. His sister noticed this and asked, "Aydan, do you want me to braid your hair for you?"
He immediately agreed, as the protective style would allow him to return and focus on his essay without damaging his full head of hair. Owusu-Toussaint has type 4c hair, which he says is hard to manage, and there are times when he feels down about it.
"I think bad hair days are the worst. It does bring my confidence down with the state my hair could be in."
That day, his sister sat down with him and started arranging Owusu-Toussaint's full-volume afro into neat, long braids. Although his mom, who is Grenadian, used to braid his hair back when he was a child, she expressed her dislike of him wearing braids when he was older.
"My mom was never really [fond] of me having braids at that point," says Owusu-Toussaint.
His mom was hesitant, believing that some people associate negative connotations with Black men wearing braids. At the time, she worried that people would think that only "thugs" wore their hair in braids.
However, after seeing the braids his sister did, his mother was more accepting. It also helped that his sister explained that braids were a protective hairstyle for Owusu-Toussaint's long hair that would help maintain and keep it healthy.
"I have been on a self-acceptance journey with my hair."

Growing up, Jonathan Reynoso felt that his family didn't understand the beauty of his curly fluffed-out hair that fell right by his ears. Reynoso is half Jamaican and half Filipino, yet the second-year business technology management student was raised more by his mother's Filipino side of the family. He explains that when he was younger, his family wanted his hair a certain way because his culture deemed other hairstyles "unacceptable."
Due to this disconnect from his Jamaican roots, he never had the opportunity to care for his hair appropriately, which meant he could never wear Black hairstyles suitable for his hair type. He would always stand out amongst his family because he was the only one with his type of hair.
"They never really understood," says Reynoso. "That's why I always wore my hair short."
He would have to keep it short and tidy to appease his family because, in their eyes, the only respectable style was the "corporate" look, which involved having your hair short and clean cut. Now though, he realizes the stigmas behind Black hair and Black hair types aren't true and that no hairstyle, as long as it's kept well and is clean, is inappropriate for the workplace.
"I just feel like the [stigma] behind Black hair and Black styles is different," says Reynoso. "Nothing is corporate, nothing is untidy, nothing is tidy."
He also now believes that however he chooses to style his hair doesn't define him as a person.
"You can put hairstyles of any kind in the same category as art," he says.
Reynoso isn't alone in recognizing the beauty of his culture's unique hairstyles and textures. Although natural Black hair and hairstyles are sometimes considered "unacceptable" by mainstream society, Black hair symbolizes empowerment in the Black community.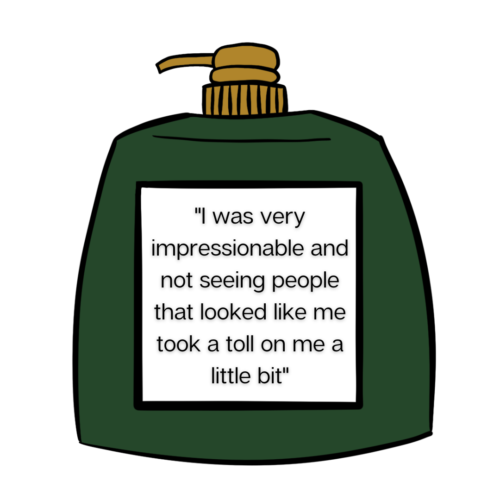 A 2020 article by Essence magazine explained that in the 1960s, Black people wore their hair in afros to mimic what oppressors thought of Black hair, which was "nappy" or "kinky." According to the article, the civil rights movement also helped change how Black people personally viewed their hair and increased the popularity of the famous phrase "Black is Beautiful," which was implemented into the African American community in the 1960s.
Similarly, a prominent Black Panther party member, Angela Davis, used her afro to symbolize Black power and fight against the oppressors. Back then, when a Black person would have an afro, it was often labelled as militant and threatening. But now, an afro is more widely regarded as a symbol of Black beauty.
As a child, Reynoso's hair was short and curly in the front. He explains that the style was inspired by how Ronaldo Luís Nazário de Lima's, a former Brazillian soccer player's, hair looked in 2002—a clean buzz cut with a patch of hair right in the front of his head. He now says the look was "weird," but truthfully, he never cared how his hair looked then—it was just to satisfy himself and his family.
Reynoso's hair texture isn't what mainstream society perceives as "nappy" or "kinky." Instead, his Filipino and Jamaican heritage means that his hair texture falls under the category of two hair types—3b (tight curls) and 3c (an "S" or "Z" shape that returns to its shape after it's been stretched).
Although Reynoso's Filipino family often says his hair is nice, they still tell him to cut it shorter. He remembers often hearing them say things like "this is messy" and "this isn't going to get you a job" about his natural hair.
Despite their reactions, Reynoso doesn't blame his family because he understands that they've been conditioned to have these reactions to his hair. He's come to terms with the fact that whatever they see displayed in mainstream society as "clean cut" or "professional" is what they'll believe is normal. Because of this, Reynoso thinks it will take time for his family to accept his Black hair and that he might have to help them do that.
"You just have to sit down and help them understand," says Reynoso. "Nothing's gonna happen if you're gonna be bitter about it."
Although he's willing to help educate his family on the beauty of Black hair, he says that it shouldn't be only his responsibility to do so. Yet, he accepts that the responsibility falling onto his shoulders is just "how it is" and continues to help his family understand and learn how to become more accepting of Black hair.
"I'm not trying to be someone I'm not, I'm just trying to do what I want to do with my hair," he says.

Although she wanted straight hair when she was younger and would beg her mother to relax her natural curls, Jones is now glad she didn't follow that route—despite how badly she wanted to look like she fit in at the time.
"Even younger Black girls my age had their hair permed, and only some of us had our natural hair," says Jones. "On TV and such it would always be straight hair that were found attractive."
She says she was very impressionable as a young girl which affected her perception of herself. "Not seeing people that looked like me took a toll."
Today, she says her curly hair has made her comfortable with her true self, and she's grateful for the journey to acceptance she's been on.
Now, at 19, Jones has her hair in long, passion twists that fall down her back. She's grown more confident in her hair, although she sometimes still feels uncomfortable because she feels that other Black girls always look put together and she may not.
Jones started to embrace the beauty of her hair as she got older when she started taking care of her hair on her own without her mother's help. She used different hairstyles to showcase how diverse her hair can be—such as cornrows, passion twists, faux locs and braids with beads.
Since coming to TMU in September 2021, Jones believes her confidence with her hair has grown steadily because she's able to see different hairstyles and how other Black students have the confidence to try new things with their hair—something she hasn't always been used to seeing. She remembers seeing a Black girl with bleached hair on campus and thought it was cool to see how Black students could do so much with their hair. For her, this is what makes Black hair so magical and beautiful, the ability to create something original.
"It makes me happy to see so much creativity and expression," says Jones. "It makes me happy to see Black people feel so comfortable in their hair."