BY: Racy Rafique and Gabriela Silva Ponte
This story will be updated with comment from the Team Revolt slate and the current TMSU CRO Adrian Aziz.
Team Revolt accessed a Toronto Metropolitan Students' Union (TMSU) member's voting portal on their behalf, according to an election ruling released by the Chief Returning Officer (CRO) of the TMSU elections.
According to the ruling, a student was accessing their voting portal on my.torontomu and "there was interference from a person who was canvassing for the Team Revolt." The individual who was canvassing touched the student's device and guided them through the voting process, showing them who to vote for and how to confirm their vote.
As a result, Team Revolt violated section 8.3.7.2 of the TMSU's Elections Procedures Code which states that "accessing Member's voting portals on their behalf" is a campaign violation punishable by the receiving of up to 25 demerit points.
According to section 8.3.8.4 of the Elections Procedures Code, executive candidates that accrue more than 35 demerit points will be automatically disqualified from campaigning.
Team Revolt is one of two slates in the executive positions category this year. It consists of vice president operations candidate Mahira Shoaib, vice president equity candidate Trevohn Baker, vice president education Abeeha Ahmad and vice president student life candidate Kareena Bhatia.
The ruling also stated that "the person campaigning for Team Revolt also made several negative remarks about the Candidate running for the position of TMSU President."
The Elections Compliance Officer witnessed the student campaigning to voters, according to the ruling.
Section 8.3.5.1 of the Elections Procedures Code states that in the case of a Code violation, the Chief Returning Officer can "assign a demerit point penalty resulting in a fine against the Candidate or the Slate." 
One student also alleged that she was approached by an individual asking her if she had voted. When she said she hadn't, the individual showed her how to do so on her phone, after which she was given a coupon for a comedy show, which The Eye obtained a picture of.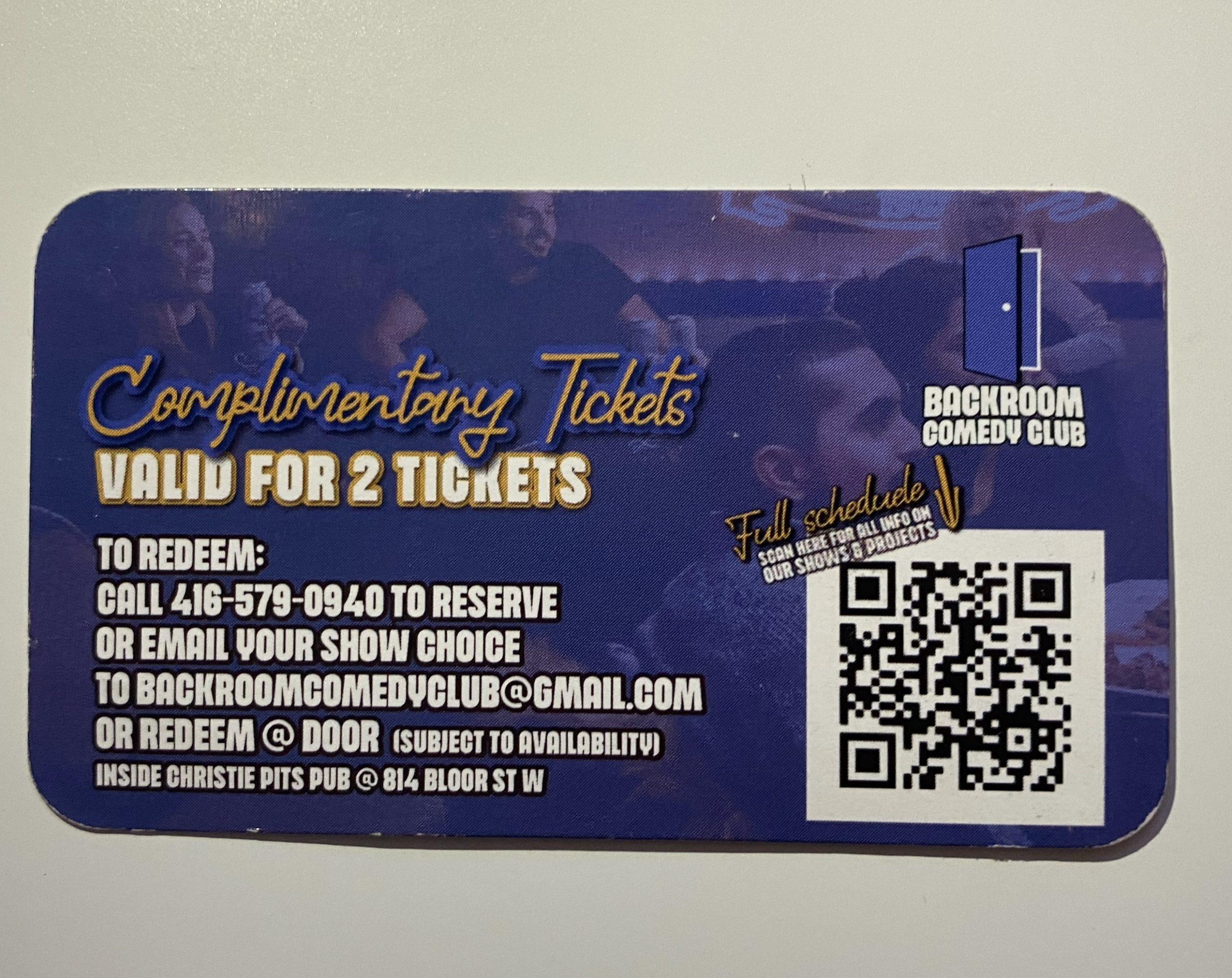 Victoria*, who is an early childhood studies student, was working on a project on the sixth floor of the Sheldon and Tracy Levy Student Learning Centre (SLC) when she was allegedly approached by the individual.
"He was telling us who to vote for," Victoria alleged, in a phone call with The Eye.
The individual allegedly told Victoria to vote "no" for TMSU president Marina Gerges' re-election, as well as to vote for Team Revolt in several other categories.
The individual then gave Victoria a card for two complimentary tickets to Backroom Comedy Club, a speakeasy comedy club located at 814 Bloor St. W. in Toronto.
This violates Section 8.1.26 of the Elections Procedures Code, which states that "Candidates may not campaign by distributing Goods. This includes, but is not limited to, giving out goodie bags, food, swag or other items that are not expressly Campaign Materials."
"Then he made us write our names down on his phone with our first names and the first letter for last names. And then he kind of just walked away," Victoria alleged. "He didn't really say what I was writing down the names in his phone for."
According to section 8.1.9.7 of the Elections Procedures Code, asking for "someone else's personal information or requesting a minor's personal information" violates the "Fair Play" section of the TMSU bylaws.
A few minutes later, a different individual approached Victoria and her friend asking them if somebody else had already spoken to them about voting, she alleged.
The Eye has reached out to the CRO and Team Revolt for comment regarding this incident. This story will be updated with more information.
*Source's last name and year of study has been withheld for confidentiality.