By Big Squawk and Co.
Disclaimer: This is a work of fiction. Any resemblance to actual events is purely coincidental.
Beloved 'baby-in-chief' Abeer Khan was found bald and deceased on the roof of the notable Bostonian pizza chain restaurant (BP) on Yonge Street Wednesday morning.
A medical examiner confirmed to The Eyeopener that Khan ultimately died from injuries sustained during a large fall, though she also sustained several other serious injuries, including multiple "peck marks" across her body and a "plucked-to-baldness" head.
Notorious pigeon gang, The Gould Street Flockers, were arrested in connection to the death.
Police said the accident happened the morning after Khan's final post-production dinner with The Eye team on Tuesday night, which, surprisingly, was not at BP.
Communities editor Negin Khodayari, who is running to succeed Khan as editor-in-chief (EIC), found her body.
Khodayari was touring the restaurant, as it was set to be the new permanent location of the newspaper's post-production dinner for the upcoming year.
"All of a sudden I hear this loud thud," she said. "I thought nothing of it at first, but then I heard the faint sounds of someone singing some song that sounded like it was from Pitch Perfect…but then I realized it was actually a K-pop song."
Khodayari knew that voice could only be coming from one person. She ran up to the roof only to find Khan, surrounded by BT21—K-pop group BTS' animated character collection—stuffies, slowly, painfully singing the words to Antifragile by LE SSERAFIM.
"Anti-ti-ti-ti-fragile," Khan whispered.
Khodayari held her friend's hand, offering her one last sip of her taro milk tea with pudding.
And with that, Khan slipped away from BP, from The Eye, from K-pop—and into the great beyond.
Khodayari was not the only Eye editor to see Khan before she died…
Earlier, news editor Jake MacAndrew awoke from his beauty sleep at his Pitman Hall Residence room at 9:07 a.m., only to look out his window and see a swarm of pigeons holding someone by their beaks.
Startled and confused, he quickly put on his suede walking shoes and speed-walked outside to speak with the pigeons.
At the same time, photo editors Konnor Killoran and Kinza Zafar were already on the corner of Gould and Church Streets, watching the scene unfold.
"Oh, hey guys," MacAndrew said, swooping his hair back. "Is that uhhhhhhhhbeer??"
Killoran quickly pulled out his $15,000 camera to photograph the atrocity.
Upon closer examination using the 28K pixel camera, he saw a pair of light blue koala ears on the misfortunate victim of the Flockers.
"Ye bud, that's her, eh," Killoran said.
Zafar offered to walk over with MacAndrew to try and reason with the Flockers.
When they finally reached the front of the Sheldon and Tracy Levy Student Learning Centre (SLC)—where the Flockers spend the majority of their time—MacAndrew and Zafar brainstormed ways to get the pigeons to drop Khan.
"I got nothing," said Zafar, who was already on bad terms with the Flockers after a caricature-gone-wrong incident. Turns out pigeons don't appreciate the "rat with wings" stereotype and prefer their caricaturists to not "trauma dump" during their sessions.
MacAndrew tried to offer the gang several watches that he sells on a notable buy-and-sell platform to fuel his Fedora addiction.
Head pigeon Big Squawk refused to bargain with MacAndrew, saying he "dressed too much like Robert from Dragons' Den" to reason with—he would only speak to someone more "down-to-earth."
Sports editor Jack MacCool also found the scene later that morning when he was walking back from another day of fantastically covering the Toronto Metropolitan University Bold women's basketball game at the Mattamy Athletic Centre. He quickly ran to his editors' aid, trying a different tactic. MacCool threw his half-deflated basketball at Big Squawk and knocked him out cold.
Yet, MacCool's efforts were in vain, as this blatant disrespect only angered the Flockers more. The gang pooped on him in retaliation.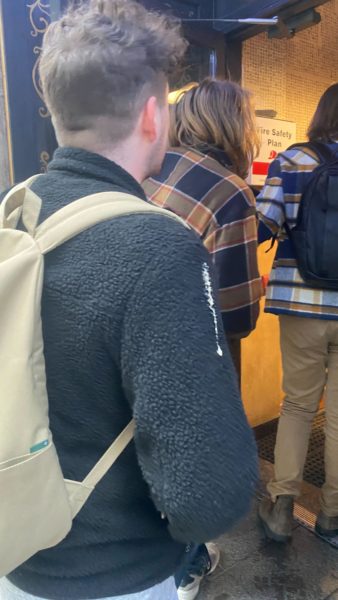 On the other side of the street, fun and satire editor Zarmminaa Rehman munched on a corn dog from the food trucks across from the SLC.
Rehman—who religiously posts on The Eye's pigeon sighting account—documented the encounter. She shared her images with The Eye.
News editors Gabriela Silva Ponte and Racy Rafique caught wind of the crime through the police's Twitter. They quickly called to find out more but were only told the description of the victim and the location of the attack.
The victim was described as a "gorgeous, stunning woman with a weird hat."
Rafique and Silva Ponte tried to call fellow news editor MacAndrew—who had witnessed the entire crime—but unbeknownst to them, he was too busy negotiating with the pigeons to answer his phone.
The two girlbosses quickly typed up the story and sent it to the online editors to edit and post to The Eye's website. The team had tried to call Khan first but they assumed she had just slept in again.
Online editor Thea Gribilas was driving back from a long night of breaking news reporting at the Stah, sipping on the Starbucks matcha drink that Khan introduced to her and internally cursing out the EIC for making her try such a "foul" drink.
Her thoughts were interrupted by a Slack notification sound.
Lo and behold, it was fellow online editor, Madeline Liao, asking Gribilas which one of them should look over the most recent breaking news story.
After infamous slacker Gribilas said she was "busy" with one of her "four jobs," Liao decided she would edit the story and was delighted to see this was not another article about the Toronto Metropolitan Students' Union. Instead, this was a story regarding a crime near campus.
As she read the description of the victim, Liao realized this was none other than Khan with her notorious floppy Koya Plush Action hat.
Liao quickly dialled Khan's number, who usually answered the phone immediately, only to be sent to voicemail. It was at this moment that she knew something was wrong.
She texted Khan one of their favourite memes, enticing her to respond.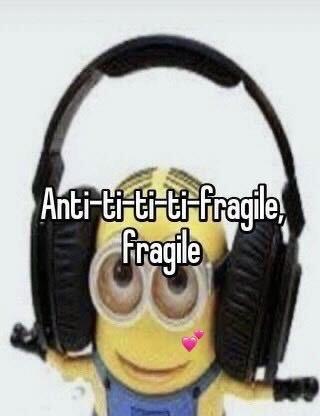 When Khan left Liao on read, she knew something had to be wrong—there was no way Khan would not jump to send her thoughts on this powerful image.
Liao called features editor Stephanie Davoli and arts and culture editor Shaki Sutharsan in a panic. When they reached the SLC, where MacCool, MacAndrew, Killoran, Zafar and Rehman stood, they could see Khan high in the air, held precariously by the Flockers.
The editors stood below the pigeon gang, unsure where to go from here. MacCool was still covered in pigeon poop.
"This feels like a Grey's Anatomy episode," said Sutharsan at the time. Sutharsan has been known to engage with the dramatic show, being quoted as one time saying that she "likes Dr. Burke"—a sentiment she swears she doesn't hold anymore. However, Sutharsan does say she still stands behind George and Izzie as a couple.
"This is way less McSexy than Grey's," said Davoli. "Thank McGoodness that I didn't run for EIC."
Davoli, who would have made an excellent EIC as well, was quoted as saying the sole reason she decided not to stay at The Eye was due to her being "sick and tired of carrying masthead's InDesign layouts" and that she was joining a paper that "knows how to text-wrap assets."
On her way to cover another business and technology story, editor Natalie Vilkoff joined the group.
"I can't believe I transferred from Carleton for this," cried Vilkoff. "I just had to decide to 'try' something new this year."
And there they stood. For 20 minutes, the remaining Eye editors and The Flockers were at a complete standstill, silently watching Khan's koala ears flopping solemnly in the wind.
Finally, photo editor Vanessa Kauk walked onto the scene. Cautiously, Kauk removed her sound comfort Bose headphones and spoke to the gang.
"Oh hey, boss," she nodded to a fear-stricken Khan.
"Anti-ti-ti-ti-fragile," is all Khan could say.
Sensing the fear in her editor's eyes, Kauk turned her attention to the pigeons.
"This is not the way," she said. As the soon-to-be most senior editor on The Eye's masthead, her words held weight.
The Flockers began to lower Khan but then sports editor Gavin Axelrod made his appearance.
As an up-and-coming employee at the national broadcaster, Axelrod was tasked with going on campus to report on the story.
Taking in the scene, Axelrod became enraged.
"What the flock?! This is why you guys didn't even make the list for TMU's new mascot!" he yelled.
At this moment, head pigeon Big Squawk awoke and pooped on Axelrod too.
The birds took Khan and flew off into the distance—but not before Rehman threw her one last corn dog. The dog hit Khan in the head, knocking off the Koya hat.
"ANTI-TI-TI-TI-FRAGILE," Khan yelled at the loss of her floppy ears.
Luckily, media editor Youdon Tenzin caught the hat as she and fellow media editor Sonia Khurana arrived to see Khan's final departure. Tenzin pulled out her phone and played The Eye's theme song, pulling the floppy ears to the beat of the song in Khan's honour.
There was nary a dry eye as Khan was flown to the BP rooftop, where she ultimately met her untimely death.
Khan's funeral was held on the second floor of the Student Campus Centre where Rolltation—her all-time favourite restaurant—was served. She was surrounded by her loved ones, including previous photo editors Jes Mason and Peyton Keeler-Cox, previous news editors Prapti Bamaniya and Edward Djan, previous business and technology editor Christina Flores-Chan, previous online editors Abby Hughes and Alexandra Holyk and previous communities editor Asha Swann. Current web editors Sam Chowdhury and Nishil Kapadia were too busy building the latest microsite to attend Khan's funeral.
Her favourite BTS member, RM, performed a duet alongside her second favourite artist, Ed Sheeran, at her reception.