Words by Vanessa Tiberio
Visuals by Brithi Sehra & Jerry Zhang
During a stormy winter night in late December 2021, Fiona Fairbairn, a fourth-year creative industries student at Toronto Metropolitan University (TMU), hovers her finger over TikTok's red 'post' button. While posting on social media wasn't new for Fairbairn, this time is different. She had taken a year's long break from social media—a way to reset her online image. And now, she is about to post her first video to the app that will change her online image forever.
She hits the post button and immediately taps refresh to see the video pop up on her page with 20 followers.
"Fuck it. 2022 is my dumb bitch era. I'm sick of perceiving. I'm sick of being observational. I'm sick of being self-aware. Just let me be dumb," the video on Fairbairn's screen starts, repeating the words she had just recorded herself saying.
Fairbairn drags down on her profile again, refreshing to see the engagement with her post. She sees the number soar, far beyond what she was expecting. She refreshes again, again and again. She sits and watches the view, like and follower counts on her page, @gsgetlonelytoo, skyrocket. Her 20 followers quickly changes to 200 and then 2,000.
"I couldn't even get off my phone because I was in shock that it was going so viral," she says. Three days later, Fairbairn finds her account sitting at around 100,000 followers.
Soon enough, local and international media outlets—like the Toronto Star and Vogue—are reporting on Fairbairn's 'Bimbo Manifesto,' her self-proclaimed TikTok series on how to act as a conventionally attractive airhead to get exactly what you want.
Currently, Fairbairn boasts over 180,000 followers on the app and has collaborated with brands, including MAC Cosmetics. With this newfound success, Fairbairn understands that she has to keep this momentum going. "Once you start, you have to be consistent if you actually want to build a following and do these things," she says.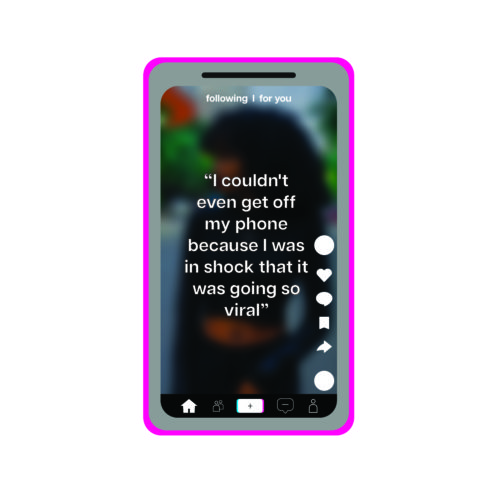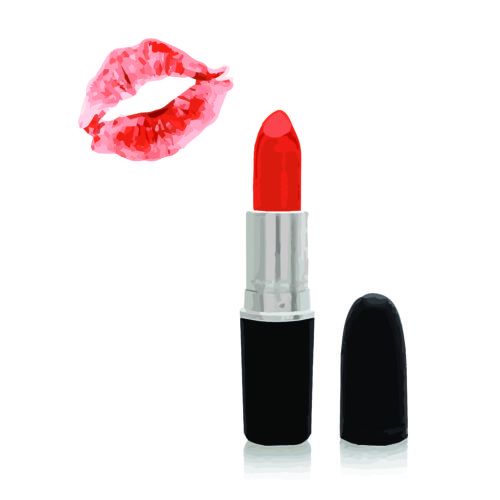 As a full-time student, Fairbairn has noticed that TikTok's algorithmic demands had become extremely overwhelming to keep up with. When she first amassed a following, she kept herself consistent by posting three videos a day. "But obviously, life happens," she says. "And I don't think people realize that content is actually hard to make."
With a rite of passage of going viral seemingly overnight, TMU TikTok creators are using their platforms for both social and career opportunities. While leveraging the benefits of the novel and popular app, these students are getting creative in navigating TikTok's challenging algorithmic landscape.
Bree McEwan, associate professor at the Institute of Communication, Culture, Information and Technology at the University of Toronto (U of T), says TikTok varies from other platforms due to how users interact with others on the app. Many social media platforms, such as Instagram, are focused on pushing content to what's known as a fixed network—people in users' social circles they generally interact with. However, TikTok pushes content beyond those who people typically interact with.
McEwan says that because TikTok's algorithm encourages more public content creation, people often get surprised if they have a video that "blows up" beyond the small network they intended to reach. "It's a little bit of a casino game. We know that TikTok will reward some winners so that other people will keep playing the game," she says.
According to a 2022 Statista survey, Canadians aged 18 to 29 make up the largest portion of users on TikTok, accounting for 43 per cent of total users in the country. And while managing a double life of online virality and working towards a degree seems like a unique endeavour for Fairbairn, she isn't alone in this dynamic journey.

Ever since Angel Nayyar was young, she knew she wanted to go big on social media. Nayyar, a fourth-year Image Arts student at TMU, started her digital journey on Instagram. With a dream of being a "grunge Instagram girl," she would do whatever it took to get her content reposted by larger accounts and grow her audience—from posting her latest outfits to learning the photography techniques of popular alternative fashion accounts.
But Nayyar says she found it extremely difficult to get larger alternative fashion pages to repost her photographs as she noticed they weren't as likely to repost photos from racialized creatives. "Not being reflected in the type of people that my social media was showing me had instilled in me that [content creation] wasn't something I could do," she says.
While everyone else was most likely getting a good night's sleep, Nayyar would stay up until the early morning, sitting in bed and taking notes on social media strategy videos on YouTube. "I actually studied a lot," she says. "I kind of took it like a school-type assignment."
One day in October 2020, Nayyar was watching a strategy video that caught her attention—the videomaker claims TikTok was running a promotional campaign to spotlight small accounts. The video recommended that its viewers create a TikTok account as they had a good chance of going viral and reaching new audiences.
Nayyar heeded the video's advice and decided to try her hand at a new platform. After creating her account under the username @angelphroot, she began posting videos, introducing herself to the world as an "alt-creator." Little did she know, the advice from the video would work—the eighth video Nayyar uploaded to the platform would be the one that catapulted her account to fame.
"Hey! You have encountered an alt Indian girl," the first set of onscreen text of the 14-second video reads. Nayyar can be seen dancing to "Coffin" by American rapper Lil Yachty, wearing black platform boots, ripped tights and chains around her neck and leg. In the video's caption, she asks viewers to comment their favourite colour—a strategy, Nayyar says, to drive interaction.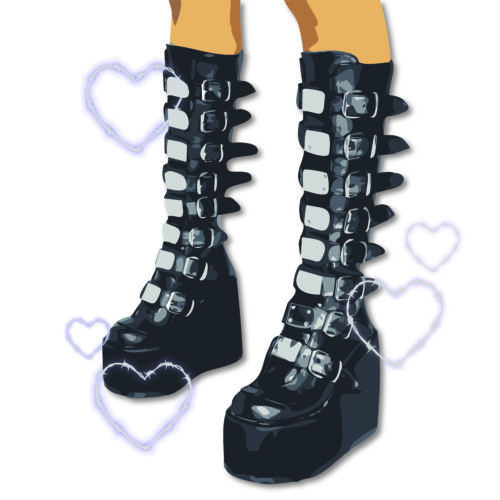 Generating interaction is exactly what the video did. From one video alone, Nayyar's account grew by 24,000 followers. Today, that video stands with over 825,000 views and 212,000 likes.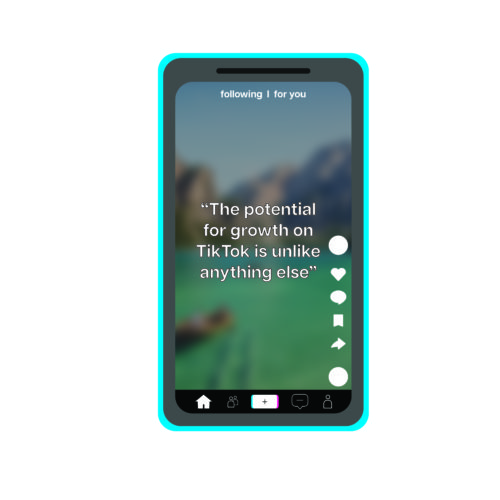 While Nayyar attributes much of her success to understanding and dissecting TikTok's complicated algorithm, she also attributes her virality to luck. "The potential for growth on TikTok is unlike anything else," she says.
Jordan Foster, PhD candidate in the Department of Sociology at U of T and professional instructor, says the appeal to become "influential" on a social media platform is because it can be empowering for people. "Especially marginalized people who may not have had that sort of reach or opportunities to connect with other people," he says.
This appeal of becoming an influencer is distinguished especially among the younger generation. According to a 2019 survey conducted by Morning Consult, 54 per cent of people aged 13 to 38 would become an influencer in the United States if given the opportunity, while 86 per cent of those surveyed say they are willing to post sponsored content for money.
Foster noted the difficulties of balancing studying full-time while simultaneously attempting to maintain momentum on TikTok. For individuals who might be performing well on the platform, he says they may be faced with the difficult decision of whether or not to pursue their TikTok careers full-time and step back from school. "The longevity of a career in this space is fundamentally unknown, so there's a great deal of risk in pursuing [TikTok full-time]," he says.
Along with achieving a certain degree of fame, another alluring aspect of becoming popular on TikTok is the potential business connections that creators can make. Foster says the most financially successful influencers are clever with what they do after they go viral, building a personal brand and commoditizing it as soon as possible. Commoditization includes merchandise they may sell or brand connections they may make.
However, Foster says a factor often overlooked in this exchange is that "influencer" work is quite challenging as it's time-consuming and isn't often done for a great deal of pay. The influencer economy is generally contract-driven work, so creatives can never be sure when they will get their next gig or paycheck. "You're moving from contract to contract to contract," he says.
In July 2020, TikTok launched the Creator Fund, which allows users to earn money based on their content's views and engagement. Creators are paid based on how well their videos perform and it entirely depends on the number and authenticity of views and the level of engagement with the content. However, Canadian users are not eligible for the Creator Fund.
The only avenue for Canadian TikTok creators to get paid for their videos on the app is through brand collaborations or associations. Although, these partnerships tend not to perform very well on the platform. Foster says this is partly due to TikTok's algorithm disincentivizing the use of #Ad—a legal disclosure that must be made for sponsored content. Ads also tend not to perform as well since young people are keenly aware of the advertised content and aren't interested in seeing it, so they scroll away.
Because of this, many TikTok creators, including Nayyar, rely on other social media platforms or collaborations to generate revenue for their content. Nayyar had been using Instagram Reels Play, a program that allows users to earn money on their short video Instagram uploads, known as Reels. Yet, back in March, she had trouble receiving payments from the Meta platform and couldn't contact anybody about it since Instagram has no human-operated customer support. Instead, the company has an 'Instagram Help Centre' where people can find their own solutions with an array of answers to frequently asked questions.
"I had an issue where they didn't pay me for over a year and they owed me like $4,000," says Nayyar. "They paid me, but they were $500 short."

Through her lifestyle videos and Toronto-based content, Kaitlyn Huynh, a third-year business and law student at TMU, has become all too familiar with working on brand collaborations over the past year.
Huynh shares a TikTok account with her twin sister, Kristin, under the username @huynhtwins. Their account boasts close to 28,000 followers and has amassed 4.8 million likes. Like Fairbairn and Nayyar, their page went viral overnight—gathering over 7,000 followers in a week after posting a Valentine's Day joke in February 2022: "It's 2/2/22. Ask them to be your valentine. Don't know how? Just send them this," the text on the video reads, as a hypnotic black and white swirl appears onscreen with mantras to become someone's valentine.
For Huynh, balancing brand content expectations with schoolwork has become stressful. "It's hard because they expect deadlines and some of them expect multiple videos a month," she said. "It gets stressful, but at the same time, it feels like a good accomplishment."
Huynh has also become aware that her sponsored posts tend to receive less engagement than her regular videos. This discourages her as she feels like brands won't feel incentivized to collaborate with her if they see her sponsored posts receive less interaction.
While Huynh says she doesn't feel pressured to post from her audience or the brands she's collaborated with, she does feel pressure from TikTok's algorithm to not fall behind in her posting. "I feel like I want to have constant engagement," Hunyh said. "Something about seeing very little notifications when I log on makes me feel like I need to keep posting more."
Foster explains that TikTok algorithms favour the production of a series of videos in one day or multiple times a week. "This is going to compel creatives online to do more work for not a lot of money," he said. Many of the videos on TikTok are created without pay but are content that the platform benefits from. Foster defines this as a kind of "exploitative labour."
For those planning on collaborating with brands and companies in sponsored videos, Foster said creators should feel empowered to ask for what they want—whether it be a fair wage or speaking their truth about the product to their audience. He also recommends that contracts have conditions built into them that allow creators to withdraw if they no longer feel like backing a certain product.
When Huynh started making videos, she didn't have a particular niche, which made it more difficult for her to come up with unique content while balancing academics. Huynh devised a new approach of incorporating both domains of her life to balance school and content-creating. "I realized I can just go to school every day and then take out my phone for five seconds every couple of minutes just to come up with a video," said Huynh. "Now people know me as the girl who does TMU vlogs."
"Here is how much money I spent today as a university student in Toronto," says Huynh in the opening of one of her high-tempo, daily vlogs. As Huynh started to post content that pertained to a certain niche, she noticed the view counts on her videos also increased.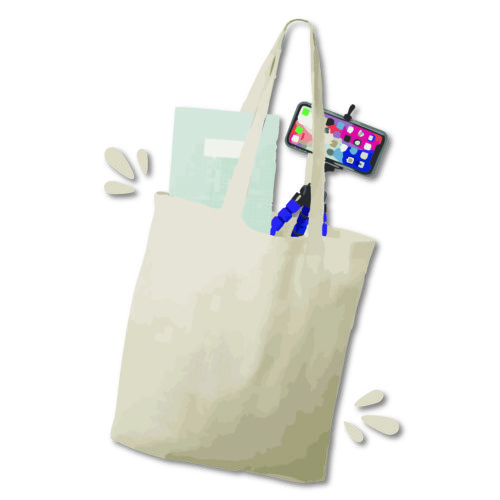 While creating content on the go is a great way to save time, McEwan raises some safety concerns that can come with filming your every move. "When you open yourself up to a very flexible and very large audience, not everybody in the audience is going to be a good actor," McEwan said.
Using geotags or filming in distinguishable areas, like TMU's campus, can allow people to start recognizing TikTok creators' daily routines—something McEwan says causes a potential for danger. "We don't know how data can be pieced together in the back end." She recommends users be aware of their filming locations and how much they share with potentially larger audiences that may not be accounted for.
Huynh's family has been supportive of her social media journey, but they have concerns about her TikTok-creating impacting her academics. "They'll be supportive one second, but then when a video of mine blew up and got 10 million views, they were like, 'don't let this get in the way of your studies.'"
While Huynh doesn't foresee herself dropping out of her program to pursue TikTok full-time, she said her account has opened up a lot of future career ideas. She is now considering the possibility of becoming a social media marketer who works with companies and uses social media to promote products or services. "Not an influencer, because I don't think I'll ever get to that level," she said.

Over a year and a half after Fairbairn achieved virality, she said she's still grappling with adjusting to people's reactions to seeing her in public. Fairbairn said she often has people recognize her on TMU's campus and come up to chat with her. Even while on her semester exchange in Amsterdam with The Creative School last spring, Fairbairn said many fans of hers would go up to her and ask for a photograph. "I'm not a celebrity, but then it's kind of like, 'Wow, people really know me,'" she said.
While Fairbairn has worked on many brand collaborations and has gone to events because of her TikTok success, she said she is constantly dealing with imposter syndrome. "I'm like, 'Why would you want a picture of me? It's just me,'" she said.
TikTok has opened many other doors for Fairbairn outside of the brand collaborations, including modelling and acting opportunities. Fairbairn says these opportunities have cemented her interest in a career path in media, "I think this was confirmation that this is really what's meant for me because I'm a creative person," she said.
For the future, Fairbairn is shifting her focus towards continuing to develop her podcast, "The Bimbo Manifesto," and YouTube channel. She said she is focused on overcoming her imposter syndrome and realizing her full potential in the creative industry.
"If I can make a living off content creating, I would absolutely love to do that," she said. "It just takes motivation and consistency."