By Mikayla Guarasci
When Adyson Wilson returned for her third Ontario University Athletics season with the Toronto Metropolitan University (TMU) Bold women's volleyball team, she came with lessons learned from her first head coaching experience—one that was deeply intertwined with and celebrated her Indigenous culture.
Wilson was selected to lead the under-16 (U16) Indigenous Team Ontario boys volleyball team at the 2023 North American Indigenous Games (NAIG) in Halifax.
The NAIG brings together Indigenous youth athletes from across the continent to participate in 16 sports during the summer. The event combines Indigenous culture and sport, something Wilson appreciated and said is her "favourite thing" about the games.
Wilson is Ojibwe and from Rainy River First Nations in Treaty 3. Until recently, Wilson didn't fully know what her Indigenous heritage meant to her.
"I knew I was fair-skinned and a lot of my family had darker skin, so I struggled with that a bit. Why am I not as dark as them?" she said. "Reading through textbooks and stories about Indigenous people, I just felt really bad about that part of myself."
It wasn't until recently that Wilson was introduced to her people's history in school.
"I took a course in high school about Indigenous literature for an English credit. I learned about all of the racism and issues that my people have experienced and it's not their fault," she added. "They're not who textbooks make them out to be. They are much more kind and giving."
The third-year outside hitter got into volleyball at a very young age because of her family's involvement in sports. During her childhood in Fort Frances, Ont., she grew up around volleyball while her mother was coaching various teams and playing in a women's league. As she got older, Wilson was invited to participate in Team Ontario Indoor High Performance camps and play for Team Ontario Beach. During that time, she was scouted as someone who could play at a higher level.
"One of the coaches there asked [my mother] if I wanted to move or if I ever thought about playing volleyball at a higher level and I was like 'of course,'" Wilson recalled.
The conversation with the coach and her mother made her realize that she could grow as a volleyball player and play beyond high school. When Wilson was 16, she and her family moved to Burlington, Ont., allowing her to play club volleyball. This gave her a chance to continue improving her skills and she started playing club at the under-17 level.
One of her opportunities to play at a high level was when Wilson herself played in the 2017 NAIG in Toronto. Her mother, who was the coach at the Games in 2017, was heading to Halifax to coach the under-19 (U19) girls in the 2023 Games and heard that the U16 boys still needed a coach. After participating in the event as an athlete, Wilson returned to the NAIG—this time around with a new role.
"I just applied and they told me that I got it because of how long I'd been with volleyball—coaching and playing wise. I've been coaching eight or nine years already," Wilson said.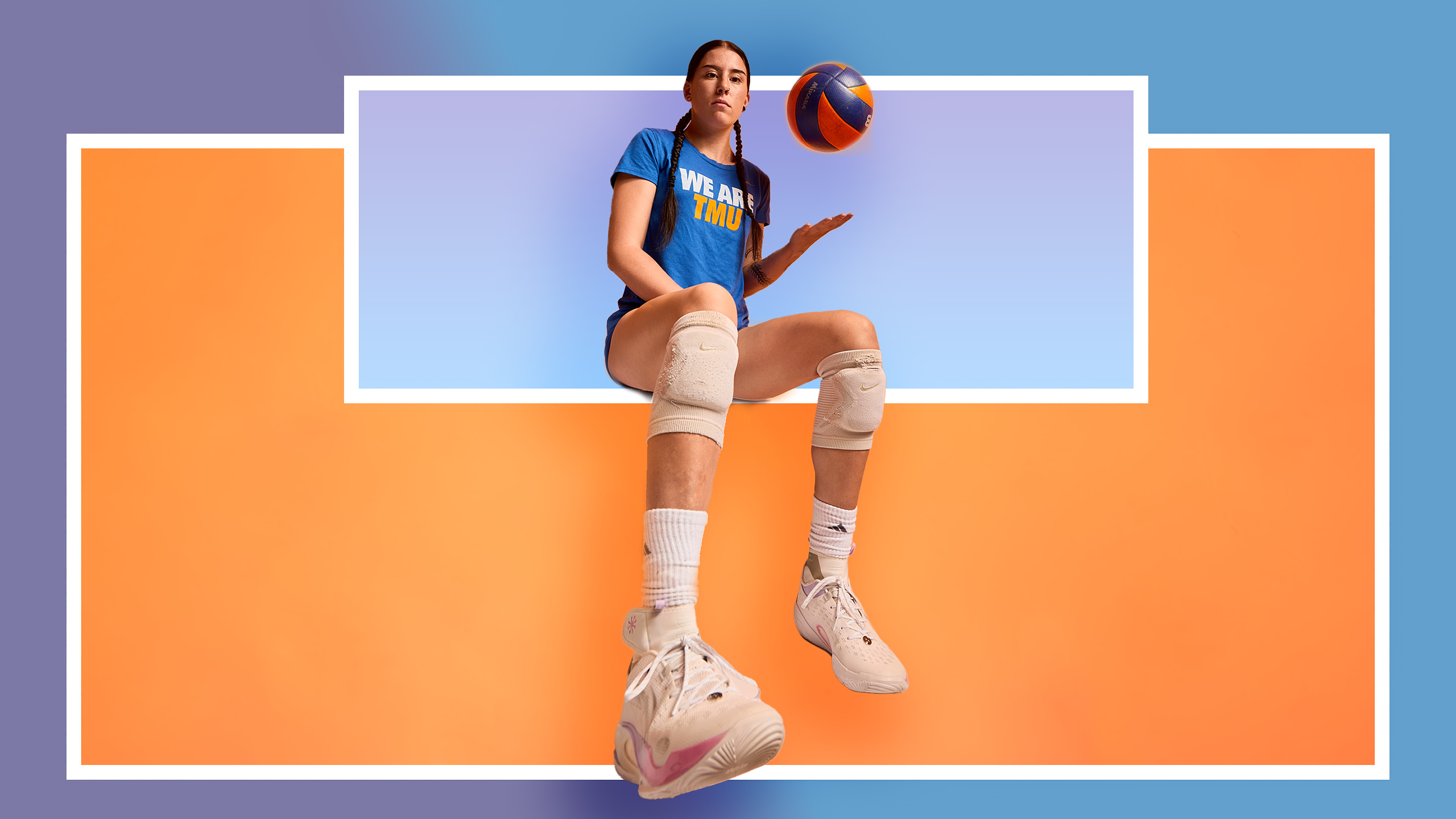 She had previous coaching experience, beginning with soccer when she was 12 and then coaching at many different levels with her mother. Yet, the NAIG would be her first opportunity to lead a team as a head coach. Even though it wasn't on the same roster, Wilson had her mother by her side in Halifax to help her.
"It was kind of intimidating," Wilson said about coaching at the same event as her mother.
"Coaching at the Indigenous Games, that was my very first-time head coaching and she has been doing it for so long, so she knows what needs to be done," she said. "As a mom, she's going to tell me what I'm doing wrong and what I'm doing right."
The boys on Wilson's U16 team were from all over the province, many of them from north or northwestern Ontario. Although they had never played together as a team, many had been opponents on their high school courts. After being selected to coach with only a short time to prepare for the event, Wilson was not able to see any players—besides one—in person. As a result, she had to carefully examine hours of video footage to choose the best team. 
Before they left for the tournament, the team spent no time together in person. Instead, they held weekly Zoom calls to go over plays and mental wellness and complete team-building activities—tasks that can be difficult online.
During the tournament, the team sat down to set realistic goals, with one being to win a game at the event. They accomplished this by winning their game against Saskatchewan—a moment Wilson recalls as her most memorable. This game is when it finally "clicked" for her team. "Everyone was giving each other hugs and telling them how proud they were of everyone. It was awesome," said Wilson. 
Although the team may not have brought home a medal, Wilson said the event was about improving their skills and coming together as a team to achieve their goals—regardless of how big or small they may be. She credits her mother for teaching her that it's more important to improve and learn new skills than to worry about taking home a gold medal.
Wilson can see herself back at the NAIG when they are set to be hosted in Calgary in 2027. She hopes to coach the same group of boys but at the U19 level.
For those who attend the NAIG in the future, Wilson wants them to know that it's not just for Indigenous people and that it's an opportunity to learn about Indigenous culture.
"It's a very calm way to learn about Indigenous traditions and culture. It's not forced on you in a classroom, it's very learn at your own pace," she said.
Her newfound knowledge from coaching could lead to a full circle moment—back to where she began as a young girl standing on the sideline as her mother's assistant coach. Perhaps it'll be with a university team next. But for now, Wilson will turn her attention to the TMU women's volleyball team, where she will take her lessons learned this summer in their quest for a successful season.
"A lot of times, I have a hard time connecting my culture and sport because they are very different, especially in Toronto, we don't really have any Indigenous culture here," said Wilson. "My favourite thing is bringing them both together and celebrating them at the same time."