By Anastasia Blosser
Students at Toronto Metropolitan University (TMU) say they are having trouble finding housing due to an abundance of online rental scams.
Housing scams are common in Toronto, according to the Housing & Residence Life Office at TMU. In their guide to finding a place, they advised students to keep their guard up, assess for suspicious activity and know their rights as renters
"TMU's Off-Campus Housing team has been available to offer advice and resources to help students navigate house-hunting safely," Valerie Bruce, the director of Student Housing and Strategic Partnerships told The Eyeopener in an email.
Asmith Kaur, a third-year sociology student at TMU, fell for a rental scam in September 2022 that collectively cost her and her roommate $5,200.
Kaur found the listing on Facebook Marketplace and toured the apartment three times with the woman she would be renting from.
A week before they were supposed to move in, Kaur and her roommate noticed her WhatsApp had disappeared and their messages were no longer being delivered. "[We] started joking 'haha, she might be a scammer' and then she actually turned out to be a scammer."
When they arrived on move-in day, a man answered the door and said it was his home. "We were shocked, we started crying," she said.
Kaur said she had less than a week to find a place to live after the scam. "I saved up a lot of money which all went into the scam," she said. "I worked so hard and now it's all gone."
After filing a report with the police, she learned that five other individuals had been scammed by the same woman.
The woman posed as a student living abroad who wanted to sublet her apartment, Kaur said. She told them to transfer two months' worth of rent and a deposit as quickly as possible to secure the listing.
Kaur is from India and said international students are an easy target. "As soon as you tell somebody you're new to the place, they try to upsell you."
Muna Abdi is a community support and housing worker at Horizons for Youth, a shelter for at-risk and homeless youth in Toronto.
Abdi said rental scams are putting youth in a terrible situation. "When they go [to the properties], they realize they're sharing one room or they're in a den and they're paying a really expensive amount."
She says some youths staying at the shelter were enrolled in university courses but had to drop out because their priority is finding housing.
The Canadian Anti-Fraud Centre (CAFC) reported that Canadians lost over 530 million dollars to fraud in 2022.
According to the Government of Canada, over 70 per cent of Canadians aged 25 to 44 have experienced a cybersecurity incident.
Nafeesa Sadeque Fayha, a second-year biomedical engineering student, said she came across several rental scams while searching for an apartment.
When Fayha inquired about a listing, the representative she was messaging told her that she needed to make a $1,200 deposit to view the apartment. After she refused, the representative told her to look around the outside of the unit because she was on a yacht with the keys.
"I just stopped replying to her because it seemed like a complete scam," said Fayha.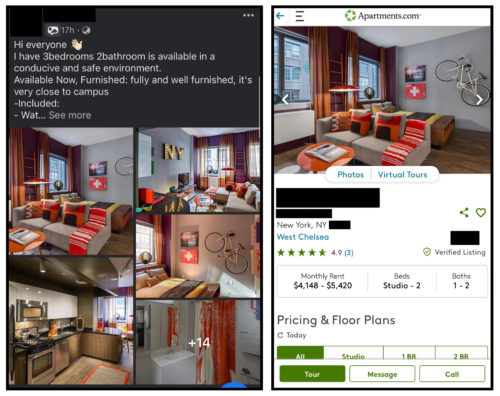 Fayha and her roommate were asked to share their bank account details and social insurance numbers with landlords they messaged. Others asked them to pay six months to a year's rent upfront. After a month of searching, they decided it felt safer to work with a realtor.
"We went through so many listings," she said. "So many people just don't want to rent out to international students."
After a two-month search, Fayha found an apartment less than a week before she flew back to Toronto. "The next day, we sent him the documents and he said 'I just got a better offer, if you really want this, you need to name a higher price.' We just started freaking out," she said.
Fayha and her roommate said they agreed to increase the price against their realtor's advice. They are currently sharing a bedroom with two other people while they wait to move into their apartment in October.
Scams often target vulnerable groups, according to Atefeh Mashatan, the director of the Cybersecurity Research Lab at TMU. "A lot of students are struggling to find a place to live," she said. "The attackers know this and they double down."
Mashatan says it is safer not to trust suspicious items and that the vast majority of cyberattacks are preventable if users follow basic online hygiene. She advises students to use virtual private networks, multi-factor authentications and to exercise caution around unknown links or attachments
"I would attribute the rise in cyber-breaches to the fact that we're putting more things online," she said.
Students who become victims of online scams must report the incident as soon as possible to authorities such as the CAFC, said Mashatan.
Fayha says the scams seemed particularly predatory towards international students because many move to Toronto urgently looking for housing. "If we couldn't find a place by a set time, we would have been homeless," she said. "Once you're desperate enough, you start even considering 'should I just take the risk and send them the deposit and maybe it'll work out.'"