By Alex Wauthy
The Toronto Metropolitan University (TMU) Bold men's hockey team crushed the Waterloo Warriors on Saturday night at the Mattamy Athletic Centre (MAC), winning 6-2 in a 'rock 'em sock 'em' game reminiscent of 'old-time' hockey.
The Bold sought revenge after a dangerous hit to star third-year forward Kyle Bollers in the second period. The play, which left Bollers shaken up, amped up their intensity and helped them dominate the Warriors in both shots—49-30—and goals. 
First-year TMU forward Daniil Grigorev had a breakout performance with his first multi-point night of the year—scoring two goals and adding an assist.
"It's actually been insane," Bollers said. "I think the last four or five games now, we've had 40 plus shots, which is fantastic. But we haven't been scoring in the games before this weekend. So this weekend is huge, this game especially scoring six."
The Bold struck fast, scoring 1:12 into the game. TMU's two leading scorers—third-year forward Kevin Gursoy and Bollers—found themselves on a two-on-one early. Gursoy sent a crisp pass to Bollers, who ripped a one-timer past third-year Waterloo goalie Daniel Murphy and gave him his team-leading ninth goal. 
"When a player with [Bollers'] skill set and talent does the little things, you know he's going to be rewarded on the score sheet," head coach Johnny Duco said. "So I'm happy for him. This team needs him to be going and he has been."
The game turned into a back-and-forth affair with pre-whistle antics and post-whistle scuffles becoming more and more frequent as the period progressed. A dangerous hit on third-year defenceman Ryan Wells by second-year Warriors forward Cole Fraser ended the remaining seconds of a Waterloo power play.
TMU came to defend their downed defenceman. After a few seconds, Wells popped back up, looking to get his licks in the post-whistle scrum before the referees broke it up.
Seconds after the Bold's power play ended, Grigorev netted his third goal of the season, putting TMU up two with nearly two minutes remaining.
In the second, a dangerous play shifted the game's tempo. Following an odd-man drive by Bollers, which Murphy turned aside, he cross-checked Bollers in the face as he turned around the net. This check to Bollers sent him into the boards, leaving him on the ice for an extended period. The Bold rushed over to defend their star player. Bollers got up on his own accord, and TMU made Waterloo pay.
"Obviously, I did get hit in the face, but my team backed me up," Bollers said. "They didn't want that to happen, and I am happy they stuck up for me—we just kinda pushed through that."
On the ensuing power play, second-year forward Ian Martin buried a rebound off a shot from Grigorev—third-year forward Elijah Roberts picked up the secondary assist.
An already intense game went up a few notches after Murphy's interference penalty. Second-year defenceman Evan Brand took an interference penalty with 8:18 remaining, quickly offset by a hooking penalty from Waterloo's first-year forward Sam McKinney.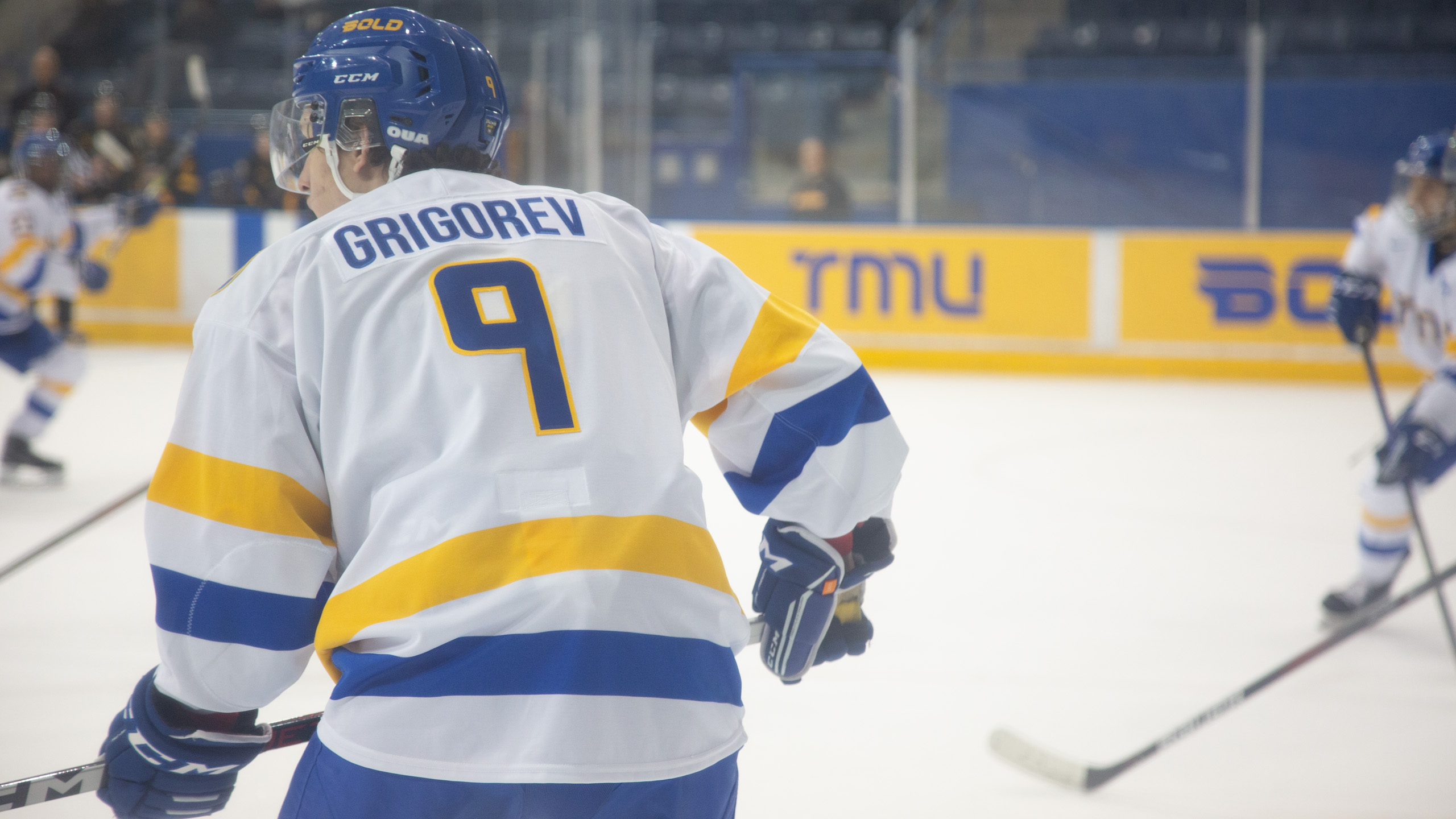 Bollers lined up for the four-on-four action. As Brand's penalty expired, Bollers and Grigorev came streaking in on a two-on-one. Bollers dished a backhand pass to Grigorev, who rang it off-the-post-and-in, scoring his second goal of the game and third point of the night.
Bollers picked up his second point of the game, getting his revenge on Murphy mere minutes after the hit. 
The Bold played a suffocating style of offence. With under two minutes remaining, TMU crashed the net and third-year forward Cole Resnick picked up his first of the season, extending his team's lead to five.
The Bold seemed to rally around the hit on Bollers halfway through the period, notching three goals in the frame's final ten minutes. This took them to a 5-0 lead into the second intermission.
"Offensively, we're looking like the best version of ourselves this season," Duco said. "I think all year we've been pretty solid defensively, we've had good work ethic and we've done a lot of good things. It's just nice to see the offence starting to come. It's not just the production in terms of putting up goals, but the way we're playing."  
Waterloo scored on the power play 1:44 into the final frame to put themselves on the scoreboard. Yet, the Bold did the same two minutes later at 16:42, restoring their five-goal lead.
With five minutes remaining in the game, the Warriors sent the Bold to the power play. Grigorev, who already had two goals on the night, was looking for his third. TMU kept feeding the first-year forward, letting him rifle slap shots from the high slot and giving him the space to weave through Waterloo defenders.
As a result, the Bold had an increased offensive zone time, largely due to Grigorev's ability to control the puck.
"You see the third period?" Bollers asked. "[Grigorev] was buzzing around for three minutes. I'm surprised he didn't have five tonight."
Waterloo added a goal in the final minute after being awarded a five-on-three powerplay.
With the win, TMU improved to 7-3-0 on the season, extending their winning streak to three games before facing off against two teams hailing from the nation's capital in the coming week.
"Two tough games coming up," Duco said. "Ottawa's a really good team, and so is Carleton. We're certainly gonna have our work cut out for us."
UP NEXT: TMU will first host the Ottawa Gee-Gees on Nov.16 at the MAC as they look to extend their season-best winning streak to four. Puck drop is slated for 6:00 p.m.