By Noah Curitti
The Toronto Metropolitan University (TMU) Bold men's basketball team secured their second win in as many games against the University of Toronto Varsity Blues (U of T) with a 100-93 victory on Nov. 18 at the Mattamy Athletic Centre (MAC).
The game was an action-packed thriller, yet, it was Bold stars third-year forward Simon Chamberlain, fifth-year forward Lincoln Rosebush and third-year guard Aaron Rhooms who got the job done. Rosebush, in particular, led the way with a triple-double, including 10 assists and 10 rebounds to go alongside his 20 points.
"We saw everyone step up and play, great on the bench supporting their teammates. I couldn't be more happy with my team right now," said Bold head coach Dave DeAveiro.
Fourth-year guard David Walker didn't play a single minute for the Bold on Saturday alongside third-year guard Marsei Caston, despite them scoring 33 and 15 points against the Varsity Blues earlier in the week.
DeAveiro attributed their absence to illnesses.
"I don't think both guys are feeling well," said DeAveiro. "Wouldn't be fair to put those guys in and ask them to compete at the highest level."
U of T started the game off strong, going on a 7-0 run as the Bold started off struggling. U of T continued to play well with fourth-year forward Anthony Daudu hitting back-to-back three-pointers.
Nearing the end of the quarter, TMU started to improve, chipping into the U of T lead. Rhooms hit three triples and first-year guard Michael Kayembe had a big dunk to give the Bold a 24-21 lead to end the first quarter.
TMU started the second quarter strong with a three from Kayembe and a couple of layups from Rosebush to extend the Bold's lead and cause U of T to call an early timeout.
TMU continued to find success from beyond the arc as everyone was getting involved from the three-point line. With a little over five minutes to play, TMU connected with passes that ended with a Rosebush poster dunk on his defender and a foul shot to add.
Although U of T made it a closer contest towards the end of the half, TMU took the nine point lead into the break.
"Tonight we shared the ball and therefore, the quality of threes that we were shooting was much better. When you move the ball around, you are going to get quality threes and the chances of those going in are pretty high," said DeAveiro.
Both teams traded baskets from beyond the arc in the third quarter as U of T got the scoring going with a three-pointer by first-year guard Nadav Sahar.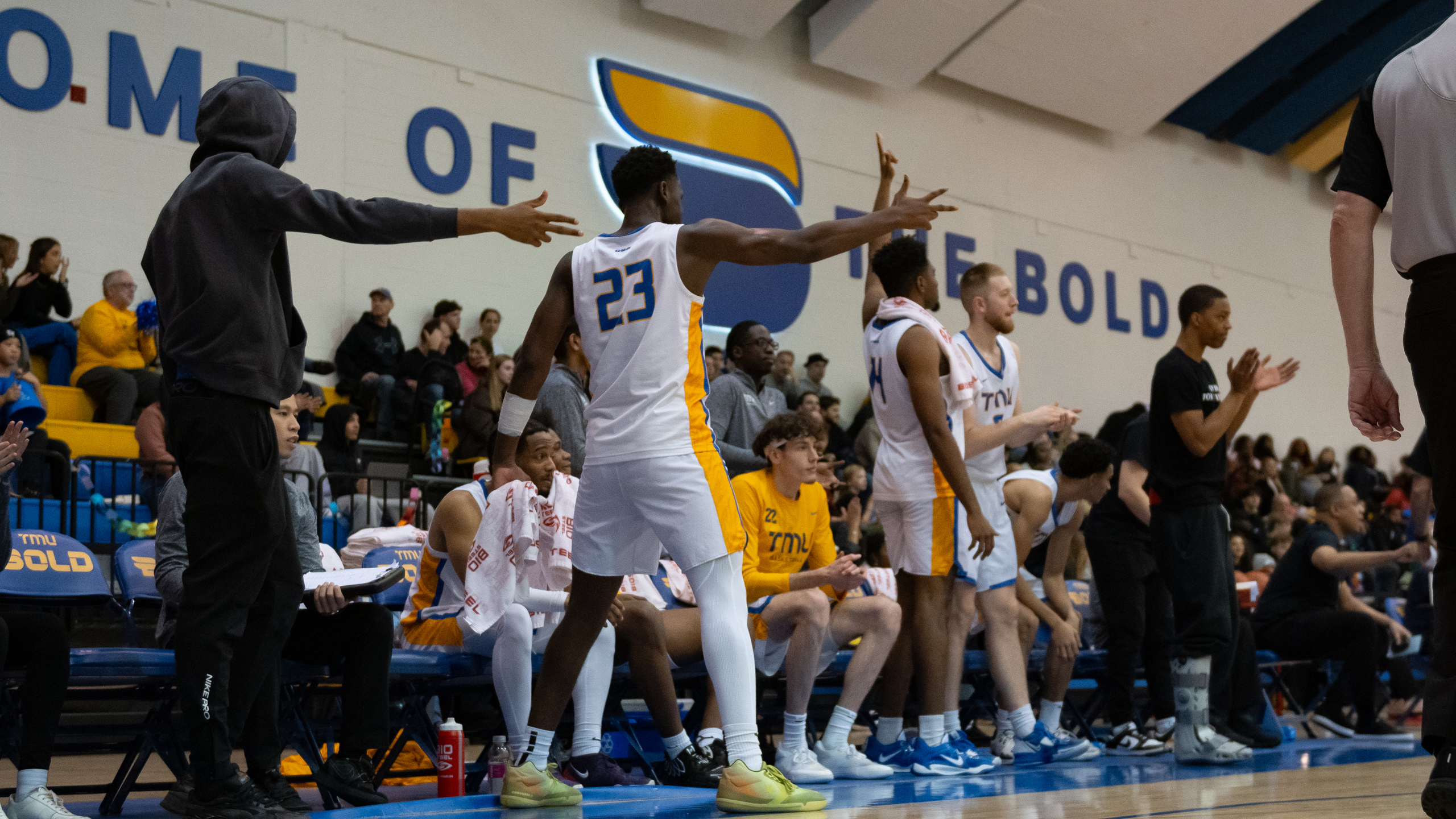 U of T made a comeback late in the frame to eventually take the lead.
"They're a good team. Play a good team and make a couple of errors, they're going to punish you for it," said DeAveiro.
The Varsity Blues had all momentum going into the fourth quarter as they took a 74-71 lead. Despite U of T's slim advantage, Chamberlain hit a couple of threes to keep the game within arm's reach.
"I have always been a shooter and I am confident those [shots] were gonna fall," said Chamberlain. "I think we did a really good job of moving the ball today and finding open threes."
The fourth quarter was just as tense as the third with each side exchanging baskets. While it remained a back-and-forth game, TMU's solid defence and crucial shot-making resulted in a late push. A fired up DeAveiro urged his team to continue playing hard. U of T had no response and slipped away from making a comeback.
Performances from Chamberlain, Rhooms and Rosebush propelled the Bold to win as they improved their record to 4-2 on the season.
The Bold also hosted Pride Night on Saturday, the first for the men's basketball program.
"Our university represents so many different things and so many different people and this is one of them. We talk about inclusivity and respect with our guys and this university represents that," said DeAveiro.
But on the same night the TMU staff wore pride-themed warm-up gear, the players elected not to participate in the festivities. Instead, they wore their regular TMU-branded shirts.
"A personal choice. We wanted to give everybody a personal choice to think about what the shirt represents," said DeAveiro. "I'm not one to make people do anything they don't want to in terms of choices."
DeAveiro added that he appreciates the athletic department for hosting the event to give people the chance to learn more about the 2SLGBTQIA+ community.
"It's that constant education of people who just don't know. [Our players] are young. They just don't know," said DeAveiro. "We can blame, we can sit around and say it's their fault. But a lot of times when people just don't know, I don't know if it's their fault, so much as we're not doing a good enough job in terms of exposing and educating them to what's going on in the real world."
The Bold now prepare for a clash against the McMaster Marauders—a team they recently beat by 21 points.
"[McMaster is] a deep athletic team, they're playing well. At their place, it will be really tough," said DeAveiro.
UP NEXT: TMU will travel to Hamilton, Ont. to face off against the McMaster Marauders on Nov. 22. Tip-off is set for 8 p.m.