Reading Time:
3
minutes
By Tamara Sestanj
Rye's HomeGrown, the group behind Ryerson's vegetable gardens, held its first annual cookoff Wednesday afternoon on Gould Street.
Three teams participated in the competition, making recipes that consisted mostly of vegetables grown on campus. One team also offered edible crickets as a side.
Team red, who cooked a Mediterranean roasted vegetable and barley salad, won the cookoff by popular vote and were awarded oven mitts and a crate of vegetables from Ryerson's gardens — a small portion of the more than 300 kilograms of food grown.
The event — a new addition to the annual Ryerson Harvest Festival — was organized to promote healthy eating, sustainability, urban agriculture and city ecology.
"What we're trying to do is basically showcase how much food you can grow in such a small urban area," said Evan Millar, Rye's HomeGrown's communications coordinator. "[We are] really showing people that moving towards a more environmental city is way easier than you ever expected."
The event also focused on being as eco-friendly as possible. Paper plates and plastic cutlery were nowhere to be seen; instead, washable, reusable dinner wear was used. Balzac's contributed by donating organic, bird-friendly coffee.
"It's the perfect kind of community food-based engagement that I love seeing on campus," said Ryerson's assistant director of foods services, and MC of the event, Joshna Maharaj. "I want to encourage this campus to consume more vegetables than it does. So get ready for vegetables, Ryerson!"
The contenders
YELLOW TEAM: Kerry Miller, Branka Gladanac, Melissa Dasilva
Garden tomato soup with zucchini croutons, served with kale chips and a nectarine, peach, chard and beet salad with a mint dressing (Bonus: edible crickets!)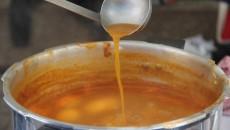 Ingredients: Tomatoes, carrots, onions, garlic, zucchini, thyme, basil, chard, peaches, nectarines, beets, lemon cucumber
"All the ingredients are low cost," said team member Melissa Dasilva. "The recipes themselves are simple, so the accessibility is there for students. And they're all local products — 75 per cent of our stuff is from the Ryerson gardens."
BLUE TEAM: Tahmina Rajabkhan, Diana Huey, Hanaa Noor, Meg Roberts, Olivia Cupido
Vegetable ribbon noodles and a mixed green salad.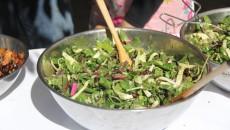 Ingredients: Noodles, eggplant, zucchini, carrots, beets, hot peppers, tomatoes, onions, chard, garlic, basil, kale, beet greens, cabbage
"We tried to use all the ingredients available in the Ryerson garden and fewer outsider products," said blue team's Tahmina Rajabkhan. "We wanted to make something from what we had without spending extra."
RED TEAM: Kelly Hughes, Jennifer Asselin, Ryan Hilborn, Karen May, Marrianne Stewart
Mediterranean roasted vegetable and barley salad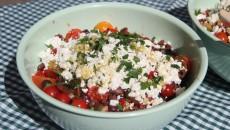 Ingredients: Eggplant, onions, peppers, zucchini, feta cheese, tomatoes, olives
"Our dish can be served hot, at room temperature or cold," explained Kelly Hughes, a member of the winning team. "We chose it because not only is it a great item for a crowd, it's really easy to make a large batch. And you can use anything that's fresh and seasonal — whatever you have on hand. It's very versatile and it's also insanely delicious."