Reading Time:
< 1
minute
By Matt Ouellet
The Ryerson men's volleyball team (3-1) swept the Royal Military College (RMC) Paladins (0-5) in straight sets (25-14, 25-18, 27-17) at the Mattamy Athletic Center Saturday night.
With RMC's last place ranking, head coach Mirek Porosa gave some playing time to the lesser used players, who impressed him greatly.
"We used most of the bench today, and for the players who aren't usually starters, it was a great opportunity for them."
Porosa was most impressed with fifth year outside hitter George Sakvarelidze, who scored 16 points overall, 11 of them coming from kills.
"I feel like I realized all my errors," Sakvarelidze said, "I felt like I did my job and I handled the ball well."
The Rams started the first set with a 10-4 run, eventually extending that lead to 16-8 thanks in large part to Brett Whitley's consistent setting performance, recording 37 assists in the game over all, and his chemistry with outside hitter Brendan Kewin, who recorded 13 kills.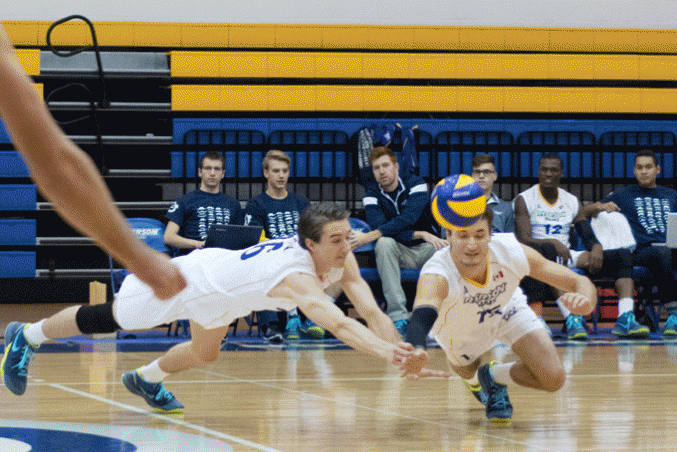 Photo: Nick Dunne
Ryerson ran into a little bit of trouble in the middle of the second set, as the Paladins managed to go on an eight point run, punctuated in the seventh point when RMC right side hitter Frazier Macdonald nearly crashed into the stands to deliver a highly successful dig.
The Rams next play the University of Toronto at the Goldring Centre on Nov. 9.