Reading Time:
2
minutes
By Matt Ouellet
The Ryerson women's volleyball team (4-0) remained undefeated with a straight sets (25-10, 25-16, 25-15) win over the Royal Military College (RMC) Paladins at the Mattamy Athletic Center on Saturday night.
The Rams got off to a great start in the first set, putting up some consistent serving against RMC and committing just three service errors overall.
Ryerson started off the second half going 10-2, thanks in large part to outside hitter Veronica Livingstone's team leading 12 kills, a number that puts her at the top of the Ontario University Athletics (OUA) standings in kills per set.
"I felt like I did a lot better than I have been before, I usually have a little bit of difficulty making out of system hits," Livingstone said. "I think I did well making sure those stayed in play tonight, so that was definitely a positive."
The Rams' only point of difficulty came in the middle of the second set when the Paladins managed a five-point streak. Head coach Dustin Reid remained confident in his team to work through it.
"One of the keys to our style of play is not making unforced errors, at that moment, it just so happened that we lost focus because we were up a few points and we made five unfortunate errors in a row: three passing errors and two hitting errors. Whenever you do that, it tends to give the other team momentum and confidence, and that's something you never want to go up against. I'm happy that we rebounded from it."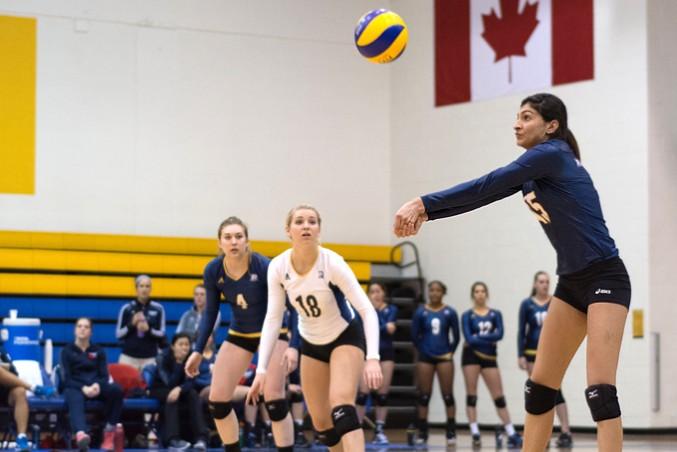 Photo: Nick Dunne
The third set provided some opportunity to shine for some of the lesser used players, though it was difficult to tell the difference, as the team did not miss a step.
"A lot of those girls don't come on as much," Livingstone said, "And they all stepped up and did amazing jobs, they played their roles beautifully, it was just no different than having who we usually have on the court, so it was great."
The Rams next play at the University of Guelph on Nov. 8.