Reading Time:
2
minutes
By Brandon Buechler
The Ryerson women's hockey team defeated the Chinese women's national team 3-1 at the Mattamy Athletic Centre Friday, as part of a set of exhibition games the Chinese are playing against Ontario universities.
The Chinese are visiting Canada in preparation for the upcoming 2018 Winter Olympics, held in South Korea.
The team, currently ranked 15th in world, put up a good fight against the Rams, and although Ryerson prevailed, Ryerson head coach Lisa Haley said it was a well-played game on both sides and a good experience for the girls.
"It was something unique," she said. "It was good for the players to get some international exposure.
"If anything, it was a networking opportunity," Haley said of the contest. "It's not every day you get to play an international team. Maybe that leads to an opportunity down the road."
Short term, Haley believed that it was a great chance for the girls to adapt to an opponent on the fly.
"I don't think any of (the girls) have seen somebody from China play hockey," she said. "It's a different style play… that the girls had to try to adjust to."
Ryerson captain Jessica Hartwick agreed, saying that although there wasn't anything unusual about the Chinese style of play, it was definitely something new.
"We found that they were very systematic," Hartwick said. "We had to read and react the same way we would to somebody from our league though."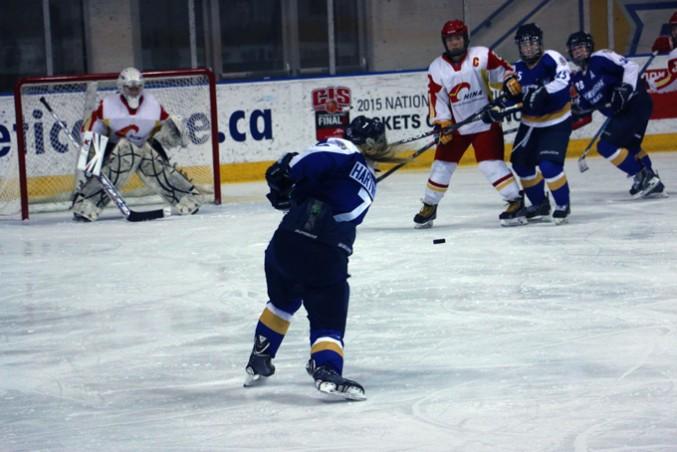 The Ram's attempts to read the team were visible through the first period of the game.
The period began slowly as both teams were clearly trying to gauge one another and besides a pair of penalties for both benches, remained fairly uneventful.
Scoring opened in the second when Rams forward Alex Rodriguez buried the puck into China's net at the 2:23 mark. Ryerson swapped Alex Armstrong for Ally Sarna in net halfway through the game and took a 1-0 lead into the third.
China tied the game in the third period, courtesy of Fang Xin's shot over the shoulder of Sarna.
However, Ryerson quickly answered with a goal from Emma Rutherford followed by a Melissa Wronzberg slap shot to bring Ryerson's lead to 3-1 with six minutes left in the game.
"I think the game went the way we wanted it to go. It was a lot of fun," Haley said. "That's what we wanted out of it, something unique…we had fun out there and it was a good, competitive game."
The contest was Ryerson's last of 2014, as they will now break for the holidays, returning on Jan. 8 to host the University of Ontario Institute of Technology Ridgebacks at 7:30 pm.