By Karoun Chahinian
The Toronto based label Dungus Records hosted their second annual holiday show on Dec. 21 and most of the bands had their musical start at Ryerson.
From Mayraki's fusion of genres, Little Boxer's raspy alternative sound, the Lifers' folky acoustic charm and Kelsi Mayne's country vibe, Toronto's diverse music scene was encompassed that night at the Garrison.
While Ryerson does not have a music program, most students gravitate towards the group Musicians@Ryerson, which is where a lot of the Dungus Records members met.
Zack Erickson, the lead singer and guitarist of Little Boxer and fourth-year Ryerson politics and public administration student, said he started playing in Musicians@Ryerson during his first year in 2012. This is where he met Anita Cazzola, former Ryerson interior design student, from the Lifers, and members of Mayraki.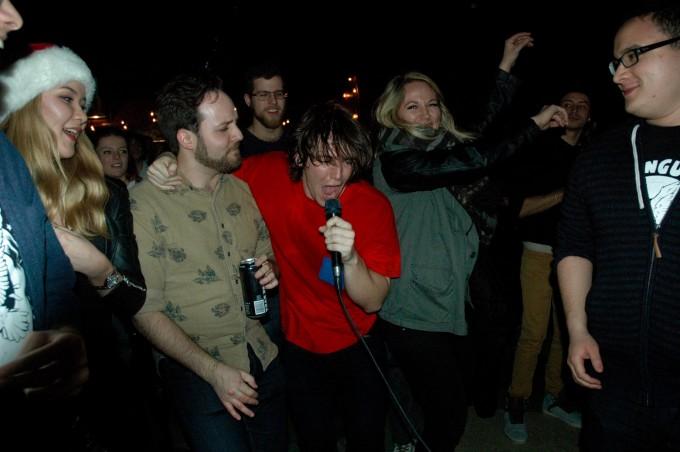 "Not everyone still goes to Ryerson, but that's where we all dominantly met," said Erickson. "Then a lot of others hopped along and joined this exciting pool of musicians."
Little Boxer started off as a folk duo between Erickson and Dave Silani, who played the drums and was also the founder of Dungus Records. Their duo grew this past year by adding another guitarist, Liam Driscoll, and a bass player, Juan Udarbe, a Ryerson engineering alumni, and it became the rock band it is today.
Little Boxer and the Cazzola sisters also competed in Musicians@Ryerson's Battle of the Bands in 2014, which is how the Cazzola sisters met Silani, which led to future collaborations.
The Lifers won the competition in 2014 with their raw acoustic sound and started as a duo with guitar and smaller instruments in their hometown of Guelph, but since then it has grown by adding Sam Boer on drums, Peter Klaassen on bass, and Jill Sauerteig on cello to "fill out the sound a bit more," according to Anita Cazzola.
Hoping to steer away from the negative connotation of a "lifer," which is someone with a life-long prison sentence, the Guelph sisters are interpreting the word as a life-long commitment, which for them is their music.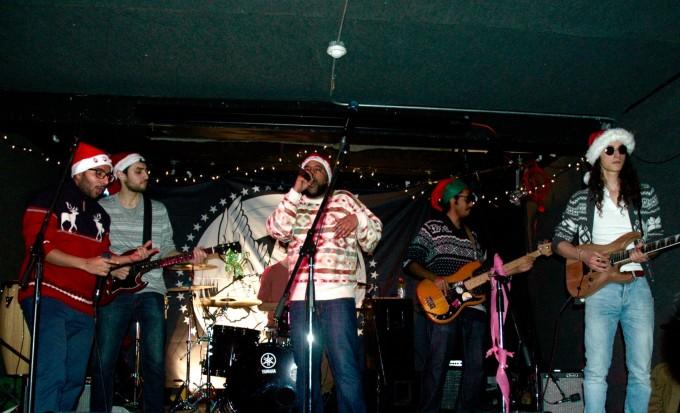 Also playing that night was Mayraki, a band known for their fusion of genres, which Salvatore Paradise, a former Ryerson student and the guitarist, says is a representation of the diversity within their band.
"We all like different styles of music and come from different musical backgrounds, so when you fuse it all together, you get something really out there," said Paradise.
The band went by the name Beaudifulhors, but changed it to Mayraki, which derives from the Greek word Meraki, meaning to "do something to the point of leaving a part of yourself in it," according to Mohammed Yassin, third-year Ryerson sociology student.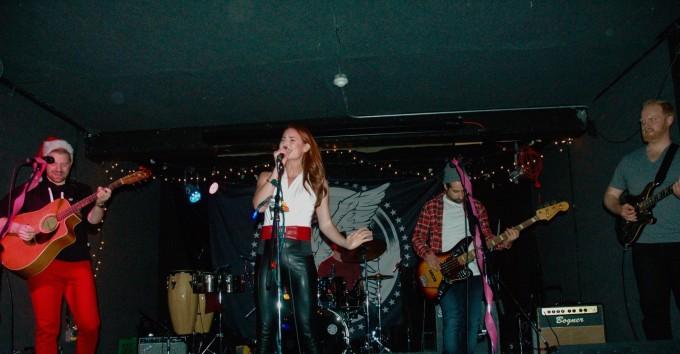 Kelsi Mayne also played that night and brought the house down with her signature country style. Originally from Windsor, she came to Toronto in pursuit of a music career and began gradually growing from a solo artist to a full-sounding country/pop band.
Silani moved to Toronto in 2010 to get involved in the urban music scene and met these four groups of musicians through networking and mutual friends. They all enjoyed collaborating with one another, so in 2014, he decided to "put them all under one roof as Dungus Records."
"We all help each other in any way we can," said Silani. "It's a record label, but it's 2015, we're a record label, but we don't sell records, it's really just a collective. It's an umbrella that we put over the four groups, we're all really good friends."
One word that every band used to describe their small collective is "family" because of how close they've gotten throughout the past year.
"We all love each other's music, we care about each other's success, we collaborate, we go to each other's shows, it's honestly a musical family," said Erickson. "That's what Dave wanted in the start, he just brought us along for the ride and it turned into this beautiful Toronto music collective."
In the spirit of the season, Dungus released a Holiday EP on December 4 where each band produced an original holiday song. All proceeds went to the Fort York Food Bank. They also gave all the donations from their holiday show to the food bank, in addition to offering a $5 discount to those who also brought in a non-perishable food item.