Reading Time:
2
minutes
By: Zeinab Saidoun
The Ryerson Muslim Students' Association (RMSA) held Islam Awareness Week from March 6 – 11. This year, the theme was #MyMuslimness.
"#MyMuslimness is basically to show that even though we're like everyone else, we have aspects to us that make us Muslim," said Naushaba Fatima, Islamic education director of RMSA.
A variety of events happened throughout the week such as the opportunity to learn about the Qu'ran, a scavenger hunt on campus, interactive games and prizes as well as a display of advancements by Muslims and their current achievements.
On the last day of the week, they had Boonaa Mohammed, an award winning writer and performer for an open discussion. They also held a screening of Manee Osman's film Tug of War.
Mayor John Tory sent RMSA a letter extending greetings to those who attended the screening of the movie and his offered his best wishes for a memorable event and continued success.
There was also the Give A Little event on March 8. Members of the RMSA put together care packages of what they called, blessing bags. The bags included Cup Noodles, water bottles, socks and sandwiches. There were also little Hadiths — the sayings of the Prophet.
"The people in need were really happy that people cared about them, were having conversations with them and actually giving back," said Fatima. " The response was amazing."
RMSA members also built a structure in the Ryerson Student Centre that resembled a study room. Although it was a regular room, it had certain elements to it that a Muslim student would have in their room, such as calligraphy on the walls, a prayer mat, quotes by the Prophet and pictures of Mecca.
"It's like analogy, to show that we're like everyone else. We integrate within society, but we're just Muslims," Fatima said.
Through these events, RMSA hopes to remove misconceptions and wants to allow students to feel comfortable in asking them questions and conversing with them. RMSA' goal is for others to know the true meaning behind Islam, which is peace.
"Islam, what it means, is to submit. It is derived from the word Salam, which means peace," said Omar El-Maghraby, member of RMSA. "When the word is thrown around in the media, it's done in a way that makes it sound negative and full of fear. That's not the case."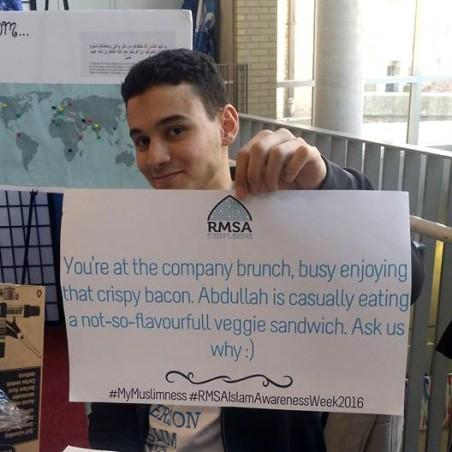 According to Fatima and El-Maghraby, the Ryerson community has been very supportive throughout this week. They explained that people have been asking them questions, shown interest in events and collected pamphlets.  Although they've already had events with student groups such as Ryerson Catholic Students' Association, they hope to have more interfaith events in the future where speakers of different religions come together to have conversations surrounding the positives and similarities of the religions.