Reading Time:
6
minutes
This athlete was featured in our 2017 Sports Issue. You can find other profiles here.
By Izabella Balcerzak
All he needed was magic.
It was 20 minutes into the game and Ben Légere was running as fast as he could, not taking his eye off his target.
He weaved through the aggressive opposing team. His heart beat faster with each pounding footstep. The adrenaline kicked in as he was finally just an arm's length from his prey.
He took a lunge, and was hit instantly from the side. He landed on his collarbone with a shattering crack.
Légere looked to his left and found his broom was intact, other than the hay at the end, which was bent in different directions. Brooms are usually the first to be damaged in these incidents. But there was something important missing: there was no Snitch. He shrugged it off.
It was all for fun anyways, even if he had just broken his collarbone.
Légere is the Seeker for Ryerson's Quidditch team, the Ridgebacks. He joined as an eager first-year photography student, looking to combat his nerves, relieve stress and be socially active at school. He wanted to be part of a community that could match his fun and quirky personality.
The team could offer him all that with one exception—he wouldn't be able to fly.
Quidditch is based on a game of the same name in the Harry Potter fantasy novels. In the books, characters play it on flying brooms.
The Ryerson Ridgebacks (named after one of the novels' Norwegian dragons) have been building a community since 2010. It was only last year that they finally gained recognition as an official school club, allowing for the possibility for better funding and player outreach. But they're still struggling to convince people of the sport's legitimacy and get more students involved.
While practices are open to anyone who is interested, the team must often rely on alumni or each other to take on more roles when it comes to practices and tournaments.
The Seeker's role is to catch the Snitch, who is a player dressed in gold and has a tennis ball attached to a piece of Velcro on the back of their shorts. This person is released at the 17-minute mark and has the liberty to do whatever they want to avoid being caught by the Seekers, who are released just a minute after and aim to catch them. Once the Snitch is caught, the game ends and the team with the most points wins.
This muggle version of the sport consists of the same player roles as its wizarding counterpart: the Chasers, the Beaters, the Keepers, the Seeker and the Snitch. The positions of each player are marked by coloured headbands they wear. The game also has two balls (called the Quaffle and Bludger) that are aimed at three hoops varying in height (each worth 10 points). Players often describe the game as a combination of rugby and dodgeball, but with a stick between your legs.
In previous years, the Snitch was given the power to leave the field and run through campus, using any props they deemed fair and appropriate to protect themselves from the Seekers. Eventually, the quest for the Snitch came to be considered too risky. If the Snitch was good enough, these games could go on forever.
Légere, who is now in his third year, has experience in playing different positions and is currently the co-captain of the team: "I am a bit of a jack-of-all-trades just because you have to be on such a small team."
An average Quidditch game is about 20 to 30 minutes long, with a maximum of seven players on the field for each of the 21-player teams. Ryerson's team usually has less than 15 players.
Légere explained that even a half-hour game can feel like a long time. The opposing teams from Ottawa and Montreal generally take the sport more seriously—they have their own uniforms, tournaments and even fan clubs.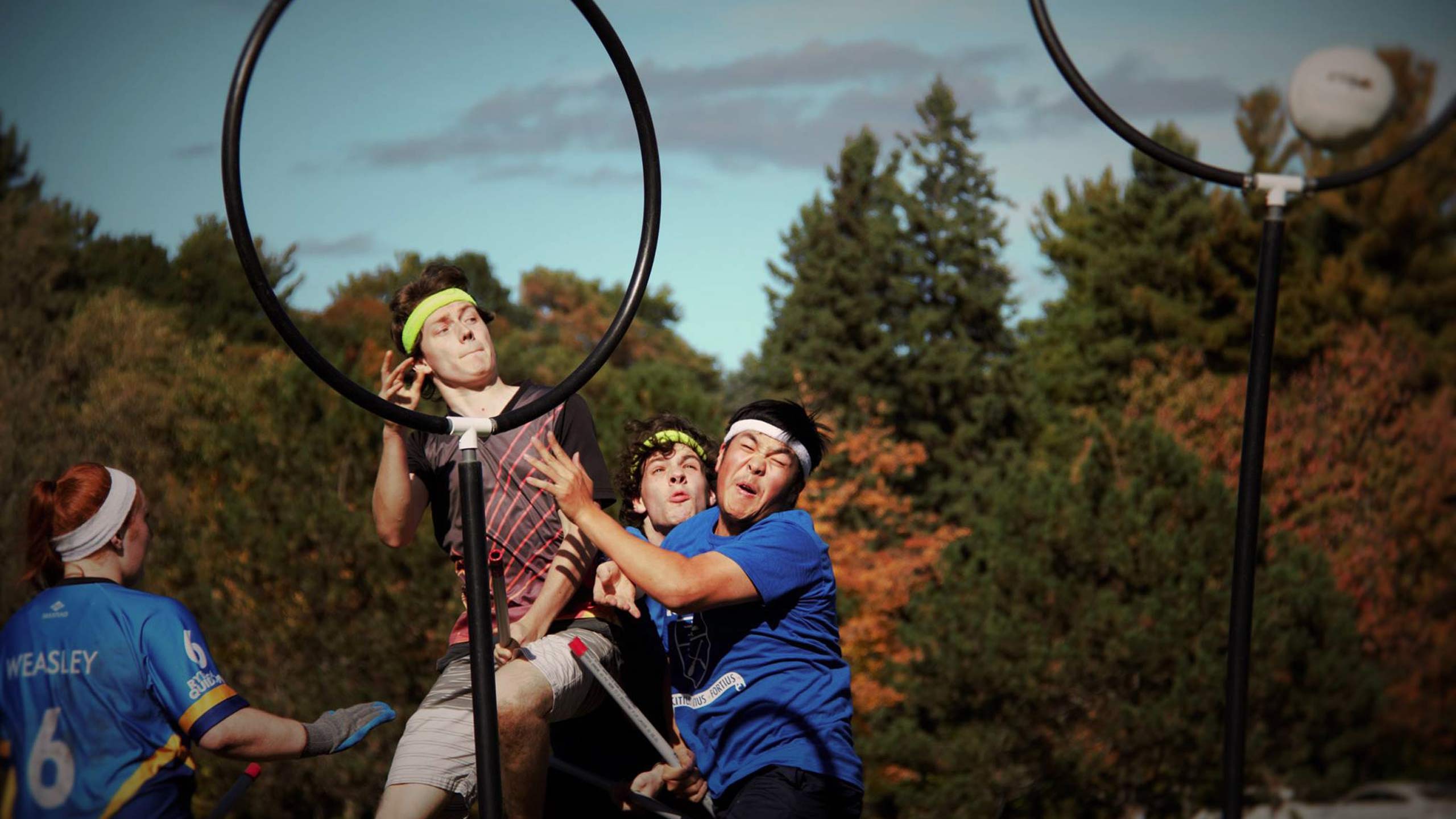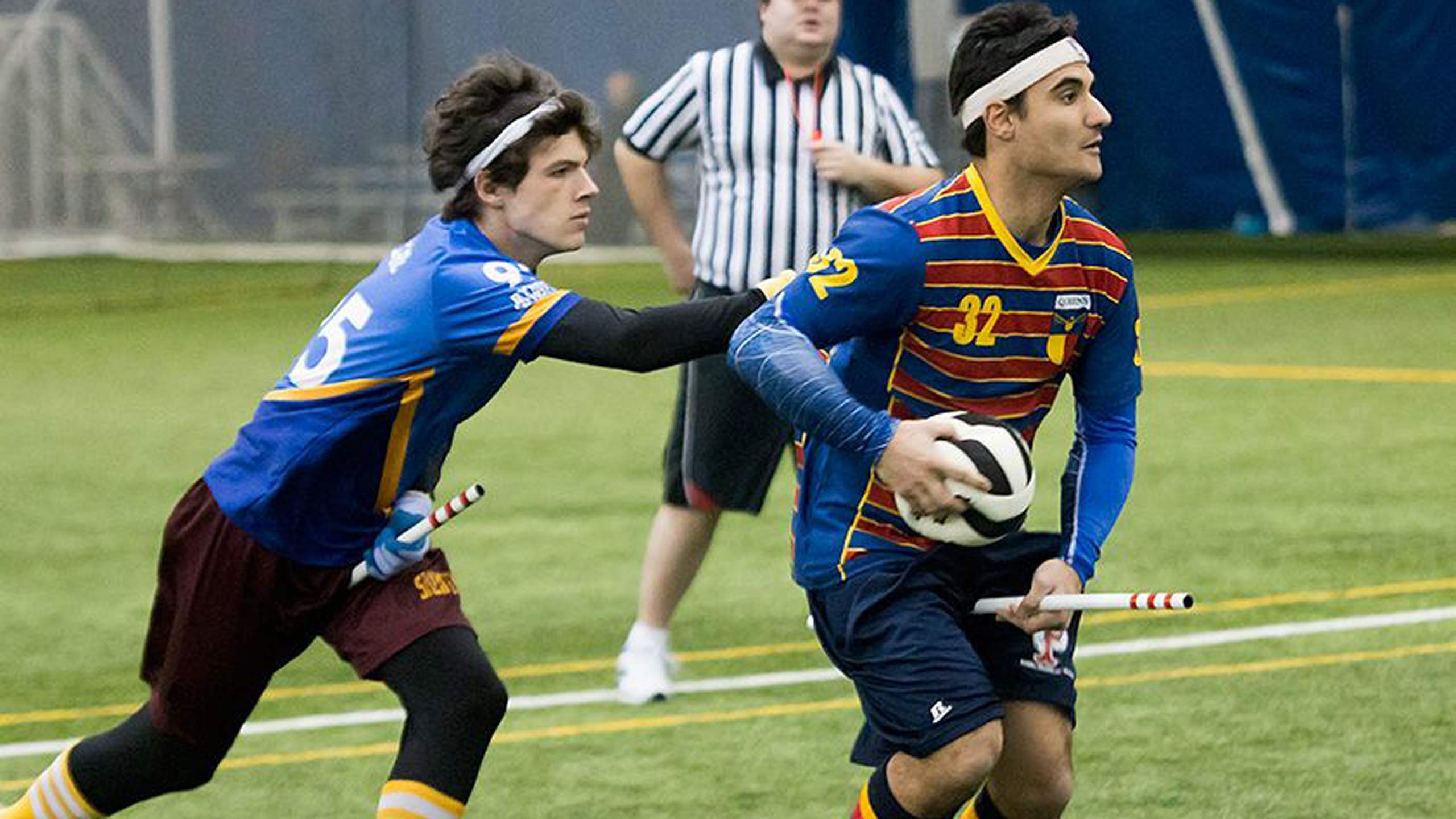 Canada's history with Quidditch originates in those cities, as they were the first in the country to adopt the sport in 2005. Just last year, the Ottawa Gee-Gees won the Canadian National Quidditch Championship and were sent to the Quidditch World Cup in Germany. McGill is equally as competitive, playing in the same world cup the year before and placing 21st out of 80 teams.
The Ryerson team is affiliated with Quidditch Canada, an organization that runs under the International Quidditch Association (IQA). There are member fees that each player must pay that go toward events, tournaments and the overall promotion of the sport. The IQA serves thousands of players on six continents and unites them in the annual Quidditch World Cup tournament.
The Ridgebacks have upgraded their brooms from the wooden ones they used in previous years. They now run on PVC pipes, which are far more difficult to break and therefore safer for the game. Teams must also wear mouth guards.
Co-ed games also require two people of the same gender to be on the pitch at all times. This drives home the IQA mission statement: to improve gender education, promote equality and diversity, and foster a love of reading across all ages.
"I am a bit of a jack-of-all-trades just because you have to be on such a small team."
That suits the Ridgebacks just fine, since the team focuses on teamwork and having fun.
"We don't usually play to win so we don't usually win at all," said Légere.
Even though they lost every game at the eastern regional tournament last year, he felt they still walked away triumphant. Everyone benefits from the social experience of the game: meeting other players, going out to eat with friends and bonding over roadtrips.
Légere's co-captain, Amina Bejtić, adds that this bond also comes through the team's inclusive and self-guided framework. "The ownership is on us to coach ourselves and not having a teacher coach," she said. It's a different experience than having your 40-year-old coach tell you what to do."
The team will regroup after practices and talk about what worked and what didn't. "It's kind of cool that we get to work on our skills that way," said Bejtić
Their skills are tested constantly through their practices, held rain or shine (and snow too). Quidditch is a niche sport, so players are constantly fighting against the idea that what they're doing is some kind of make-believe game. In fact, Quidditch is a high-intensity sport. Injuries are common, since tackling is a huge component of Beaters' tactics.
Of course, it's difficult not to think of Quidditch without thinking of the dark- haired, green-eyed wizard the world fell in love with, but Bejtić emphasizes that fandom knowledge is not a requirement: "You don't even have to know about Harry to play this."
The magic doesn't come from the wands.
"Just seeing people give it their all and even just our little achievements and the energy that we all share in that moment, it's pretty reassuring," said Légere. The way they operate as a team shows start to finish because there is always the sense of community. Even when they're exhausted and panting, they know they're in it together.
The rain poured down on the Ridgebacks, making running through the mud even more difficult. As Légere darted across the field, he took a moment to look at his muddy shoes and soaked uniform. Their tagline seemed more ironic now than ever.
The words, "Citius, Altius, Fortius," hang under their Quidditch logo. It's Latin for "Faster, Higher, Stronger."
He quickly glanced at his teammates, who looked like they were enjoying the soggy weather more than the game. He couldn't help but smile. His ears were still ringing from the sound of his team chanting "Ryerson Ridgebacks," over and over again. As hard as they tried, they just couldn't drown out the thundering chant from the opposing team.
But it didn't matter. Légere wasn't flying, but he might as well have been.