Reading Time:
5
minutes
This athlete was featured in our 2017 Sports Issue. You can find other profiles here.
By Brenda Molina-Navidad
When Katie Wilson started riding a decade ago, her coach at Sunnybrook Stables would help guide her horse. She remembers feeling a sense of independence the first time she took hold of the horse's reins by herself.
"You're controlling a 1,200-pound animal," Wilson said. "It's a pretty surreal feeling."
Practicing at the stables and at her aunt's barn in Peterborough, Ont., Wilson became infatuated with her sport, and continued riding into university.
Now the 20-year-old is the co-captain of Ryerson's equestrian team, representing the university in shows organized by the Ontario University Equestrian Association (OUEA).
Most athletes use sticks, gloves, special footwear and other equipment to succeed in their sports. This equipment tends to increase in both quality and price at higher levels of competition, with elite athletes utilizing state-of-the-art technology worth thousands of dollars.
But Wilson relies on something far less quantifiable to succeed as an equestrian: her relationship with the horse she's riding.
Whenever she finishes an event, she feels relief and happiness. Not only for herself, but for the animal that carried her to the end.
"I've done this for me, I haven't done this for anyone else and I'm really proud of myself and so proud of my horse," said the third-year entrepreneurship and strategy student. "You could not have done it without that horse.
"They've put just as much effort in as you have—they're there every step of the way."
The relationship between horse and rider is an important aspect of hunter equitation and jumper equitation, two of the most common divisions in equestrian competitions.
In hunter equitation, riders are judged on their riding technique and horses on their manners (their general temperament and how well they respond to commands). Jumper equitation evaluates the speed at which horse and rider complete a ride and how many jumping errors they commit—known as faults. In both cases, trust between animal and handler goes a long way towards a successful ride.
"When you get the perfect spot for take- off—if you're with the right partner—it's a super satisfying feeling to get all your distances and get all your lines properly," said Wilson.
The bond with a horse is very special, according to Wilson, but it's not always present. Last year, Wilson was lucky to ride with a horse named Eloise. The pair formed what she called a once-in-a-lifetime bond.
"I really connected with her and that translated into our riding," said Wilson.
Participants can compete in different events including the over-fences round, where horses and their riders jump over obstacles, and the flat and under-saddle portion, where riders are judged on how they move with their horse.
Regardless of the connection between horse and rider, Wilson said showing a horse takes a lot of practice. It's a time commitment that requires confidence, something she has gained from being able to ride different horses in the OUEA.
Ryerson is one of 19 universities that are part of the OUEA. Schools are divided into three zones: east, central and west.
Ryerson competes with six other schools in the central zone, including the University of Toronto and York University, using horses that have been given to the OUEA by donors and nearby barns, including the Pause Awhile Equestrian Centre in Stouffville, Ont. where the Ryerson team practices.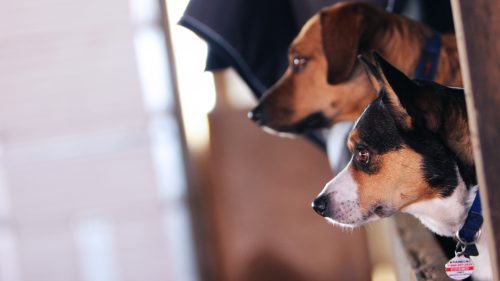 The barn is tucked away on the outskirts of the small town, five minutes off the main highway. It stands alone, surrounded by fields,
and is home to more than a dozen horses, a handful of cats and two dogs. Windows line the perimeter of the arena and potted flowers sit under the bases of the wooden jumps.
Wilson often rides Onyx—a black horse named after the richly coloured dark stone. Onyx is easily distinguished amongst the other horses by the dark fur under his nose that resembles a moustache. Thanks to his special aesthetic, each Movember, Onyx is treated to a special cleaning and grooming session.
OUEA shows are organized by division: entry, novice, intermediate, and open. The top riders from each division and zone go through to show in the championship.
Although Ryerson is not usually considered the stiffest competition in shows—equestrian teams from Guelph, Western and Trent University usually take that role—Wilson said the events are still fun, spirited affairs for Ryerson's team. Riders are ranked individually, but their points go towards the overall team.
"Even if there's someone in your division who you're competing against, we're all teammates and we also support each other," she said.
When she isn't riding for Ryerson, Wilson competes in the Trillium Hunter Jumper Association. Last year, she also rode in the Pickering Horse Centre Schooling Show Series.
She showed two different horses—one with Trillium and one on the Pickering circuit—with two different coaches in two different divisions: hunter equitation and jumper equitation.
Wilson was able to ride both horses well, receiving ribbons for the jumper horse and finishing third overall with the hunter horse.
Whether she's showing at a Ryerson event or on the Trillium circuit, Wilson's parents are always supporting her by attending shows or helping with the costs of her personal riding. Wilson said that her mother understands that riding is a priority in her life, as is her desire to improve.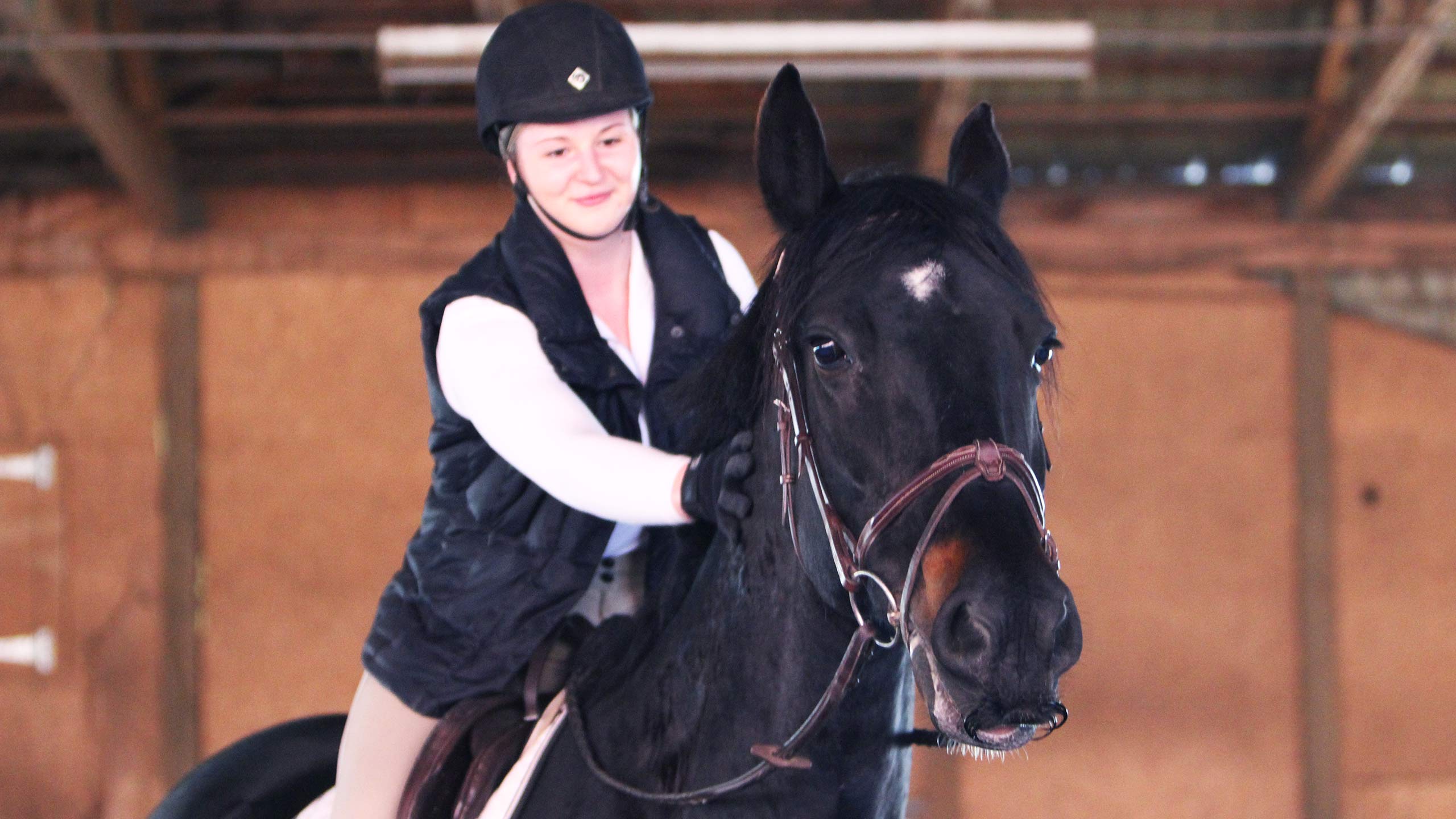 "I told her at the beginning, 'this is my passion. I really, really, really want to do this and move up, I don't want to be stuck in a spot'," she said. "I wouldn't be happy if I wasn't doing it."
Wilson started off in the entry division in the OUEA, moved up to novice last year and will be riding in the intermediate division next year. She is currently attending school part-time in order to balance school, work and riding.
For her personal riding, Wilson's goal is to move up on the Trillium circuit, and eventually the national A circuit.
Whenever she finishes an event, she feels relief and happiness. Not only for herself, but for the animal that carried her to the end.
There are high entry fees—sometimes worth hundreds of dollars—for each competition. It's not a cheap endeavor.
This year, Wilson said the Ryerson club charged an entry fee of $50, which goes towards the cost of hosting a show, including renting a space. There are entry fees for each individual show a rider participates in, but they aren't as expensive as fees on the Trillium circuit.
But for Wilson, the equestrian team is more than just a Ryerson club. It's a passion she hopes to one day make into a career by opening her own barn near Toronto and running a riding school.
Nicole Roach, Wilson's co-captain, endorsed that pursuit.
"This sport can be very challenging at the best of times," wrote Roach in a Facebook message. "It can sometimes discourage us into thinking that we are not good enough. But Katie has proved that with a little hard work and dedication you can do anything you put your mind to."
*CORRECTION: A previous version of this article incorrectly stated that the only way for a rider to reach the A level of the provincial Trillium circuit was to have a horse owner ask a rider to show their horse in competition. This is one of several ways for a rider to reach the A circuit, which is a national circuit. The Eyeopener apologizes for this error.