Reading Time:
7
minutes
By Daniel Rocchi
The Ryerson cricket club is no stranger to the American national championship, held each spring in Lauderhill, Florida, but the Rams have never been able to claim its top prize. In late March, they found themselves in the championship game of American College Cricket (ACC) with a chance to make history.
When the match against Everest College ended, the Rams were ACC national champions for the first time, but the members of the only Canadian team at the tournament knew their victory was more than just a win for their university club.
"The cricket community within the GTA and within Canada has been supporting and watching, and they were supporting and watching us all throughout the tournament," said Obaid Ullah, the president of Ryerson's cricket club. "It felt like, to an extent, we were playing for Canada, not just Ryerson."
Cricket is a bat-and-ball game that is extremely popular in South Asian and especially among Commonwealth nations. With a fanbase generally estimated to be two to three billion strong, it is one of the world's most popular sports. In India, for example, cricket has often been compared to a religion. But in North America, cricket remains a fringe sport.
The rules of cricket are complex. In essence, a bowler throws a ball in an attempt to hit three wooden stakes or stumps grouped together—referred to collectively as a wicket—at either end of a central rectangular cricket pitch to score runs.
A batsman uses a cricket bat to simultaneously protect the wicket and hit the ball with enough force to score runs by sending the ball to unguarded areas of the ovular cricket field or out of its boundaries (it is similar to baseball in this regard). Batsmen can be dismissed (called out) under almost a dozen different circumstances. Eleven players, sometimes with a few extras for substitutions and injuries, make up a team.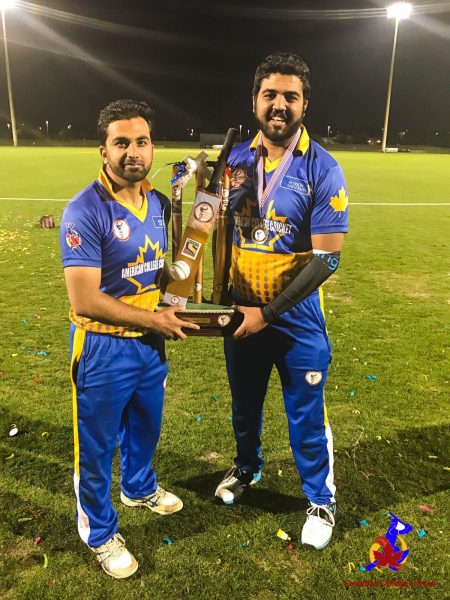 In traditional cricket, matches can last for several days. ACC and many other cricket leagues play a more condensed version of the game, known as Twenty20 or T20, which means that the match is limited to 20 overs (an over is a set of six bowled balls). T20 matches usually take a few hours.
Ryerson isn't the first Canadian team to play in the ACC tournament. McGill has participated in past years, and York University won the title in 2010. But a strong club structure and enthusiastic student body have made Ryerson a consistent contender at the tournament.
Playing through either the northeast regional championship in New York and Boston or the midwest regional in Detroit, Ryerson has qualified for each of the last six national tournaments, establishing itself as one of the top Canadian cricket universities, if not the top school.
"One reason they seem to be ahead of the curve—and they definitely are—is that they've been in American College Cricket since 2011," said ACC founder and president Lloyd Jodah. "They've had the experience of being a part of [ACC], taking part in two tournaments a year [and] marshalling the resources that it takes to do that."
Jodah founded ACC in 2008, with the first national tournament taking place the following March. Five schools participated in that first tournament, and their teams existed mostly as social clubs rather than recognized athletic groups. Today, ACC has approximately 70 member schools, the top 28 of which qualify for the national tournament.
There have been various iterations of a Ryerson cricket club over the years, but it was in 2011, when Ryerson alumnus Hassan Mirza was in his final year of business management at Ryerson, that the club was able to establish momentum. Through fundraising and advertising, Mirza was able to create a sustainable structure for incoming cricket enthusiasts. In May 2015, cricket received official club status.
The club's active membership fluctuates throughout the year, but Ullah estimates there are between 50 and a hundred students involved in Ryerson cricket. During the semester, the club hosts indoor cricket sessions twice a week. Indoor cricket, referred to by some in the club as "tapeball" (players use a tennis ball wrapped in electrical tape in place of a heavier and harder cricket ball), is an easier form of the sport, well-suited to casual and beginner players.
Several members of the Ryerson group play with competitive clubs in the Toronto District Cricket Association and a few have even played in major circuits such as the Caribbean Premier League. While there is a core of five or six competitive players that attend major tournaments, less experienced players—selected based on both club involvement and tryouts— make up a portion of the team at most of them.
"We took a relatively new team to [the midwest regionals] in Detroit [and] we lost in the semis, but even then we played a decent quality of cricket considering the team we took," said Hussain Jawa, one of the team's most experienced players. "We didn't take our stars … we took our first-year, second-year students and we did relatively well.
"Even though we lost in the semis, it gave opportunity for enough players to come back and say 'I've represented Ryerson, but I need to work even harder to come back and win'."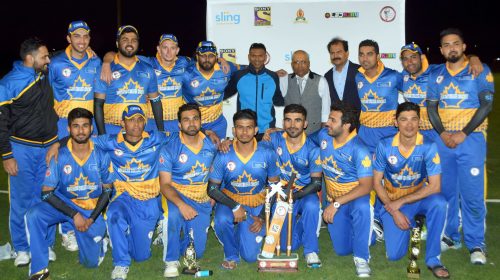 That semi-final finish in October was good enough for the Rams to qualify for Florida, but they knew good enough wouldn't make them national champions.
After several bitter defeats at the ACC national tournament, including an elimination in last year's group stage, the more experienced members of the Ryerson cricket club spent the better part of this school year preparing for the fourth weekend of March.
Before leaving for Florida—travelling on their own dime with Ryerson athletics providing $2,500 for the entrance and tournament-regulated jersey fees—the team practiced twice a week as a group, and most continued to compete with their Toronto clubs.
"We'd been playing in this tournament for five years and we'd come as close as the semi-finals and lost," said Jawa, a third-year international economics and finance student. "There comes a point where you're like, 'enough is enough' and we eventually have to win it."
After beating some of the top cricket schools in America like Rutgers and Harvard, the Rams confronted their archrivals from the University of South Florida—one of North America's top college teams that had beaten Ryerson on several different occasions—in the semi-finals.
Thanks to an ACC rule that allows two alumni to play for a university team, Mirza, who has stayed involved with Ryerson in addition to his competitive club, was the Rams' captain and lead-off batsman for the tournament. After Mirza sustained a hamstring injury and the Rams managed just 106 runs while batting—a low total for T20—it looked like the Ryerson would suffer an all-too-familiar fate at the hands of an all-too-familiar foe.
But Mirza returned for his team's bowls, playing through the pain in his hamstring with the help of some Advil. Inspired by their captain, the Rams played tight defence against the South Florida batsmen to edge out a five-run victory.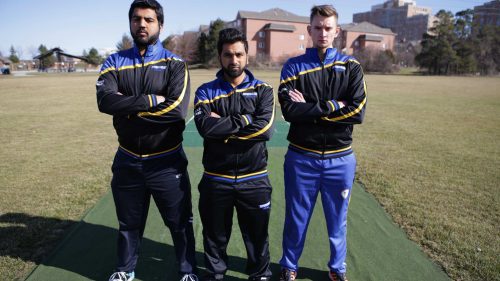 Ryerson would ride their semi-final momentum to a decisive 129-61 victory over the Everest Rangers in the championship match. Now they're hoping Canadian cricket can ride the momentum of their title win.
"Other schools seeing Ryerson performing at a high level and performing well, [hopefully gets other schools] thinking, 'hey, maybe we should start our own clubs, maybe we should get a cricket club going'," said Gayan Ferdinands, a fourth-year mechanical engineering student. Playing in his first ACC national tournament this year, Ferdinands recorded a hat trick (a rare feat where a bowler dismisses three consecutive batsmen) in group play.
"We're sort of acting as role models and representatives of the game in Canada," he said. 
Since leaving Ryerson, Mirza has worked closely with Jodah to create Canadian College Cricket (CCC), an offshoot of ACC that launched in 2015. Their goal is to make it the governing body of post-secondary cricket, bridging the gap between the sport's grassroots and national levels.
According to Mirza, there is a verbal agreement in place with Cricket Canada to make CCC an affiliate of the sport's national body. That partnership is expected to be made official in the next few months.
"Their support would be limited, but it would be in terms of opportunities for selection; Cricket Canada is the body that picks up [players] for the national level," said Mirza. "We're making a pathway, pretty much."
Canada's national men's cricket team has qualified for the International Cricket Council World Cup four times, most recently in 2011, while the women's team made its international debut in 2006. More than 20,000 children played school or community cricket in 2009, according to Cricket Canada.
The Rams, along with 16 other colleges and universities across Canada, are already members of CCC. It currently runs an indoor league, a summer outdoor league with a national championship in August, home and away matches between schools during the academic year, and a two-match annual all-star series with ACC. It is in the process of creating a women's league.  
With limited participation options in Canada—the Toronto District Cricket Association is North America's largest cricket league with around 60 clubs and 1,200 registered players—Mirza and Jodah hope to use CCC to grow the game through post-secondary institutions, using the Ryerson club as a model.
"There's only 11 players on the national team and if you say the squad is 15 [including substitutions], how many people are going to make that 15?," said Jodah. "Not everybody is going to play for Canada and if they can play for Ryerson or York or whoever, it's also meaningful."  
*CORRECTION: A previous version of this article stated that Gayan Ferdinands scored his hat trick during Ryerson's semi-final match against the University of Florida. Ferdinands recorded his hat trick in a match during the group play stage of the ACC national tournament. The Eyeopener apologizes for this error.