Reading Time:
5
minutes
By Tasala Tahir
After a rollercoaster career, the Rams soccer captain aims high in his final season at Ryerson.
Kyle Stewart was fed up.
After getting home from a soccer practice in his hometown of Kingston, Jamaica in 2005, everything that had been bothering him up until that moment reached a breaking point; he was furious. He left his bedroom and ran to the living room where his mother sat busy on the computer.
"I'm done with this crap," said the then-14-year-old.
Stewart tried to explain his outburst, but his mother just wasn't getting it. He knew he should end theargument before he said something he'd regret, so he stormed back to his room. All he wanted to do was punch something—hard.
That season, Stewart felt personally attacked by his high school coach and didn't feel like an important member of the team. His uncle was heavily involved within the school, but even so, the coach assured Stewart a roster spot was anything but guaranteed. Stewart cried, and began not only questioning his return to the team, but to the game of soccer itself.
He paced back and forth in his room when, suddenly, his stepfather Arsenio Andrade—whom he refers to as dad—walked in and told him, "Put on some jeans, we're going out."
Stewart sat in the car in silence beside Andrade, not sure where they were going. Neither of them said a word.
"I remember thinking I was in big trouble because it was so quiet," said Stewart, now 26 and preparing for his final season with Ryerson's soccer team.
Finally, the pair sat down at a restaurant, and the seemingly unbreakable silence was broken.
Stewart explained he didn't like how his coach treated him. He was ready to quit. Andrade didn't try to convince him to keep playing, he just listened while Stewart vented.
"Whether you play or not, [your mother and I] don't want you to regret your decision and we don't like the idea of you giving up on something you like," Andrade said.
Stewart then realized he was taking an easy way out.
"If my dad didn't handle it the way that he had, I think I would've been done soccer for good," said Stewart, 12 years older and wiser.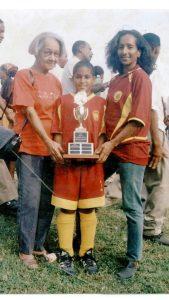 It's hard to believe there was ever a time when the gritty, irrepressible veteran was ready to walk away from the game completely. He tried out for the Rams three times and served as the equipment manager before making the team; in other words, Stewart is far from a quitter.
Four years after doing the Rams' laundry, Stewart earned the honour of representing them by wearing the captain's armband.
Early on, Stewart's soccer IQ, skill and touch were low, but Ryerson head coach Filip Prostran recognized his qualities that were less apparent.
"[His] hard work and heart were definitely there," said Prostran, who was the assistant coach when he first met Stewart.
"The first time I saw him, I didn't think he was a good soccer player," said defender Mohamad Abdallah, who now views Stewart as one of his most supportive teammates.
"I remember looking to my right and seeing this guy that didn't look like a soccer player," said defender Greg Wise, recalling Stewart's "huge muscles"when the two met in their first season with the Rams four years ago.
Abdallah and Wise's opinions quickly changed and Stewart became team captain ahead of the Rams' 2016 season.
After a career filled with challenges, Stewart is about to face another. After the departure of key teammates like Adam Hemati, Jamie Baker and Luka Lee, the Rams mainstay will try to lead the team on one final championship run before he graduates next spring.
"He is very fixed on his goals," Stewart's mother Carole Orane-Andrade said.
After three consecutive losses in the OUA Final Four, which "left a bitter taste" in the veteran's mouth, Stewart is looking to make it past the OUA semi-finals and deliver the Rams their first-ever soccer championship.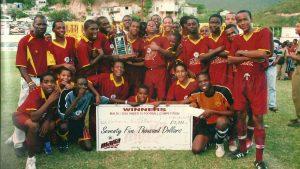 To get there, Stewart is approaching this season with a team- first mentality. After the Rams won a program-best 14 games in 2016, the fifth-year defender is willing to take a back seat to the younger players on the squad.
"If you make a mistake… there is a good chance Kyle will come to the rescue and save your blushes. If you score a goal, he's the first person to run over and celebrate with you," said Wise.
His parents had a front-row seat to witness Stewart's growth as a leader and a mentor. "The confidence that he has built in himself, finding his focus, and being giving of himself … makes him aware of how he can impact others," Orane- Andrade said.
Stewart is known to literally give the shirt off his back to ensure a teammate who has forgotten his can practice, even if it means wearing a pinny or his jacket instead.
"You can also talk to him about anything," said Abdallah. "He will always help you."
In third-year, Wise was stuck on an economics problem at 11:30 p.m., and gave "the smartest person" he knew a call. "I will look at it and get back to you," replied Stewart, who had never taken the class before. Shortly after, he solved the conundrum and sent Wise the correct answer.
"If my dad didn't handle it the way that he had, I think I would've been done soccer for good"
"The exact question was on the midterm the next day and I got the problem correct all thanks to Kyle," Wise laughs.
Stewart's soccer career may be coming to an end, but the sport goes far beyond wins and losses for the Rams prodigal father figure.
The once poorly skilled afterthought is now a confident leader whose shoes cannot be filled by any one player, Prostran said. In short, there's a lot for Stewart to be satisfied with.
"I'll miss going to the games and watching him play. I'm very proud of him," said Orane-Andrade. She's a "bag of nerves" watching her son play, sometimes covering her eyes with her hands, watching Stewart through the cracks between her fingers.
"I want my parents to be able to brag about their son and have some- thing of substance to brag about," said Stewart. "I'm not searching for their approval because I know they love me and they're proud, but they deserve the best, so I try to give them the best."
Time's winding down on Stewart's last shot at Ryerson glory, and as the clock keeps ticking, it's almost inconceivable to picture the heart and soul of the Rams as anyone other than him.
"I guess I have to start planning without him," said Prostran. "The beauty of it is, hopefully Kyle has instilled enough of himself in other people where others can now carry his torch and be that leader."
When he wears the blue, white and gold for the final time, Stewart will bid farewell to a community he loves dearly.
"Ryerson has become my second family and an important chapter of my life," he said. "Regardless of how the season ends, I know that I made a difference and did something impactful. I'm just looking to enjoy this season."
Not bad for the boy who almost quit.