By Alanna Rizza
When D.W. Waterson steps onstage at a popular bar in Kensington Market, she's wearing a cheerleading outfit and she exudes confidence as she strides towards the DJ table.
The multicoloured lights bounce across the room as the beat picks up. Waterson performs at the back of the bar for a packed audience who have come to see her unique collaboration of DJing and playing the drums.
Despite being immersed in a party, Waterson knows not to get too carried away because in the morning she'll start working on her other passion—film.
The Ryerson film studies graduate started out in the program focusing on editing films and music videos. But after first year she wanted to do more.
"I was watching other people's films and I was kind of like 'What is everyone doing?' and my friend was like 'Well if you think you could do better, go film and direct something.' And I did."
A few years later, she produced and directed an award-winning web series called That's My DJ, which brings together her two interests of music and film. The series features popular DJs like DJ Ticky Ty, who performed this year on Church Street for Toronto's Pride Parade weekend celebrations.   
"It's my first big piece and it's based off my life. It's very intimate," she said. "Everything I create has a part of me in it and this series shows a big part of my life."
Waterson won best director at both the New York Television Festival in 2016 and at the Vancouver Web Fest earlier this year. The series also took the awards for best Canadian web series as well as best drama at T.O WebFest this year.
It was during her time studying film at Ryerson when she discovered her love for electronic music, which Waterson said was like a "light switch going off in my brain."
That's My DJ focuses on different perspectives of the Toronto DJ scene. The third and final season, which was released this past summer, focuses on the dangers of drug usage amid the opioid crisis. Some of the episodes have reached over 40,000 views on YouTube.
Fentanyl, a powerful opioid that's about 50 times stronger than heroin has been contaminating drugs such as heroin and cocaine. The Toronto Star reported that in 2016, opioid-related overdoses killed 2,458 Canadians.
Waterson, who goes by the DJ name hey! dw, hopes the season will increase discussion around drug usage and increase awareness for how people can prevent overdoses, such as getting a naloxone kit which can reverse the effects of an opioid overdose. Kits are available at various pharmacies and health centres across Toronto.
"That's My DJ is not about not doing drugs—do what you want but be responsible about it. Like it's not worth your life," said Waterson. "Just because people have substance problems doesn't mean they're not human and we shouldn't take care and look out for them."
Waterson decided to create the series after finding inspiration with her own experiences in Toronto's nightlife scene.
"You know those nights where you're like, 'Oh I'm just going to have one drink and then the next thing you know it's 5 a.m. and you're like with a bunch of strangers in a parking lot having some euphoric moment? Those are the stories I want to tell."
"I was like why isn't anyone telling this story? So that inspired me to create the script based on what I was experiencing as a DJ kind of coming up [in the industry] and what I going against."
After quickly gaining popularity and confidence in her performances she knew she needed something to make her really stand out.
And then came the cheerleading outfit and the drums. After dressing up as Gwen Stefani for Halloween in first year, the costume made another appearance when she was DJing a halloween party.
"And the next day on the Facebook event page everyone was like, 'Who was that cheerleader?' Not 'Who was the blonde?', 'Who was that girl?', or 'Who was that DJ' but 'Who is that cheerleader?' And I was like oh this seems to work."
Waterson also plays cartoons behind her on stage during her performances and once in awhile she'll wear a football jersey and face paint.
"It keeps things fun. I don't want to take myself seriously and be like some of the other DJs in Toronto that just wear all black and look cool and don't dance. I want my audience to have fun," she said.
Waterson also began putting together a monthly event called Home Brew where she performs with other local DJs at clubs around the city. After the fourth show, she found her gimmick.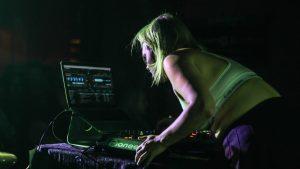 "I started playing the drums and I remember everyone's jaws hit the fucking floor and it was like a magical moment," she said.
On top of DJing and putting together Home Brew, Waterson also juggles being a part of the Canadian Film Centre, which supports up and coming Canadians in the film industry.
"Film and music have always been like a back and forth," she said. "When one thing falls off the other picks up where I left off."
Waterson is currently working on two short films as she is on tour opening for Mystery Skulls in the U.S. until November. She is also releasing two singles and a remix this fall.
"When I tell my parents on the phone that my DJing is supporting my filmmaking, they're like, 'That doesn't make any sense.' But my art supports my art."
"They go hand in hand. I'm just a DJ and a director."