Reading Time:
4
minutes
By Sarah Chew
If you stopped Guion Bluford on the street and asked him what he did for a living, he'd tell you a lot of things. Bluford had an illustrious career in the United States Air Force as a fighter pilot and aerospace engineer. He holds four post-secondary degrees.
What Bluford, 75, won't tell you is that he was the first African American to go to space.
Bluford, now a retired NASA astronaut, never garnered public attention partially because he wanted it that way but also because not many people took it upon themselves to publicize his life and journey.
Two Ryerson film students hope to change that.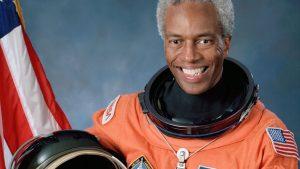 GUION, an upcoming short film co-directed and written by fourth-year film students Adam Madrzyk and Sagi Kahane-Rapport, will centre on Bluford's story. The film's plot will follow Bluford in 1983, when he finds out that he'll be a crew member on the Challenger for NASA's eighth space shuttle mission, making him the first African American man in space.
Madrzyk, who is also the director of photography for GUION, said he found Bluford's story while researching his thesis film.
"I realized there's only grade school books on him and not much more, which is quite surprising," said Madrzyk. "I looked at NASA's history and Guion's Wikipedia page, [but] there's a lot of information missing and a lot of gaps in his story."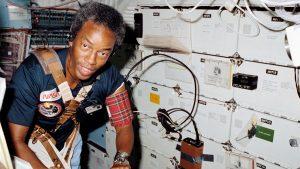 Madrzyk and Kahane-Rapport later called Bluford to conduct a more in-depth interview.
"He actually told us that when he was studying in high school he never intended on becoming an astronaut," said Madrzyk. "He was always into aerospace, engineering and flight, so when he joined the air force, that's where he built his interest. But it was really at the end of his air force career that he realized that [being an astronaut] could be a possibility. From there, he learned about the selection process for NASA, applied and got in."
Kahane-Rapport says Bluford didn't feel like his career was affected by the racial injustices of the time and he never intended on becoming an African American icon.
"He's this interesting character because he's in this balance where he doesn't want to see the world in colour," said Kahane-Rapport. "He wants to live his life as an engineer and an astronaut and be accepted as just that."
"It's a weird balance, because he as a person believes that, but he also knows he has a responsibility to represent an entire group of people who will be looking up to him as a role model. For him, it's a struggle to maintain his own personal identity and privacy while also becoming what everyone expects him to be."
Other themes the film will touch on include personal responsibility and sacrifice.
Kahane-Rapport said that sacrifice in GUION will be epitomized by Bluford's mother, who had to manage two jobs and take care of her husband, who was affected by epilepsy.
"He realizes that he has to become something that people expect him to be. So to find the strength to do that, he flashes back to his memories of 1960, when his epileptic father returns home from hospital after an extended stay."
GUION's script is the product of four months of research and writing, coming together after 42 drafts.
Kahane-Rapport described feeling an immense pressure to make the short film "perfect."
"I don't want to disappoint Guy," he said. "I want to make it good for its own sake so that people can actually learn something, take something and remember something from the story."
The co-writers, who are not African American, said they worked diligently to ensure GUION depicted Bluford's experience as an African American man accurately. They addressed the issue with Bluford himself, who gave the pair access to his unpublished memoir.
"Sagi and I really tried to come from a genuine and outside the box viewpoint on it and just educate ourselves on what it means and how we can stay true to embodying that," said Madrzyk. "We told [Bluford] that we were coming from this outsider perspective and if there was anything that he wanted to educate us on or give us information that we were always open and were were hoping he would give us that information.
"I was looking forward to flying but I was anxious about the unknown. I knew that a lot of people were counting on me to do a great job and I didn't want to disappoint them. I felt like the vanguard for Black Americans and I was proud to be in that role," writes Bluford in his unpublished memoir.
The pair plan on launching a campaign on crowd funding platform Indiegogo to help budget the film.
GUION will premiere at the Ryerson University Film Festival on May 4.
You can follow the film's production on Instagram.