Reading Time:
6
minutes
By Jacob Stoller
In September, when former Ryerson basketball star Aaron Best headed to an open tryout for the Raptors 905, the farm team for Toronto's NBA franchise, he wasn't too focused on his odds of making the team.
Best, 26, signed his first professional contract, a two-year deal with BC Juventus of the Lithuanian Division 1 league, after graduating in 2016. But after one year overseas, Best's basketball future was undecided as the summer of 2017 neared. Nevertheless, he continued to train. As September rolled around, Best was still without a contract.
Then, his trainer suggested he check out the next open tryout for the 905, a franchise in the NBA's G League, where basketball prospects try to make the leap to the big leagues. Playing for the 905 would mean a shot at a call-up to play in the big leagues, on the same court that Vince Carter and Chris Bosh once dominated, where DeMar DeRozan and Kyle Lowry made their names.
For Best, who starred at Toronto's Eastern Commerce Collegiate Institute—a basketball powerhouse that shut down in 2015—the opportunity was especially intriguing. He grew up idolizing the Raptors, and now, he had the chance to one day become one.
"My trainer was just like, 'Hey, you're in shape," Best tells me in February. "'Why don't you just go and see what happens?' And the rest is history."
Cracking a G League roster through an open tryout isn't easy, mostly because it isn't much of a tryout, per se. While the tryouts are open to anyone—as long as they can afford a moderate tryout fee—most of the wannabe Raptors who show up don't have a real shot at making the club—most of them know that. Still, the prospect of balling in front of 905 head coach and former NBA all-star Jerry Stackhouse is enough for local enthusiasts to try their luck, just for fun.
Stackhouse, who retired from the NBA in 2013, played 18 seasons in the association, starting out with the Philadelphia 76ers in 1995, three years after Best was born. "Stack" led the league in scoring, averaging over 29 points per game, in 2001.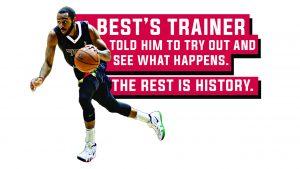 Amidst the casual hoopsters and the handful of players who'd played in Europe the year before, Best was the player who caught Stackhouse's eye.
"I just fell in love with him," says Stackhouse, who coached the 905 to their first-ever league championship title in 2017. "I fell in love with his willingness to learn—being a sponge—and just soaking up everything we were teaching in our early workouts. I thought he was a hell of a defender, and someone who could really be a nice piece for us this year."
When you stand out to Stackhouse, you're something special. During his days at the University of North Carolina, some praised Stackhouse as "the next Jordan," referring, of course, to the greatest Tar Heel. At every level he played, Stackhouse scored at will, and during his career, he played with some NBA greats: Dirk Nowitzki, Allen Iverson, Kevin Garnett and His Airness himself.
When the G League draft came around in October, Best was drafted 42nd overall by the Long Island Nets, but was quickly sent to the 905 in a draft-day deal.
As it turned out, Stackhouse's instinct regarding Best was right: the six-foot-four guard has indeed evolved into a key cog in the 905's rotation, and it happened quite quickly. Best currently leads the 905 in games played, and is averaging 26 minutes per game in the backcourt.
The defensive and athletic abilities that he developed at Ryerson have translated to the pros, and now, he's going toe-to-toe with emerging players on the verge of making their dreams come true. In February, Best was selected to compete in the dunk contest during the G League's all-star weekend. He lost, but it didn't matter much to him. This is Aaron Best's life now.
***
Two years after helping lead Ryerson to its first-ever OUA championship in men's basketball, Best is making history once again.
He's just the second CIS/U Sports player to play in the G League since the NBA farm system was established in 2001. Not only that, he gets to play for the Raptors affiliate in the city he was born and raised in.
Growing up in Scarborough, Best watched Vince Carter, the Raptors' high-flying superstar, with wide-eyes, as most Canadian basketball fans did during Carter's peak around the turn of the millennium.
"I wanted to be just like Vince," says Best, with a smile beaming from his face. "I wanted to do everything Vince did."
Before "Vinsanity" started, Toronto was a hockey city. Even in 1995, when the Raptors and the short-lived Vancouver Grizzlies joined the NBA as expansion franchises, selling tickets to see the Dinos wasn't an easy task. Then, in 1998, the Raptors landed their saviour in a draft-day deal with the Golden State Warriors. Carter's arrival signalled a shift, and from there, the swagger and pride that now comes with being a Raptors fan was born.
If you think about it, Best has become like Vince. But while Carter's impact was nationwide and undeniable, Best's has been more muted, more focused: without question, he elevated Ryerson's basketball program to the level it's now at. As part of coach Roy Rana's first class of recruits, Best paved the way for local talent to stay at home rather than trying their hand whiling away in the NCAA.
When Best chose to commit to the Rams, he knew he wasn't going to a basketball powerhouse as he might've wished at the time; the Mattamy Athletic Centre was no Chapel Hill.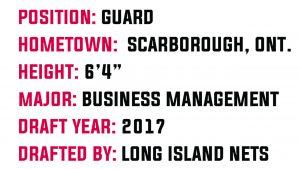 "Like most kids, he dreamed of being in the NCAA," says Rana, a few weeks before his Rams earned a national silver medal—their second in as many years. "He did have some NCAA interest and could've probably made that choice to go south," he continues. "We talked a lot about what I was trying to build at Ryerson."
Rana was a major reason Best was elected to commit to Ryerson, a school which had generally mustered mediocre-at-best results for as long as the team existed. The pair was well-acquainted from their days at Eastern Commerce in Scarborough, where Best was a student, and Rana a teacher and coach. In his Grade 12 year, Best was the Eastern Commerce MVP. Best and Rana went on to create a strong friendship in the early stages of Best's recruiting process, and that relationship came in handy when the time came for Rana to sell Best on his vision for Ryerson. As it turned out, the two shared the same dream: the dream of being a winner; the dream of building something important; and the dream of making Ryerson—and more broadly, the OUA and all of the CIS—the place to be for Canadian basketball players looking for a space to grow.
Immediately, Best became a fixture at Ryerson—his high-flying antics echoing those that Vince embossed on his brain a decade earlier. What Rana was building was a new era of Ryerson basketball, and Best was going to be at its center.
"He was, right off the bat, one of our toughest guys," says Rana. "He was our best athlete."
After a few seasons on the bubble, Rana's plan started to come to fruition: in 2016, with Best leading the way, the Rams won their first of two-straight OUA championships, a year after winning the bronze medal at the CIS Final 8 championship, which was held under the bright lights of the Mattamy Athletic Centre, the former Maple Leaf Gardens. The Raptors never won a trophy in that building, but the Rams did.
***
Best is humble, thankful for the opportunities he had at Ryerson and the ones he's had since graduation.
"I'm grateful that I finished my degree," he says. "It's something that I always wanted to do. My mom always instilled the importance of education in me from a young age, so I wanted to make sure that I finished every step of my process. That was big for me that I graduated."
He made sure to make every moment as a Ram count; when the buzzer sounded following his final regular season home game in 2016, he went over to his girlfriend, who he met at Ryerson, and proposed. She said yes.
Aside from playing for the 905, Best has also played for the Canadian senior men's basketball team, and will likely continue to represent his country on the international stage.
Still, he won't ever forget his roots.
"He loves the program," says Rana. "As a coach, it's very satisfying because you know you're doing the right things when you have kids like that coming back and giving back to the program."
Ryerson has a special place in Best's heart. Basketball aside, it gave him plenty of opportunities, lessons and relationships that he'll never forget.
The school has given Best a lot, and now, perhaps, a pathway to the NBA, though he'd never say it like that—he's just thankful to be playing basketball in the city he grew up in.
"You just never know," says Rana, of his former pupil's NBA chances. "I don't think it's out of the realm of possibility, but he's still a long shot, and I think he knows that as well."
He might be a long shot, but he has a shot, which is more than most people can say.
Aaron Best is one step away from becoming a Toronto Raptor.
This is his life now.