By Aya Baradie
With modest fashion slowly taking over big brand names like Zara and Nike, Ryerson fashion students say the program isn't doing much to keep up with the global trend. Some Ryerson students say they are concerned about the lack of representation in the program, especially with modest fashion.
Modest fashion refers to the concept of having fashionable clothes with a focus on revealing little to no skin. The fashion style is especially popular amongst Muslim-hijabi women who cover up for religious or cultural reasons. The push for modest fashion has increasingly gained traction in recent years with major fashion capitals like London, England hosting their own "Modest Fashion" week.
"Industry professionals have said things like 'We need to change this and talk about that' but nobody has actually stepped up to make those changes," said Cynthia Johnman, a first-year fashion student at Ryerson. "It's upsetting."
But Johnman says in her experience, when it comes to representation in fashion, the industry is "elitist" and alternative fashion movements are barely represented, especially for those that choose to dress modestly. In their first years in the fashion program, students are required to design their attire in a standard size 10, to abide by the "fashion industry's sample size" and other standards. For Jo-Ann Harris, a first-year fashion student at the university, the standards mean she has to cut outfits in ways that don't leave much room for modest styles, which is how Harris prefers her clothing.
"Fashion shouldn't just be about exposing your body because that's not for everyone," Harris said.
This often leaves her no choice but to make a new pattern and spend the time and resources remaking the dress to fit her body type.
"We need to learn about everyone if we're going to include everyone," Harris said referring to Ryerson's fashion program.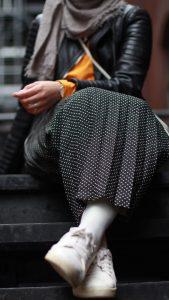 Robert Ott, the chair of Ryerson fashion, said while there isn't a specific class for modest fashion, the program encourages students to "explore the topic within the existing curriculum."
"It falls in line with, for example, designing clothes for physically disabled people, people shorter in stature, people that are taller, larger," said Ott. "We treat them both from a theoretical perspective, so [students] can write about it, they can express it creatively.
However, modest fashion isn't as niche as it's conceived to be.
"This focus on modesty is not only for the Muslim consumer," said Romana Mirza. "It's for people who are getting older and those who value presenting themselves modestly."
Mirza is a researcher in modest fashion and is completing her master degree in fashion at Ryerson. Working with the Islamic Fashion and Design Council, Mirza assists in researching the consumer behaviour trends of people purchasing these modest pieces of clothing.
She's also the only exposure to modest fashion that both Harris and Johnman can recall from their fashion theories and concepts class, where Mirza came in as a guest speaker.
Mirza said big brands are starting to recognize that there's a huge consumer base for modest fashion, "I think they're responding to a trend that they are seeing globally."
Nike has recently been in headlines for introducing a Nike hijab, receiving applause for its inclusiveness of Muslim women. Macy's, a popular American department store, launched a modest fashion line and almost a two per cent rise in sales.
"This group of people that has pushed modest fashion to the forefront, namely the fashionable hijab-wearing woman, has created such a visibility for modest fashion," Mirza says.
In a research study on the Burkini (modest swimwear), Mirza discovered an influx of non-Muslim women who also expressed a desire to dress modestly in North America.
Johnman says that talks about inclusivity need to stop being such a taboo subject.
"It needs to be mainstream to the point where walking in Dundas Square and seeing billboards with models practicing different religions and representing different minority groups is no longer a shock."