Reading Time:
3
minutes
By The News Team
"You see, the thing about your job is…"
Eyeopener editor-in-chief Sierra Bein stared back at Angry Self-Entitled Man mansplaining her role.
She'd heard it all. Too many men had emailed, tweeted and marched into her office, telling her what to do, presuming to know her job better than her.
"I demand," were his last words. Calling on the power of the Moon, Bein thrust her strong yet dainty fist through his chest.
"I haven't started my editorial yet," Bein whispered.
Eye editor Peter Ash called it "the most terrifying thing. Legit. And I jumped off the CN Tower with my mom's parachute."
What happened next is difficult to confirm because it appears some Eye staff wish to cover for Bein, while others—namely her long-term rival Igor Magun—are determined to see her bear responsibility for the violence that followed.
"It was a vicious assault," Magun said, as he downed his third Soylent of the day. "I'm unsurprised given all the times she threatened to kill me and take over the website. Oh my."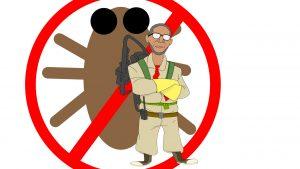 Next, Bein donned an orange jumpsuit and leapt from her office window down onto the street below. Ryerson security wasn't far behind her, having witnessed the alleged murder in the background of an Instagram story posted by top-influencer and Eye editor Alanna Rizza. Campus security chased Bein across Bond Street and toward the Victoria Building.
"She was too fast for them," Eye editor Karoun Chahinian said, obviously disappointed with everyone.
Several students report Bein injuring her pursuers with throwing stars and the disapproving looks she'd give editors who missed deadlines.
As she entered the Victoria Building, Bein's escape was briefly halted when she ran into a giant bed bug, which Ryerson president Mohamed Lachemi was luring out of a classroom with a vial of first-year blood.
Bystanders even say they spotted Lachemi making a house for the critters, whispering the words: "I like to build things, not destroy them."
Lachemi says he doesn't remember the encounter. "It was all an orange blur, like a ride in the elevator of my precious SLC."
Leaked crime scene photos show bed bug parts spread across the Victoria Building lobby.
Next, Bein was spotted by a cool skateboarder. "That baddie looked like she knew how to ride, so I lent her my foot wagon."
The editor-in-chief rolled down Gould Street, kickflipping and ollie-ing about while heading back to the SCC. She skateboarded through an anti-choice protester then collided with frazzled Eye editor Malachi Rowswell, who was dressed as Pennywise the clown.
"I was late for circ," he said later. "I'm just glad we won't miss dinner because of me—there's no way she'll recognize me in these penny-pants."
RSU board members reported peeing themselves as Bein burst through the door of the SCC and up the stairs to the second floor.
"I was just asking for early final sizes, when [Bein] came back into the office and tried to hide in a closet," Eye editor Camila Kukulski said.
It's said that visions of working at Vice and going to India flashed through her mind, before the journalist, editor and friend was crushed to death by a mountain of her own half-eaten burritos and breakfast burgers that fell from the closet.
"Boom roasted," said communities editor Hayley Hanks upon seeing the news when she checked Slack a week later.