Reading Time:
5
minutes
RSU split slate is no more as Unify takes over
By Justin Chandler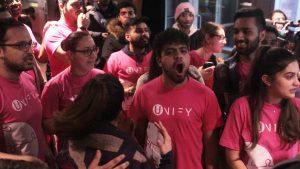 After the first split-slate executive in about a decade, the Ryerson Students' Union (RSU) executive team is once again made up of one party.
In winter 2017, outgoing president Susanne Nyaga and vice-president equity Camryn Harlick came into office after running with Elevate and the other execs—Ali Yousaf, Daniel Lis and Lauren Emberson—were elected after running with Spark.
The split-slate executive saw successes, with initiatives including the opening of the Wellness Centre, U-Pass framework and updates to CopyRITE coming to fruition this term. Yet political differences loomed large over the union.
The Colonialism 150 campaign, which showcased Canada's colonial past ahead of Canada Day, resulted in deep divisions before the school year even started. The fallout reached February's RSU election campaign, with Harlick and Nyaga's opponents calling the campaign a divisive stance that went against student wishes.
The executive's division was also deepened when Nyaga called out what she said was anti-Blackness and misogyny in the executive.
Emberson resigned in January citing personal and professional differences. Then during the 2018 campaign, Yousaf, the vice-president operations, posted a video on Facebook in which Nyaga and Harlick could be seen cheering when another student called Yousaf racist. Later, Harlick reported being the target of transphobic insults while campaigning.
Only Harlick and Nyaga ran for re-election, but their party, Elevate, lost to Unify by a wide margin at the executive level.
The incoming exec team includes Ram Ganesh as president, Karolina Surowiec as vice-president equity, Edmund Sofo as vice-president student life & events, Salman Faruqi as vice-president education and Savreen Gosal as vice-president operations.
Unify has promised to be more transparent than the previous union executive and to increase opportunities for students using corporate partnerships as a source of funding.
Three Unify team members—Gosal, Faruqi and former RSU president Obaid Ullah—all won positions on Ryerson's Board of Governors for next year, meaning the party will have influence over the university in addition to the student union.
Incoming Ryerson-branded coffee
By Annie Arnone
In March, Ryerson announced it'll be cutting all ties with Tim Hortons on campus, as well as introducing an all-you-can-eat meal plan for students, effective this summer.
The push to remove Tim Hortons self-serve stations from campus came after the company requested a $300,000 rebranding fee for each location. There are five locations on campus—excluding the Victoria Street location, which is unaffected.
In place of each Tim Hortons will be either a Starbucks kiosk or Ryerson-branded coffee station.
Details about the branded coffee have not yet been released, and Ryerson said they'll be determined via student-survey, where students will be able to provide their input as to the cafe's name.
This process will include the closures of Tims locations in Kerr Hall and the Ted Rogers School of Management building.
The Tims located within the engineering building will become a Starbucks self-serve spot, and locations near the library bridge—as well as the Jorgenson Hall location—will turn into a Ryerson-branded full-service outlet.
According to Ryerson's Food Services, the meal plan will include unlimited access to food, in order to "accommodate busy student schedules," as well as add seasonal menu changes.
As of now, the school offers three different meal plans: small ($2,740 for 10 meals per-week), medium ($3,575 for 13 meals per-week) and large ($3,895 for 14 meals per-week).
An odd feature to the new meal plan is that students who live in residence will be unable to leave Ryerson dining halls with their meals.
"They have to eat there," Voula Cocolakis, executive director of University Business Services, said. "They can spend their flex dollars and pick up something quick to go to class, but their meal plan dollars have to be spent… at Pitman or ILLC."
"I don't think (the price increase) is fair on everyone because some people have a relatively-smaller appetite than others. I think they should keep the same prices because the prices are pretty high anyway," first-year business student Muhammad Sameer Chandoo said.
6 Fest questions remain unanswered
By Jacob Dubé
Students still don't have any more information on 6 Fest than they did last year, and it's unclear if they ever will.
The concert was put on by the RSU in Fall 2016 but didn't go smoothly, especially since it was moved to Thanksgiving weekend and Drake didn't show up, despite heavy hints from the RSU. Many students requested refunds after the festival.
The high cost of the concert contributed to the RSU's $1.2-million deficit that year, and as reported in The Eyeopener, $80,000 of RSU funds were transferred into the personal accounts of executives and their friends to conduct the refunds.
In early 2017, the RSU's Board of Directors passed a motion requiring then-vice-president student life & events Harman Singh to release all information he had pertaining to 6 Fest and its operations.
The motion required Singh to provide the board and the financial controller, among others, documentation of ticket sales and refunds for the concert, the logins for the Eventbrite account and the Gmail used to manage operations and ticket sales, along with a comprehensive report on 6 Fest.
According to outgoing RSU president Susanne Nyaga, the 6 Fest finances—not just the refunds, but other invoices and purchases—are still a concern. She said she hopes to release some information before the end of this term—though nothing is currently released as of the second-last week in the semester and she would not comment on how or what the RSU is looking into specifically.
Will U-Pass pass at Ryerson?
By Julia Nowicki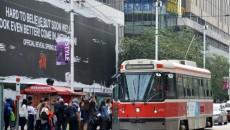 On March 20, the TTC board approved the policy framework for a $70 discounted monthly transit pass (U-Pass) for post-secondary students in Toronto. Schools are now in the process of posing referendum questions for student body approval.
Since May 2017, RSU vice-president education Daniel Lis has been working together with student unions at the University of Toronto, OCAD University and George Brown College to implement the discounted pass.
This was not the first time Ryerson entertained the idea of a U-Pass. In 2008, the TTC proposed a discounted pass to student unions within Toronto without success. However, given the recent rise in fare prices, Lis believes the Ryerson student body will be more open to a subsidized transit pass.
After passing through several rounds of approval at the level of the TTC, the transit provider's board finally settled on a $70 price point on March 20. If it's implemented, the pass will provide all full-time, undergraduate students at qualifying universities with unlimited access to TTC transit, just like a $116.75 post-Metropass does now, but for 40 per cent less each month.
To fund the discount, a $280 fee would need to be added to each students' tuition every semester, without an option to opt-out.
The mandatory nature of the pass proved to be a contentious issue for UofT students, as the university recently opted not to adopt the pass in a student referendum. About 65 per cent of students voted against its implementation, as reported by UofT paper The Varsity. The school was the first to issue its referendum after the TTC board finalized the cost.
Ryerson is still waiting for its own referendum question to be initiated.Based on past surveys and the high percentage of commuter students attending Ryerson, Lis said he is confident the question will pass.
If a referendum is scheduled and succeeds, U-Pass will be available fall 2019.