Reading Time:
6
minutes
The spookiest season is upon us, Ryerson. Those weird Spirit Halloween stories are springing up at every corner, while pumpkins, ghosts and black cats grace the doorsteps of every suburban home. Now that we're older, we might not dress up anymore, but a lot of us used to. To celebrate the spirit of the season, we rounded up old photos of our masthead to see what they did for Halloween
Sherina Harris, news editor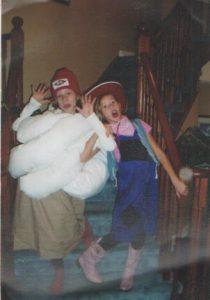 Pictured: me on Halloween, around Grade 4, dressed as a Dairy Queen ice cream cone. Not pictured: me sitting cross legged at choir practice, frantically trying to keep the stuffing from bursting out of the white fabric with safety pins my mom packed for me. She made this costume, so thanks, Mom, for helping me realize my dreams of being an ice cream cone.
Parnika Raj, media editor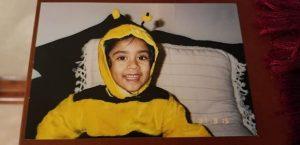 So I don't remember this Halloween since it was my first. From what my mom's told me, I was quite confused at first as to what exactly people were doing. But as soon as I saw the candy being handed out, I was the first one out of my friends to be at the door. Apparently it started raining, but I still kept going.
Christian Ryan, sports editor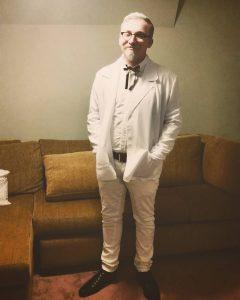 Every time there has been the conversation of "you look like X celebrity," my doppelgänger has always been Colonel Sanders. In 2015, I moved to Toronto knowing no one. That Halloween, I had my first night on the town in Toronto in this costume, with the uncanny likeness leading to the nickname "The Colonel." Suddenly, it wasn't so hard to meet people when they knew your sense of humour was finger lickin' good. The lowlight of the night was probably when I was unable to secure an empty KFC bucket, despite my face being on the sign.
Peter Ash, sports editor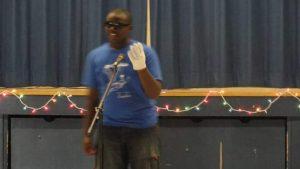 It was the eighth grade. I wanted to dress up as Michael Jackson, but I didn't have the hat, shirt, blazer or pants. Fortunately, all I needed was a glove and a mic. I took my weird pair of jorts, put on my graduation shirt and headed to school. For the school talent show, I performed "Smooth Criminal" in front of my friends and all of my teachers. They thought I was insane at first, but then (either out of pity or boredom) they started to clap. I never had more fun wearing a baggy pair of jorts in my life.
Pernia Jamshed, media editor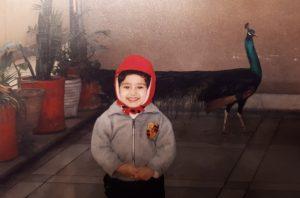 I grew up in Pakistan. We don't celebrate Halloween there. We do celebrate the patriarchy and this dude that stars in talcum powder commercials. But here is me standing next to a peacock.
Deanna Krueger, photo editor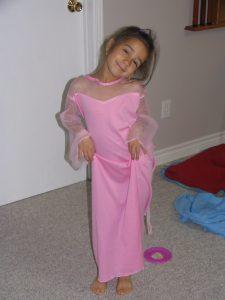 So I don't remember which year this was, but it was the first time I went trick or treating without my parents. With a few other girls, we ventured off all the way down to the end of my street and started going door by door. About an hour in, we reached this house that had a long drive way. We started up it and heard something in the bush, but decided to keep going anyways… Bad decision seeing as the owner of the house decided it would be a good idea to scare the shit out of a bunch of elementary kids. Needless to say, we were scared shitless after running all the way back toward the streetlights. That was the end of trick or treating that year.
Skyler Ash, online editor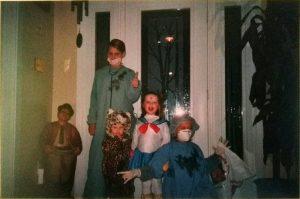 I live for Halloween. Candy, costumes, pumpkins, crappy movies, all of it. Here I am, dressed as a cheetah, with Sailor Moon and two surgeons by my side. My mom estimates that I was about two in this photo and clearly I was already killing it pose-wise. This isn't the best costume I've ever rocked (my Grade 3 jack-in-the-box costume takes the cake), but I'm still rocking it. The best part about Halloween as a kid was that I had four older siblings to get candy with, meaning we had hundreds of everything. I'm genuinely surprised that I still have all my teeth due to how much sugar I must have consumed. Catch me this year as corn on the cob.
Jacob Dubé, Editor-in-Chief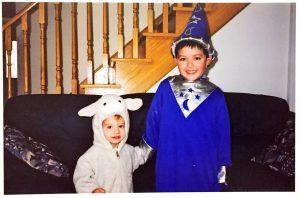 Halloween 2002 came at the height of my wizard phase. Harry Potter et la Chambre des Secrets was my all-time favourite book, I had a full HP bed spread (topped with a Quidditch quilt I won at a library) and I was often found playing make-believe wizard duels with my reluctant friends. So when it came to picking my costume, I knew I had to be a wizard. But I also knew everyone would go as one of the Hogwarts crew, so I went with a more classic approach. What probably happened is that the seven-year-old me just thought that a pointy hat was real fucking cool. Plus, I had a baby brother/sheep boy hybrid as my familiar. One look at this picture takes me back to my lizard decal-filled room where I counted my Halloween stash with my stuffed animals. You know, when things were simpler.
Nathaniel Crouch, fun & satire editor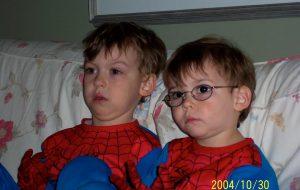 Ben (pictured right) and I did most things together, especially Halloween. For three years in a row, we would dress up as the same character; Buzz Lightyear, a Lion and as pictured above, Spider-Man. We were, and still are, tremendous fans of the wall-crawler. I honestly don't believe we took those costumes off for a week following the night of trick-or-treating. It felt so good to be in that costume. I was bulletproof and could do things normal five-year-old Nathaniel couldn't. I'll always miss that feeling, but even more, I'll miss trick or treating with Ben. If the new movie Spider-Man: Into the Multiverse can teach us anything it's that the more web-slingers, the merrier.
Raneem Alozzi, news editor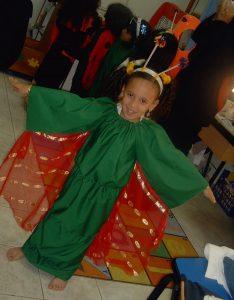 Little Raneem did not celebrate Halloween, but she didn't miss a chance to dress up for her fans! Here we have little me making her debut as a butterfly in a kindergarten showing of The Very Hungry Caterpillar. I was dressed from head to toe in scratchy green fabric (a testimony to the resilience of a butterfly) and gold embroidered red gauzy wings which would carry me into the future. I flourished, I was out of my cocoon, I was SPARKLY and I had pom-pom antennas; the world would never be the same. I won't lie, I felt pretty darn special for the six minutes I spent getting dressed in a washroom stall, imagining the crowd applauding my performance. But my dreams of becoming the world's first human-butterfly hybrid, and the youngest theatre protégée, quickly dissipated when I stepped out and realized that half of my other classmates were also dressed as butterflies.
Maggie Macintosh, news editor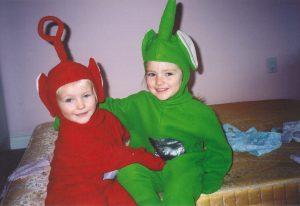 My parents loved to dress my little sister and I in matching outfits when we were younger. We had identical overalls, backpacks and even hair clips. Halloween was no exception. My parents bought us both Teletubbies costumes, which were beloved and worm on many occasions outside the holiday itself. There was Po, the red one, and Dipsy, the little green one. Here's us pictured, me as Dipsy, in 2001.
Urbi Khan, biz & tech editor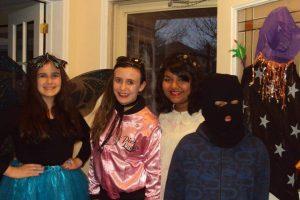 Halloween 2012—I was 14 years old, I went trick or treating with my younger brother Adib, my best friend Nicole and her sister Lauren. I went dressed as a "kinderwhore". I was obsessed with the '90s grunge scene and fell in love with Courtney Love's style and attitude. Courtney Love was Kurt Cobain's wife—she is rock royalty! I wanted to embody her rambunctiousness, I was inspired! I happened to have a silk nightgown in my closet in the style of a babydoll dress, so it was perfect for the kinderwhore look. I put on a bright shade of red lipstick and smeared it across my lips. I beat my cheeks with rouge blush. A kinderwhore, a Pink Lady, a fairy and a supposed armed robber roamed the streets of Whitby seeking a sweet sugar high that night. To this day, I am baffled that my mother didn't bat an eye when I said I wanted to go as a kinderwhore. Nicole's mom sure did.